I have a big race announcement!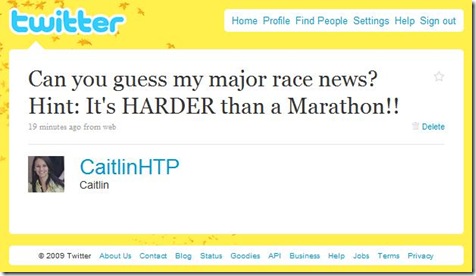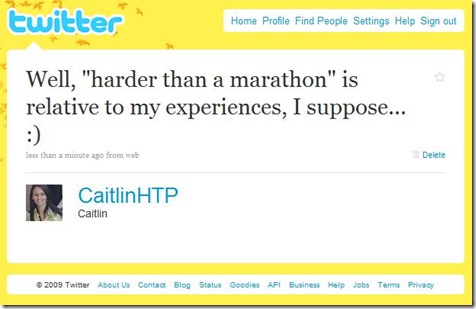 But first… lunch!
I was inspired by a lovely (non-vegetarian) recipe on Zesty Cook's blog and thought I'd make a veggie version of Baked Pasta Casserole.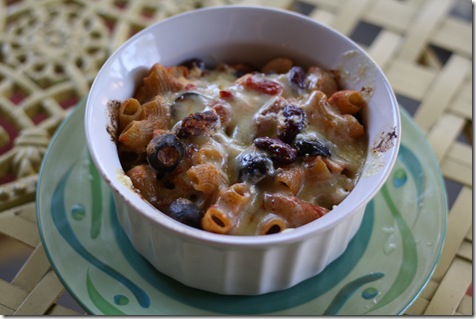 This mini casserole dish contained:
1 cup cooked wheat wheat pasta
5 chopped black olives
1/4 cup kidney beans
1/4 cup ricotta cheese
2 tablespoons sun-dried tomatoes
1/4 cup pasta sauce
Pepper
Cheese (to top)
I just combined everything in a little mini casserole dish and baked it at 375 for 20 minutes.  After topping with cheese, I broiled for another few minutes.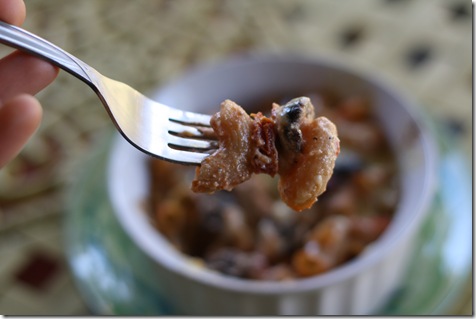 Yum!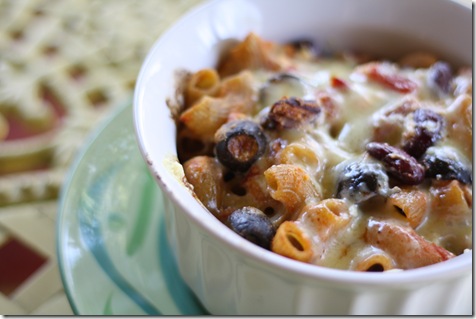 OK…. onto my BIG news! 🙂
In June, I completed my first (and only) bike race – a Metric Century (race recap).  My Dad and I completed the 60 mile race together!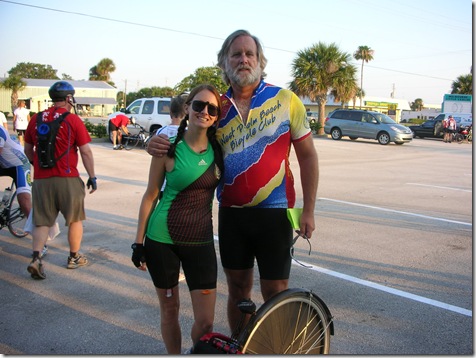 Honestly, I thought the Metric Century was going to be a LOT easier than it actually was.   Riding 60 miles at a steady pace – I kept up with a pack of men – was SO HARD.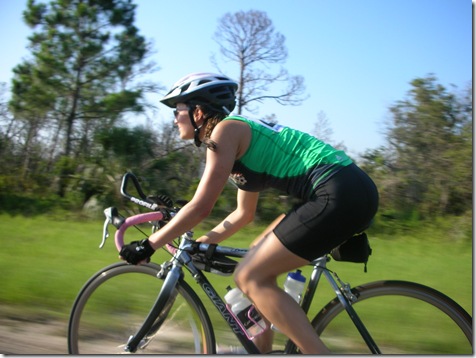 In fact, it took me 4 hours and 24 minutes to complete the race – that's only 30 minutes less than it took me to run a marathon!
When I finished the Metric, the first words out of my mouth were, "I wanna do a Century next!"  A Century is 100 miles.
When Jenna announced she would be riding the Echelon Napa Gran Fondo Century Ride on May 23, 2010, I jumped at the chance to participate, too.
The Echelon Napa Gran Fondo is a charity event benefiting LIVESTRONG and both The Queen of the Valley Medical Center and The Saint Helena Hospital located in the Napa Valley, California.
That's right… in May, I will be packing up my bicycle and flying ACROSS the country to participate in a 100-mile ride through the rolling HILLS (!!) of Napa Valley, California.  This race could EASILY take me 7 hours.
Not only will this race be a tremendous physical challenge (trust me, 100 miles on a bike in the hills of California is going to be a LOT harder than a pretty moderate marathon run in the flat Florida), but I'll also be raising $3,000 for cancer research.  I hope I can count on your support!
Also – if you are interested in participating, I might form a TEAM!  If you'd like to be on my team, please e-mail me at seebriderun@gmail.com. 
This race is 2 months after my triathlon, which works out perfectly.  I'm excited to put MAJOR time into the saddle between now and then.  But, I have no doubt this will be the most physically challenging event of my life, and I am a little nervous.
What was something you thought you couldn't accomplish, but you did?  When I first started to run, I never thought I could complete a 10K… but I did!  And know I know it's ALL possible!