I had a lovely day with the sister-in-law (Sophie).  We went to the beach, worked out, and made a lovely dinner for the Husband and Harry.
The beach was a little cold, but it was nice to be outside.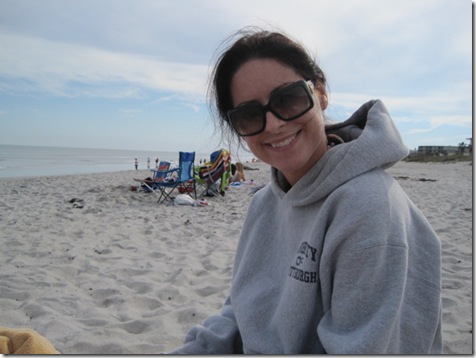 While we hung out, we flipped through this book, called Core Performance Women:  Burn Fat and Build Lean Muscle, which focusing on strength training for women.  It was an interesting read, and it has full-color photographs describing the exercises.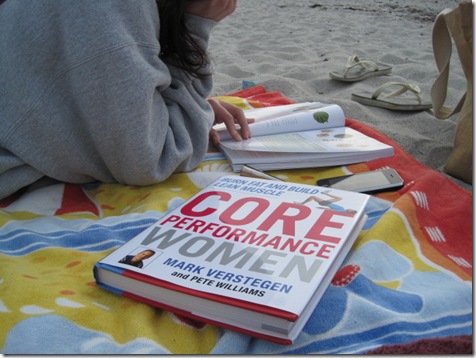 Before we got to the beach, I had a rice, black bean, sour cream, and salsa bowl from Chipotle: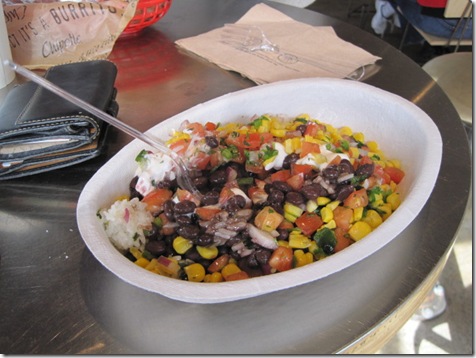 And at the beach, I snacked on one serving of PB Pretzels: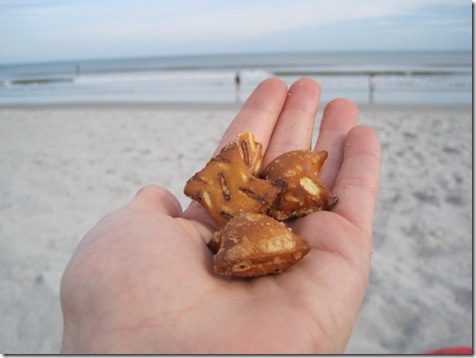 And a serving of chocolate-covered nut clusters.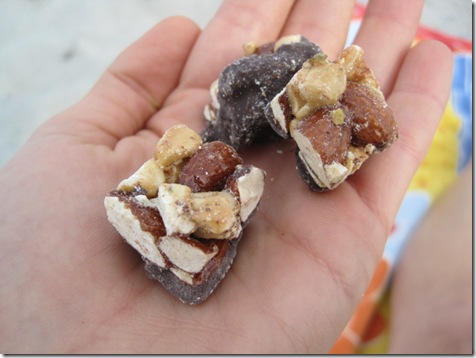 After the beach, Sophie and I hit the gym.  She wanted to try the Intro to Iron Pumping Challenge.  Today was Back and Biceps day! Here's what we did:
Day 3: Back and Biceps
Warm Up: 5 minutes of cardio
Seated Row: 3 x 12 with 45 pound weights
Lat pulldown: 3 x 12 with 45 pound weights
Stability Ball Ys and Ts (alternate between "Y" and "T"): 2 x12 for "Y" and 2 x 12 for "T"
21s: 1 set of 21's with 30 pounds; 1 set of 21's with 20 pounds
Stability Ball Back extension: Skipped this move
Frog crunches: 10 crunches
Hammer curls: 3 X 12 with 5 pounds
Oblique V-up: 30 crunches for each side with 5 pound weight
Afterwards, I did 30 minutes on the stationary bicycle and read New Moon (again!).
Sophie said she was craving VEGETABLES so we decided to create a giant vegetable roast!
I had: mushrooms, sweet potatoes, parsnips, Brussel sprouts, and carrots.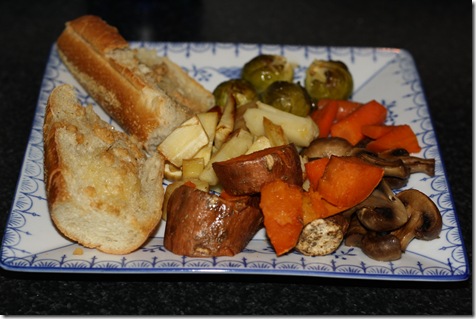 And a huge piece of yummy garlic bread made with minced garlic!  Mmmm!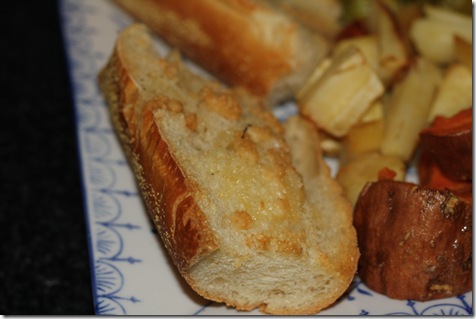 Time to watch a movie (Inglorious Bastards) with the family.  Have a good night!
Remember:  Don't forget to enter the drawing for a Garmin 305.