Good evening from London! 🙂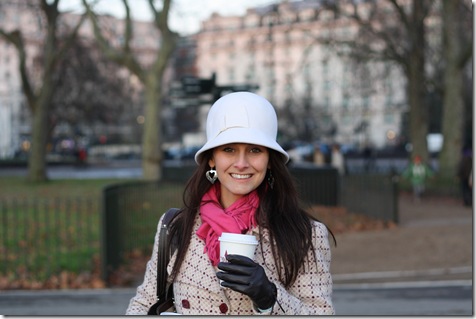 We've had a very relaxed Christmas day. After our 4-hour long nap, we had a great Christmas Buffet lunch, walked around the city (I think we logged about 7.0 miles!), and discovered that London is the BEST city for vegetarians – just check out these amazing eats!
Our Christmas Buffet lunch had great veggie options: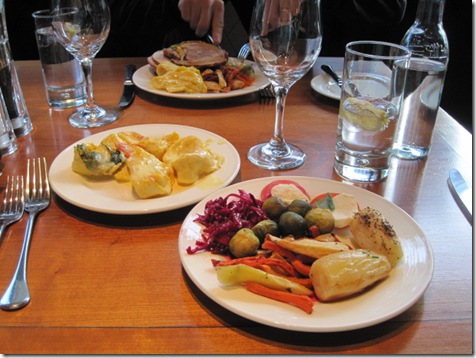 Such as Pumpkin Tortellini in Saffron Sauce: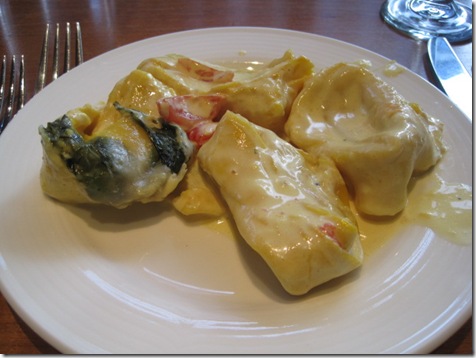 And tons of GLORIOUS vegetables! Roasted, steamed, cold, etc.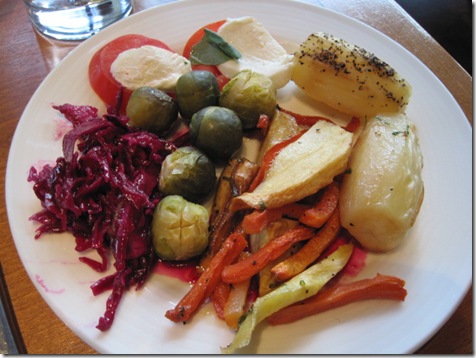 There was also a great dessert spread, and everything looked so good, but they didn't taste too good. I'm trying to practice moderation on my vacation because the marathon is on January 10, so I had a few bites, decided it wasn't "worth it," and moved on.
Then, we went through a stroll in Hyde Park!
It was soooooooooooo cold outside. The Husband was underdressed! We bought lattes to keep warm.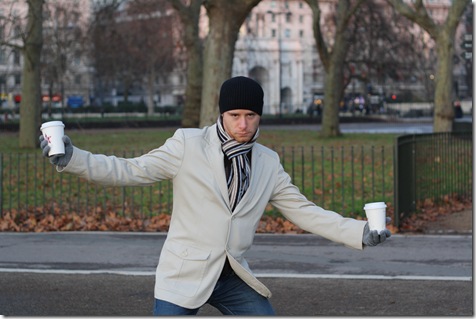 The park is gorgeous! We are going to run through it tomorrow morning for a little exercise.
Crazy British ducks attacked the Husband: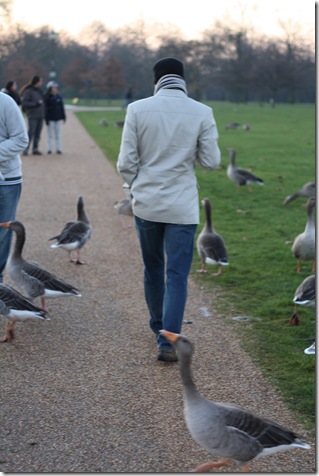 Eventually, the Husband decided to just decided to wrap his scarf around his head, which helped him stay warm. I think we need to go buy him a coat tomorrow… and I need thicker socks. England is COLD!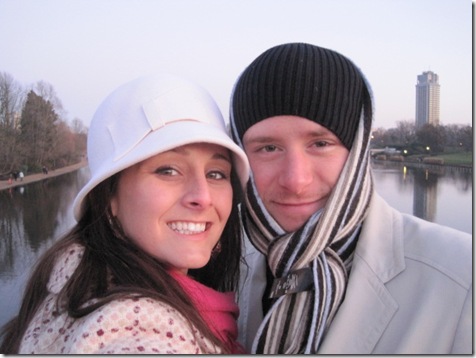 Then, we headed down Oxford Street, which is a main shopping district. Every single store was closed for Christmas, but the streets were still packed because there were SO many beautiful Christmas lights up! It was beautiful to look at.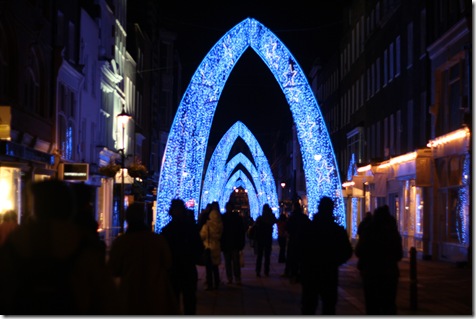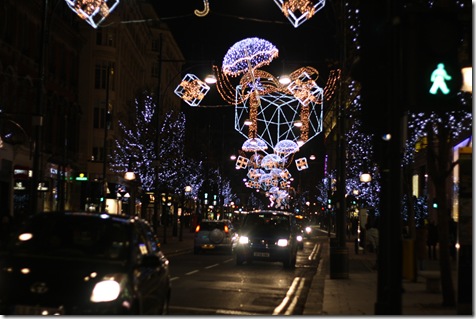 We grabbed dinner at my latest obsession, a grab-and-go shop called Pret. I liked Pret's because everything was organic/natural, had no preservatives/chemicals, and was made on-site. The food was delicious!
I grabbed a Brie, Cranberry, and Pistachio sandwich from the refrigerator case, as well as a Clementine Juice.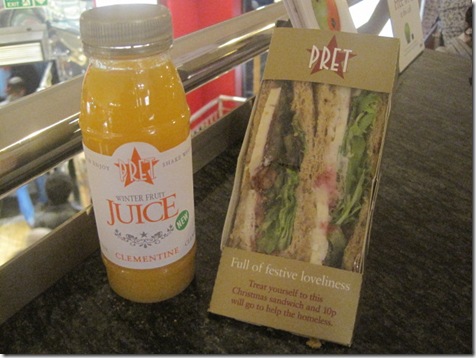 The best part about Pret was that there was about FOUR vegetarian sandwich choices. In America, there might be one vegetarian choice (egg salad sandwich), and it would probably be bland and disgusting. Plus, the British have somehow figured out how to make pre-made sandwiches without them going all soggy.
Every restaurant we walked by, we'd look at the menu posted outside. Each menu had multiple vegetarian (or vegan) appetizers and entrees. I'm so used to being "stuck" with one choice when I eat out. I have OPTIONS here!
PETA recently rated London the Best Vegetarian City in the World, and it's easy to see why. According to PETA, "London first became a hotbed for vegetarians during the Enlightenment in the 18th century, when British society explored diverse religious philosophies—especially those from the East. The city's first Vegetarian Society was formed in 1849."
What city do you think had the best food? My other favorite foodie city is Napa, California… but it definitely was NOT vegetarian-friendly!