I think we both had a lot of trouble sleeping last night (we woke up at 3:30 AM, ready to roll) and were relieved when it was finally 'time' to get up. We got dressed quickly and hit the streets as the sun came up. The Marble Arch looks so pretty early in the morning, doesn't it?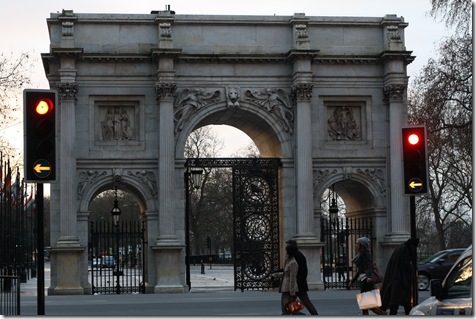 On the way to breakfast, I took the necessary "tourist" picture: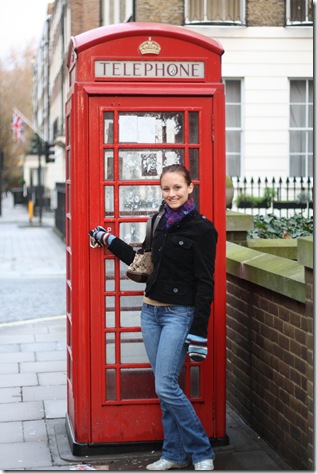 For breakfast, we headed back to Pret's (I have a feeling this is going to be a re-occurring theme for the next few days), and grabbed a delicious and nutritious breakfast: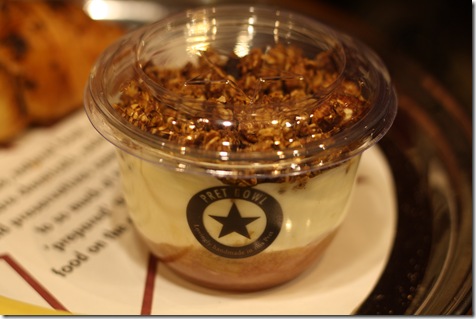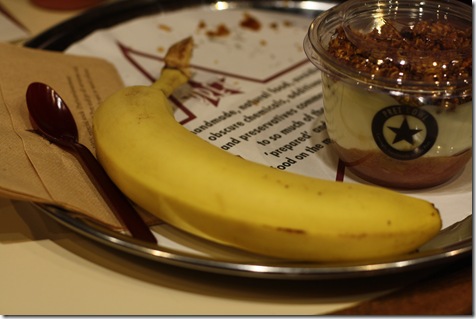 Granola with yogurt and rhubarb compote + a banana. This was the first time I've had rhubarb compote, and it was divine!
Then it was time to squeeze in some MARATHON training! Did you know the London Marathon is on April 25 (the day before my 26th birthday)? Maybe I'll be back for that! 🙂 After all, the best way to see a city is on foot!
The Husband and I ran a 4.1 mile loop around London, sightseeing and window-shopping as we ran. It was so much fun!
Our loop took us past Trafalgar Square…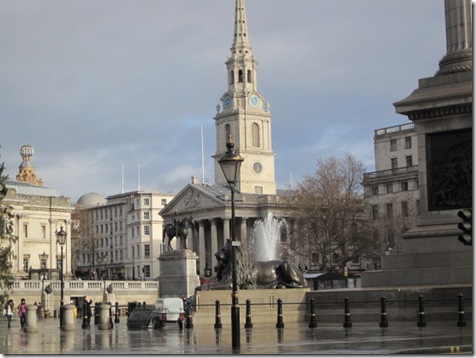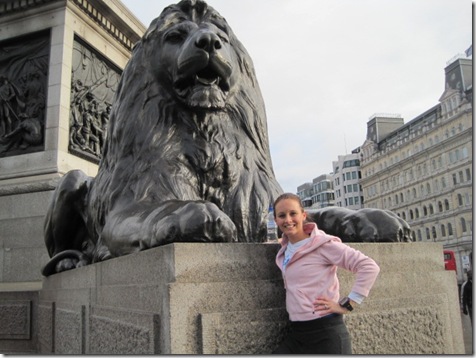 The River Thames…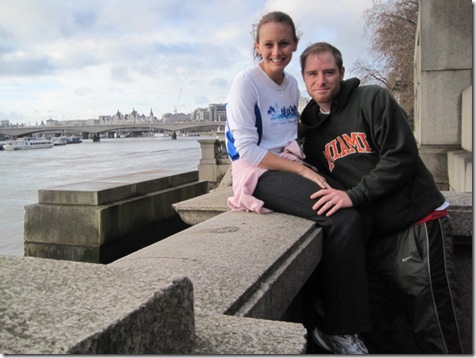 And to our goal: St. Paul's Cathedral! The neatest thing about London (and Europe in general) is that these amazing buildings are nestled among other smaller and less important buildings… it was really neat to just turn a corner and come upon this architectural masterpiece.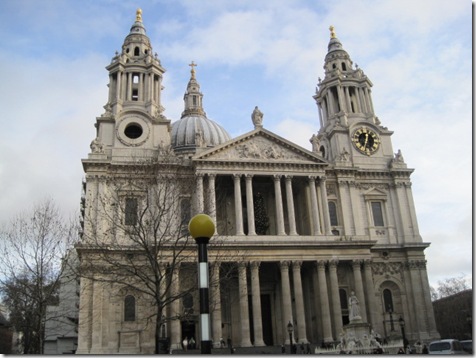 Unfortunately, we couldn't take pictures of the actual cathedral, but here's what it looked like (source and source):
Pretty amazing, huh?
Did you know a cathedral has stood in that spot for the last 1,400 years? And in 1666, a fire (the Great Fire of London) burned down the old building. The present building is just 300 years old (young by English standards!). The organ is the 3rd largest in all of England and is from the 17th Century. And of course, Princess Diana and Prince Charles were married in the cathedral!
I grabbed a Lavender Shortcake at the cathedral's cafe, which was as delicious as it sounds!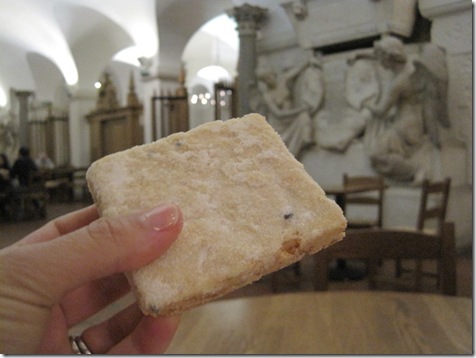 The best part of the St. Paul's is that we could climb up a scary spiral staircase to the very top dome (you can kind of see it peeking out the top in the first picture).
In total, there were almost 530 steps!!! My legs were shaking by the very end! 'Twas a great workout.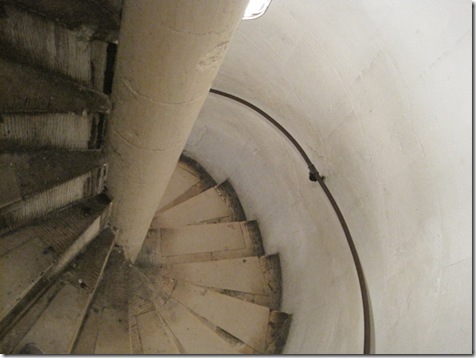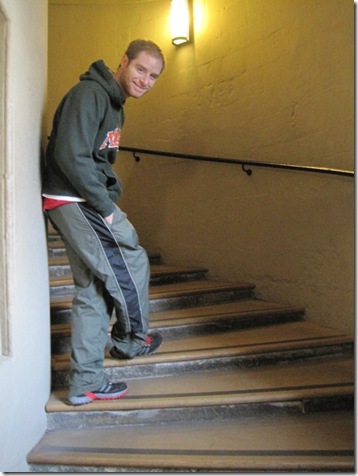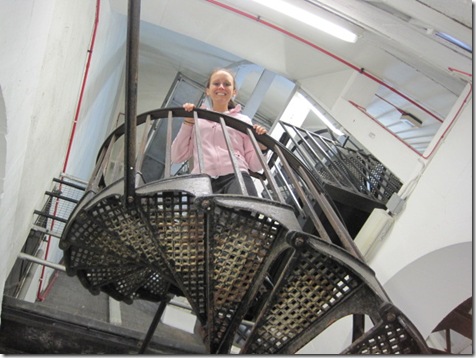 The view at the very top of the cathedral was SO worth the climb! It was scary, windy, and cold… but beautiful, too!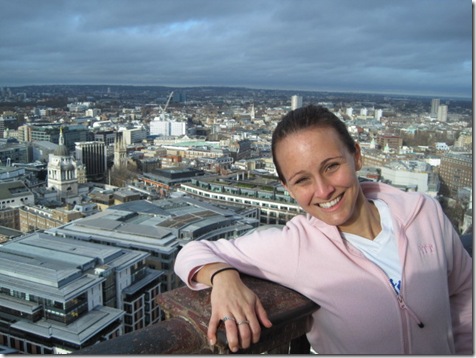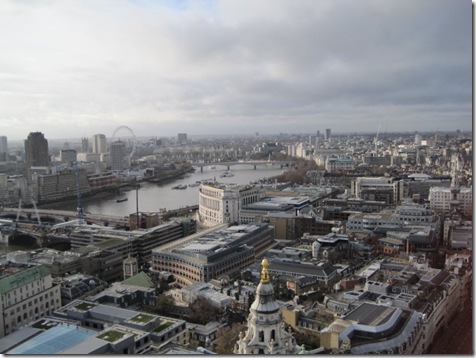 After the cathedral, we ran a little farther, hopped on the Underground, and headed to Covent Garden for lunch. I wanted to go to a vegetarian restaurant called Food for Thought (about 20 people e-mailed me to say I had to go!), but it was closed for Boxing Day (which is a major holiday in England).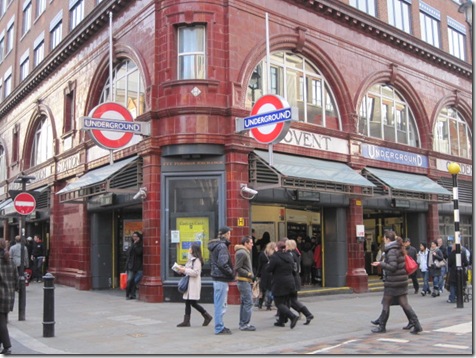 So instead, we popped into a little corner shop and got a simple and inexpensive lunch:
A hot baked potato and tomato soup. Yum! Warmed me right to my bones.
And then back "home" via the Underground! Transportation in London is so easy. I wish we had subways like this in Orlando.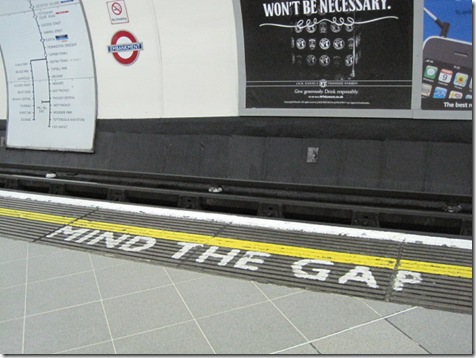 Like I said, running through a new city is just so fun. We saw so many neat sites, and the Husband ran further than he's ever gone (with me) before!
I'm going to take a nap and then we're going to see Oliver at the theatre tonight!
What's the most beautiful building you've ever seen in real life? I really appreciate outstanding architectural. There's a building at the University of Pittsburgh called the Cathedral of Learning, and I just love the look of it!