One of my favorite things to do with my Dad is eat at a hole-in-the-wall BBQ place.  You know, some creepy shack off a desolate highway?  They always have the BEST BBQ.
(I ate at this place for a pre-race meal… insanity.  What was I thinking?!).
But, it's hard to eat BBQ when you're a vegetarian.  Tonight, I made my own version of Southern goodness at home!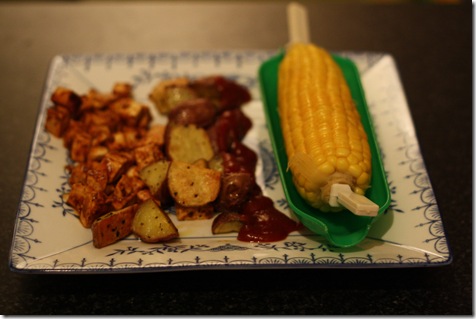 I had corn on the cob….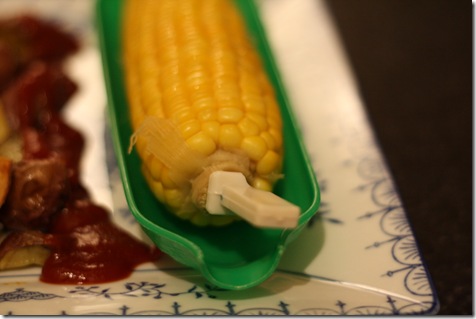 With roasted Ruby Gold Potatoes and organic ketchup…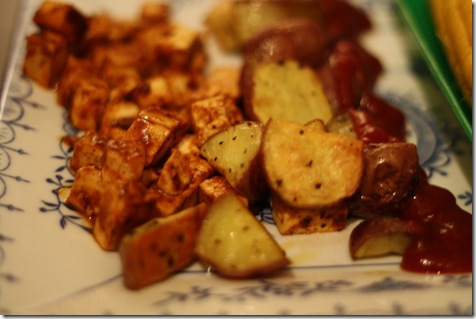 This is the kind of potatoes I used.  I chopped them up and rubbed them with salt, pepper, parsley, and EVOO before cooking at 425 until golden.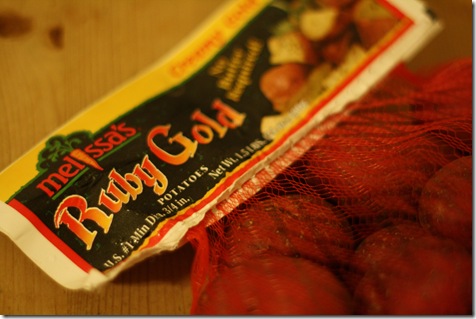 And tofu, which I rubbed with Anne's Natural Organic BBQ sauce before baking.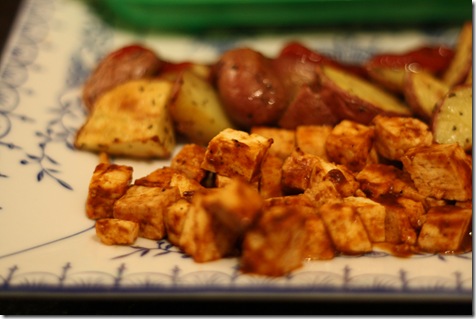 My tofu trick for minimizing dishes?  Marinate in the corner the tofu comes it – just cut off the top and add the sauce!  I buy pre-cubed extra firm Nasoya tofu, which doesn't need to be pressed.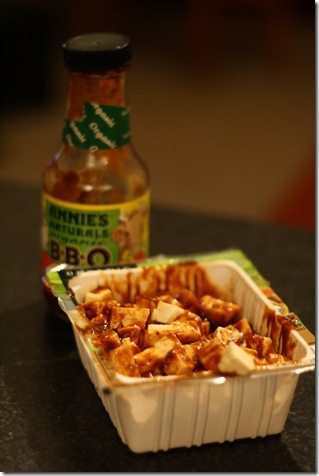 I'm going to have a Clementine for dessert.  🙂
Other snacks of the afternoon included a banana and Stacy's pita chips and salsa:
Well, night class is officially over for the Fall!  I'm relieved.  Anatomy class stressed me out!  Since I've deferred my entrance to physical therapist graduate school (because of the book), I'm not taking classes next semester.  I'm thrilled!  🙂
I'm thinking about volunteering with Girls on the Run in the Spring.  GOTR is a non-profit prevention program that encourages preteen girls to develop self-respect and healthy lifestyles through running.  Sounds right up my alley, right?!
Do you volunteer your time for a charity?