Good morning.  Another day, another To-Do List! 🙂
I'm going to run 6.0 miles later, but I wanted to start my morning off on the "right foot," so to speak.  I did a little strength training in my living room:
30 push-ups
10 10-second wall squats
100 bicycle crunches
One thing I do NOT like about marathon training is that strength training has completely fallen by the wayside!  If you read my blog six  months ago, you'd know I use to do a mini strength routine like this every morning! I miss it and want to re-integrate it into my schedule.
Breakfast was delicious!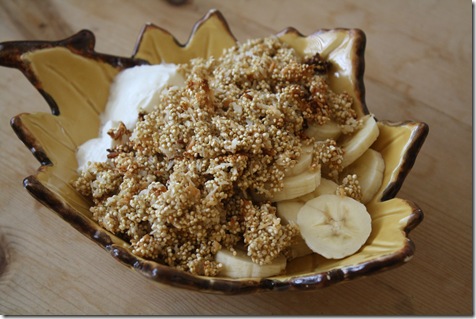 Toasted Quinoa
Ingredients:
1/3 cup dry quinoa
1 tablespoon ground flax
2 tablespoons unsweetened coconut
1 tablespoon maple syrup
Directions:
Preheat oven to 425 degrees.
Wash quinoa and drain.
Mix quinoa with remaining ingredients.
Spread quinoa out on baking sheet and cook for 10 minutes, stirring occasionally.
Serve over yogurt with fruit.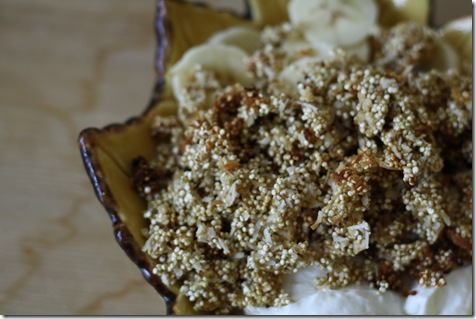 Such a pretty (and tasty!) breakfast.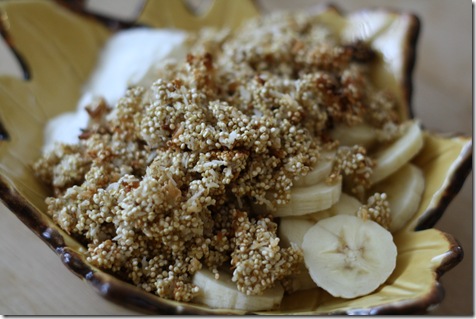 Off to cram for my Anatomy final… I cannot wait for class to be over, truthfully.  🙂
Toasted quinoa is being added to the new Recipe page!
The first step toward change is acceptance. Once you accept yourself, you open the door to change. That's all you have to do. Change is not something you do, it's something you allow. ~Will Garcia