I finally received my bright purple Team in Training singlet!  🙂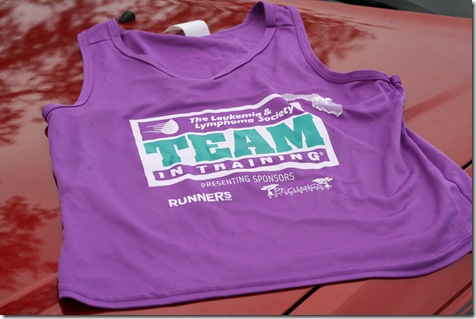 I kind of debating whether I'm going to wear the singlet on race day, though.  I'm obviously proud to be affiliated with TNT, but the shirt is big, and I think I might need warmer clothing for the marathon.  But I'm still excited; the race is ALMOST here…  It's on January 10 – let the countdown begin!
This morning, I went to Blue Jacket Park to run 4.25 miles and meet up with my TNT coach for my shirt.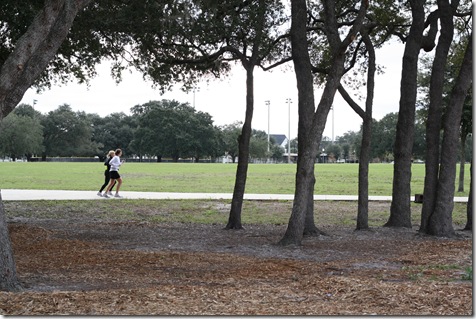 Ironically, about 0.5 mile into my run, I turned a corner and literally ran into a local 5K race! I decided to hop on into the race because it was going around the lake path that I was already planning to run.  :)  I ran in the back with the moms and strollers.  And yes – I had to run right through the finish line and pose for post-race photographs.  It was funny!
Distance: 4.25 miles
Duration: 41:22 minutes
Mile 1: 9:55
Mile 2: 9:32
Mile 3: 9:25
Mile 4: 10:18
Mile 4.0 – 4.25 nubbin: 2:13
After my run, I snacked on some Gummi Bears that I found in our glovebox.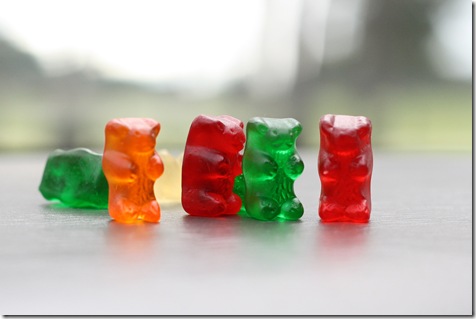 After showering and changing, I drove to Infusion Tea to meet Lindsey, Ryan, Ashley, and Meghann for lunch.  It was nice to see my girlfriends and talk about the upcoming holidays!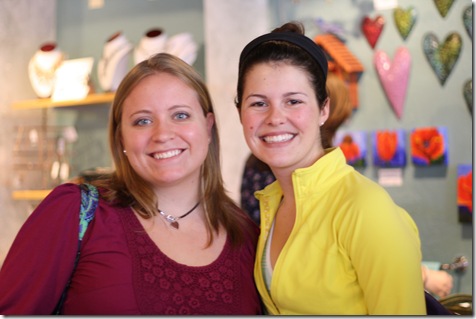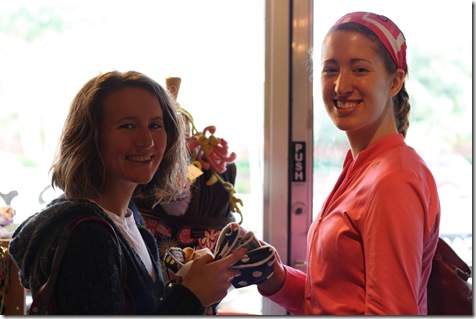 Infusion Tea is a really cute vegetarian restaurant with a HUGE wall of tea!  I decided to order the Pesto Panini, which contained roasted red peppers, artichoke hearts, eggplant, spinach, tomato, and fresh basil pesto on thick ciabatta bread.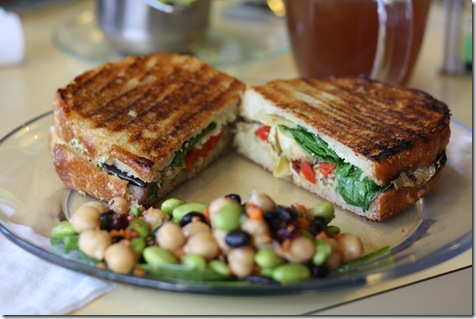 This sandwich was so delicious.  I must remake it at home!  I tried to finish it all, but couldn't!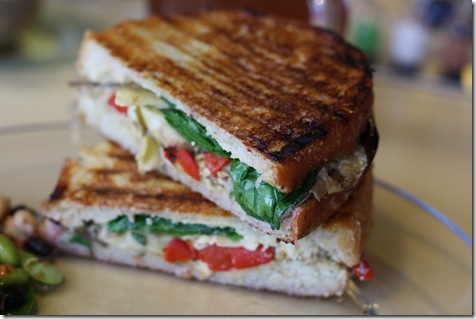 Plus, a lovely pickled edamame and chickpea side salad: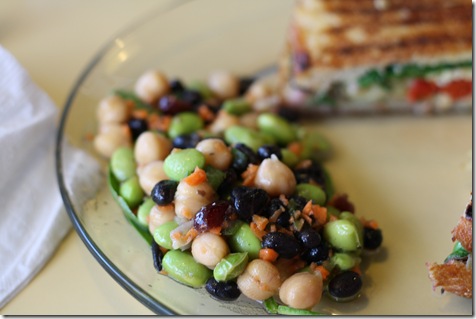 Since I was at a tea house, I made sure to order hot tea!  I chose the Candy Cane flavor.  It came with a little timer so I knew how long to steep my tea for.  Perfect!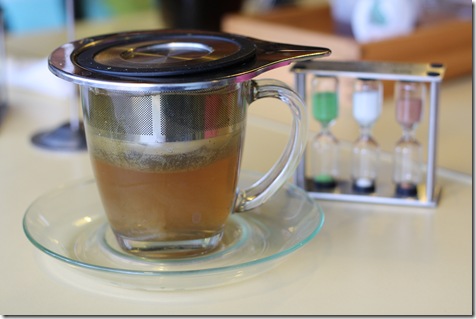 Which do you prefer – coffee or tea?  I'm a coffee girl, but I love a good cup of tea, especially mid-day.