I'm happy to report that I'm not that sore from my 22.0 mile long run!  It feels like I went out dancing in really uncomfortable high heels, but that's it.  I credit adequately refueling with GOOD food (as opposed to a large Coldstone ice cream), foam rolling, and Recovery Socks.
My breakfast has a little GREEN surprise in it!  🙂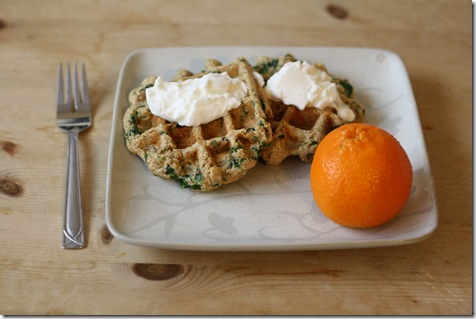 I made normal whole wheat waffles (I like the Hodgson Mills kind), but I made some substitutions:
Vanilla rice milk instead of regular milk
A little less rice milk and 1/2 cup steamed and chopped spinach added in
A flax egg instead of a real egg (mix together 1 tablespoon ground flax and 3 tablespoon water and let stand for 1 minute).
The result was a sneaky vegetable surprise!  You could taste the spinach, but it was a yummy taste, I promise.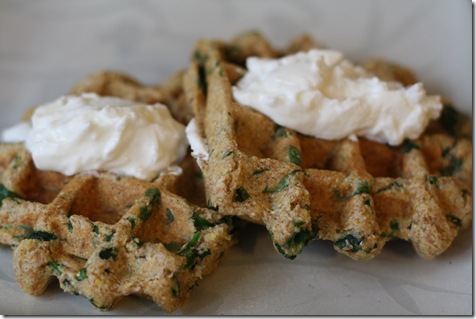 I topped the waffles with about 1/4 serving of plain Greek Yogurt.
Plus, a Clementine for munching.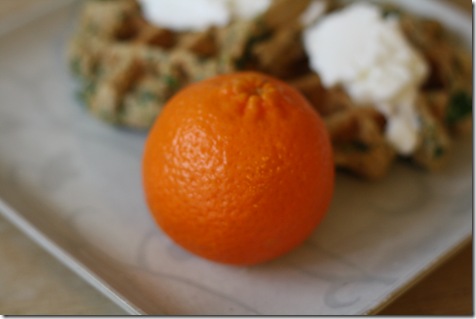 Are you a fan of vegetables?  It's no secret that I'm not a big vegetable girl, so I try to sneak them into recipes.  A big bowl of vegetables seems soooo unappealing to me (unless you coat them in cheese).