After many, many hours with my butt glued to the couch, I finally managed to peel myself out of reclining position and take James for a walk.  We did about 0.5 mile at a steady pace.  The ONLY thing that truly makes me feel normal after a long run (I cannot believe I ran 22.0 miles this morning) is to move my legs.  And foam roll, which I also did.
Then… it was back to the couch.  🙂
I did rise a few times to re-fuel:  I had raisin cereal with rice milk for snack number #1: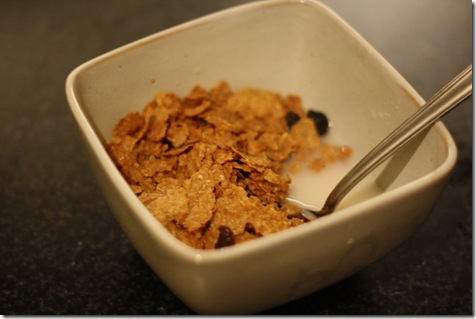 Snack #2 was 1/4 of a melon, which I just eat off the rind using a spoon.  🙂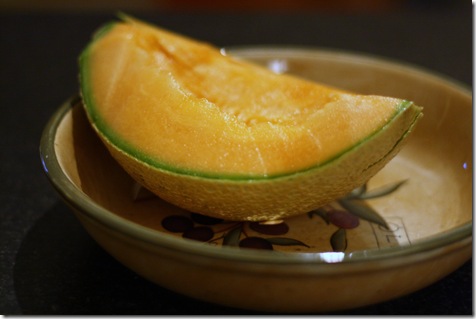 Snack #3 was another portion of French bread with cream cheese.  Carbs are my friend.
I realized I was lacking in the vegetable department, so for dinner, I made a vegetarian stir fry.  I used a Teriyaki Ginger sauce to stir-fry some eggplant, beans, and mushrooms: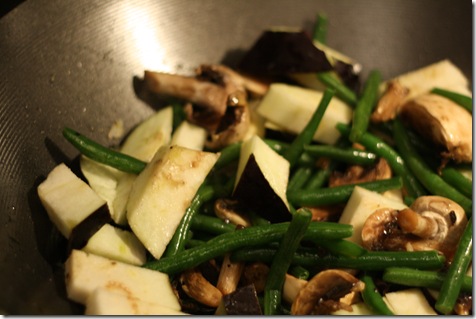 And then I added cooked brown rice and let the flavors simmer together.  The result was DIVINE!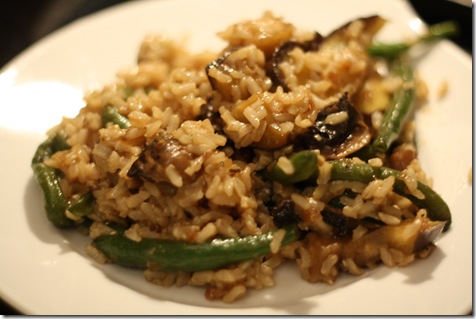 I need my BED!  I never napped and am positively exhausted.  Sleep is a key part of long run recovery, so it's going to be an early night for me!
PS – Just ate a Glo Bar! I am so hungry! 🙂
Random question: What position do you sleep in?  I sleep on my back with a pillow under my knees.