Searching for that perfect gift?  Check out my favorite Holiday Gift ideas!
Morning!  :)  How are you? 
Since a few of you didn't believe me/didn't know what I meant when I said I have a block of frozen credit cards, here is the proof: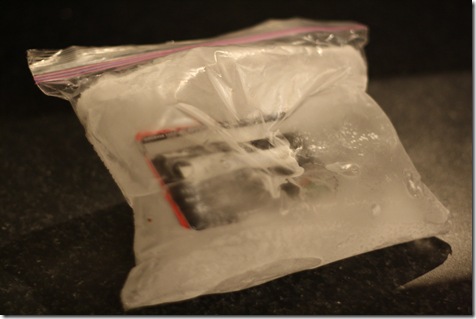 The theory is that I have to let them thaw out before I can use them.  Perfect for the Responsible Spending Challenge!  🙂
Breakfast was divine: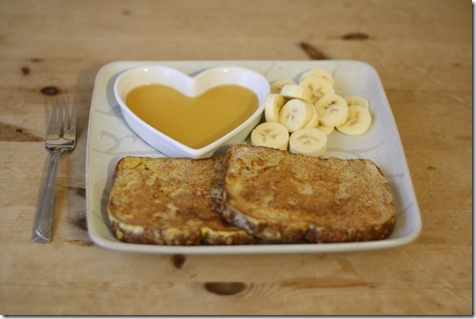 I made Flax French Toast (just regular French Toast, but dusted in ground flax before hitting the skillet).  Yum!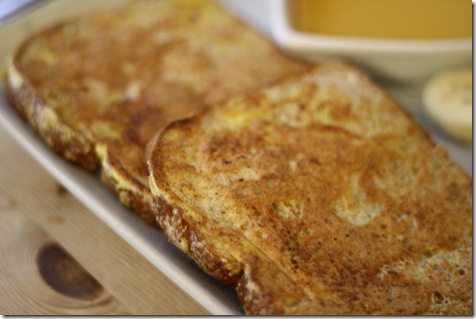 Plus, syrup and a banana: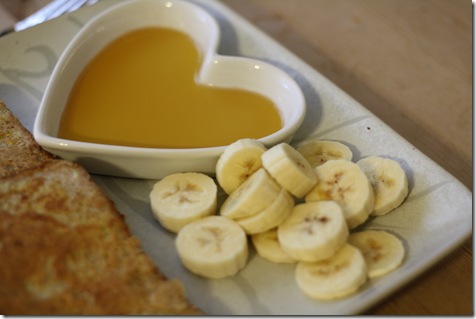 Once the Husband arises from his beauty sleep, we are going to go on a 3.0 mile run together.  He has tentatively agreed to run his VERY FIRST RACE with me while we are in England – a 10K on January 1!  Don't worry – it's a full 9 days before my marathon, and I'm going to take it easy (i.e. run with the Husband and not for time).  I am so excited!
Speaking of which….
Post-Marathon Goals
I've been giving a lot of thought to my post-marathon goals.  People keep asking me if I'm going to run another marathon.
The answer is NO (at least, not right away).  The marathon has been fun to train for, but it's really exhausting, and it takes up a LOT of time.  I just prefer "shorter" races, and will probably keep  myself in shape to do spur-of-the-moment half marathons.  Also, I miss biking a lot! 
Post-Marathon Goal #1:  Ride a Century
I have completed a Metric Century (60 miles – here's the recap), but I really want to do a whole Century (100 miles)!
I don't have a particular race in mind, but I'm thinking I'll start training for a Century once I've recovered from the marathon.
Post-Marathon Goal #2:  Do an Olympic Triathlon
I tried to do a triathlon in the summer of 2008, but I freaked out during the swim and was disqualified (you can read about that here).
I really want to do another triathlon to PROVE to myself that I can do it.  I'm planning to do one on March 14 – it's a 1.5 km swim, 40 km bike, 5.6 mile run.  Yikes!
Post-Marathon Goal #3:  Crooms' Fools Run (Without Dying)
Last April, I ran the Crooms' Fools Run (recap), which is a 15.4 mile trail race through the middle of the forest. 
The course took me 2 hours and 56 minutes, and I was utterly SPENT by the end.  I want to run the race again in April 2010 and feel STRONG at the end.
What are your current fitness goals? Are you trying to get into shape, try something new, or take it to the next level?