It's official!  I'm a member of the elusive sub-two hour Half Marathon club!  And it feels awesome.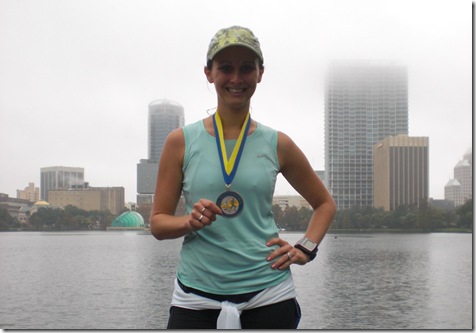 This morning's Half Marathon was my third.  My first Half, I came in at 2:06:30 (recap), and my second Half, I squeaked in at 2:03:00 (recap).  I had two goals in mind for this morning:  set a new personal record (PR) and finish under 2:00:00.  :)  It was QUITE the challenge, and I can't believe I did it!
Although I'm all smiles in the post-race pictures… I nearly hit The Wall at Mile 11.0!  Yes, The DREADED Wall.   But more on that in a bit…
I could not sleep last night.  I think I maybe got 3 hours, and when my alarm went off at 4:15 AM, I jumped out of bed.  I made a stabilizing breakfast: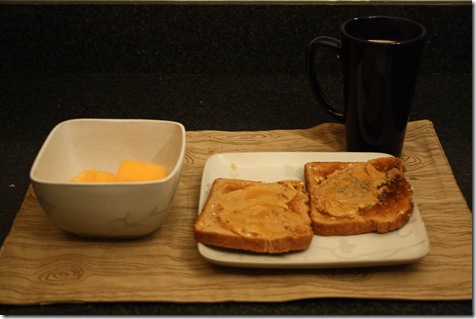 A peanut butter sandwich with melon… but I could only eat one piece of toast!  I found this very concerning because I definitely knew I needed the calories. 
Megan came over around 5:45, and we drove downtown to meet up with Katy and her lovely husband, Lucas.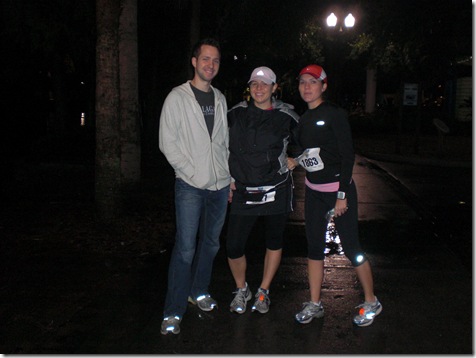 It wasn't raining yet, but the sky looked so full – you could tell it was about the pour! 
Then, we took some pre-race pictures.  It helped to calm my nerves.  🙂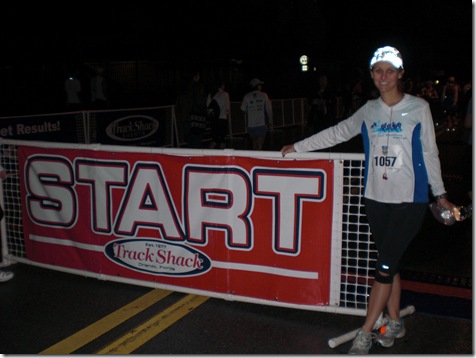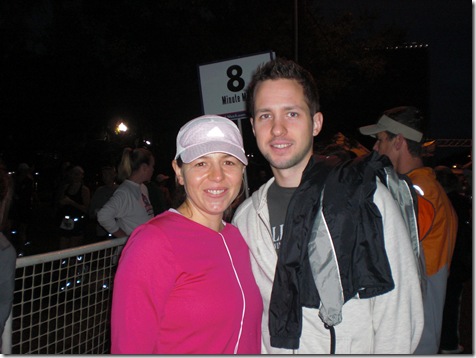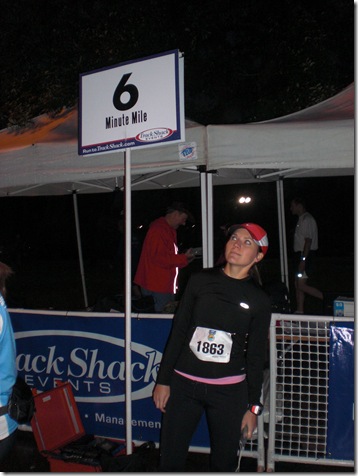 Once it was time to get in the corral, Katy and I lined up at the 9-minute mile sign and Megan went ahead to 8-minute mile sign.  That's when I got really nervous.  This race was pretty much my last chance to set a PR before the Disney Marathon in January, and I really wanted to walk away from the 2009 – 2010 race season with a record!
To achieve a sub 2:00:00 Half Marathon, you have to average 9:10/mile.  I had my handy-dandy Pace Tat to help me keep track of my times.  I loved this product!  The Garmin is helpful, but the Pace Tat is pretty cool. I decided to aim for 9:00/miles… after all, most courses are actually a little bit longer than the official distance (because you run around people, run out the outside of corners, etc).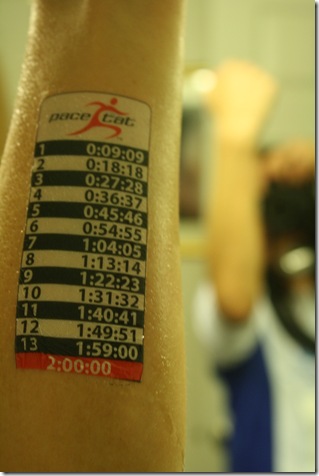 Instead of setting up a Negative Split (where you start slower and end faster), I decided to try and create a small excess of time at the beginning.  The first 6.0 miles were fine – my right foot fell asleep for the first mile, and I started to get a side cramp, but both quickly went away.  I had a water bottle and managed to avoid water stations until Mile 6.0.  It also started to rain at Mile 3.0, but it was just a light drizzle (which lasted the rest of the race).
Mile 1: 8:39
Mile 2: 8:46
Mile 3: 8:51
Mile 4: 8:53
Mile 5: 8:46
Mile 6: 8:50
At Mile 7.0, things started to get a little rough.  I was HUNGRY.  Really, really hungry.  I took one Goo shot before the race started, and I gulped down my second one about 1:10 into the race.  I knew I would never make it the rest of the way without more calories, so I started to grab Gatorade from the water stations.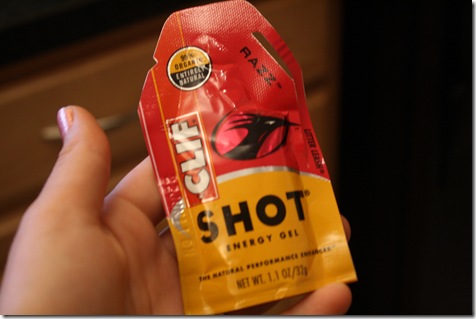 I also randomly burst into tears at Mile 8.0, which was really weird!  I don't know what happened!
Mile 7: 8:57
Mile 8: 8:58
Mile 9: 9:09
Mile 10: 9:01
Mile 10.0 seemed to go by really quickly, and then Mile 11.0 came up like a BEAST.  My legs suddenly felt like LEAD.  My butt is the always the first thing to start hurting, and I could feel every single step in my behind.  Then, I started to lose it mentally.  Crazy thoughts started to race through my head – Maybe I can just quit?  Maybe I can just walk the rest of the course?
The cobblestone was a KILLER!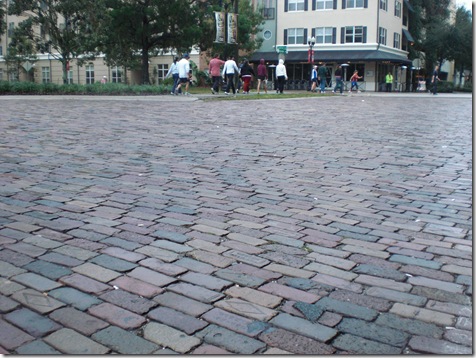 Then… I remembered the Galloway Method (walk/run/walk/run)!  I decided that Galloway was going to save me.  I started to walk/run, walking every mile or so for about 30 seconds (I had also walked through some of the earlier water stations).
I knew that I was "safe" to do a walk/run because even though my pace suffered a little bit, I had created that excess at the beginning of the race.  By Mile 11.0, I knew I was going to finish under 2:00:00 unless something went terribly, terribly wrong!
Mile 11: 9:11
Mile 12: 9:33
Mile 13: 9:20
Mile 13.2 (course was long): 1:43
I ran as fast as I could to the finish line – but I couldn't sprint!  I had NOTHING left in my tank… Caitlin was out of gas!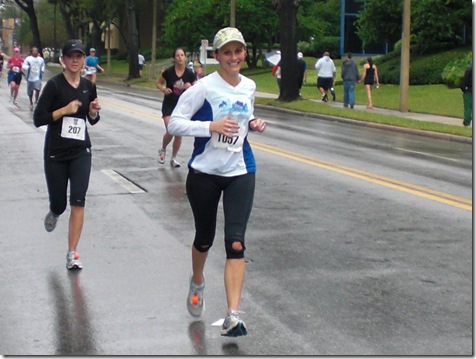 Megan had come in about 8:40 minutes before I did, also setting a new PR!  GO MEGAN!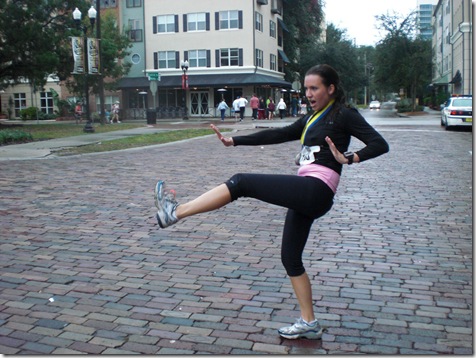 And Katy whipped her first Half Marathon, coming in around 2:10.  This was the longest distance she has ever run!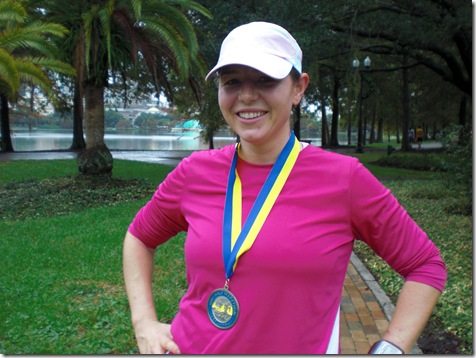 We also ran into Sarah, who was rocking an Operation Beautiful note on her shirt!  Way to go, Sarah!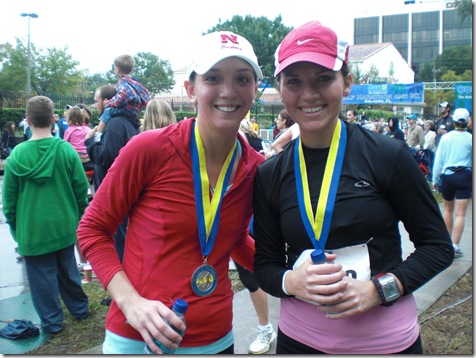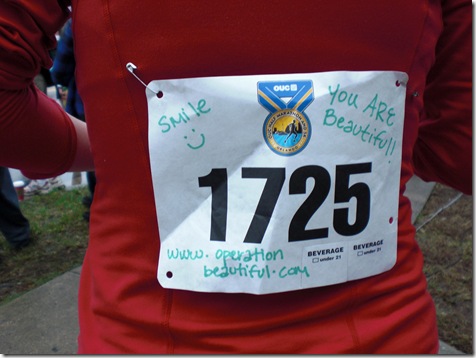 I grabbed one of these protein shakes that the volunteers were handing out – I needed it!  It had about 210 calories and 25 grams of protein.  It was pretty yummy, too.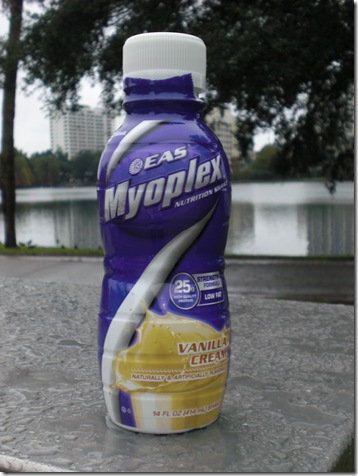 All in all… this Half Marathon was AWESOME!  Here are my final statistics:
Distance: 13.1 miles
Duration: 1:58:45
I feel happy, proud, and EXHAUSTED!  I'm glad I pushed it, and I know I gave it my all.  There is NO FEELING like setting and achieving a fitness goal – it makes me feel so strong!
The Husband made me an awesome post-run veggie omelet with two pieces of toast:
And now it's time for a NAP! 
I hope you have an excellent Saturday!  🙂