This morning, I hit a new weekly total mileage (WTM) record: 36.5 miles in 7 days!
In the 4 years or so that I've been running, I have rarely run over 30.0 miles a week – maybe only once or twice.  And I KNOW I've never broken 35.0 miles before!  :)  My body prefers to run a maximum of 20.0 miles or so and mix in other cross-training (like biking).  But marathon training makes me a DIFFERENT ANIMAL!
When I first posted my marathon training plan, a lot of people said it "wasn't enough."  But I knew my body and my goals well enough to be confident that my plan (which I based off other other 4-day plans) was more than satisfactory.  There is a delicate balance between doing enough and doing too much.  While some people are quite happy running 40 or 50 miles a week regularly, I do not have the energy or body to work out like that – I would definitely injure myself. 
In the last 18 weeks, I have run exactly 443.72 miles, which works out to about 74 total hours of running, an average of 4 hours and 10 minutes a WEEK!  Marathon training is SOOO time-intensive!
I had a 1/2 a bagel with cream cheese before my morning run: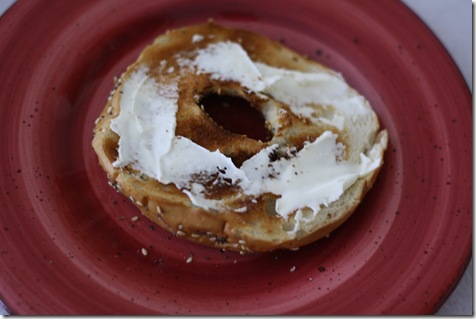 And then I ran!  I did the first 5.0 miles alone, and I swung back to the house to pick up the Husband for another 2.0.  It was a good run – I managed to keep a decent pace despite the chilly wind.
However, I started to lose it the last mile.  I was thinking about how much mileage I've done this week, and it got to me.  I just felt TIRED and wanted to quit.  Instead, I thought: "Pain is temporary, quitting is forever," and buckled down into a 7:30/mile sprint for the last 0.3 mile. 
Distance: 7.0 miles
Duration: 1:07:10
Mile 1: 9:43
Mile 2: 9:45
Mile 3: 9:33
Mile 4: 9:40
Mile 5: 9:11
Mile 6: 9:48
Mile 7: 9:27
At Mile 5.0, I had a 100-calorie pack of Luna Moons: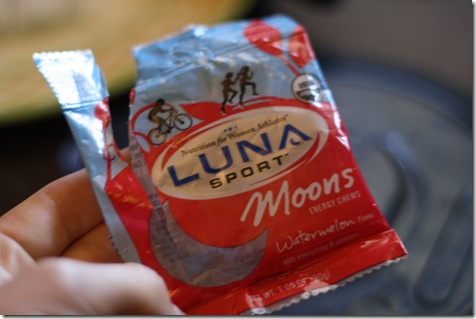 And when I finished, I made the Husband and I some REALLY delicious breakfast burritos.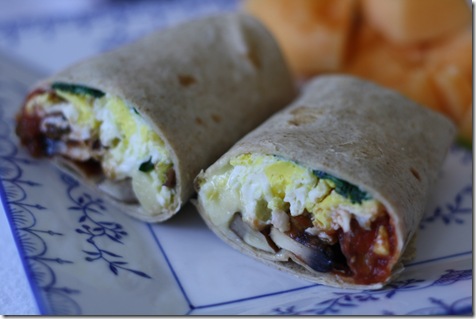 Each burrito contained:
2 eggs
Cheese
Salsa
Spinach
Mushrooms
Leftover roasted potatoes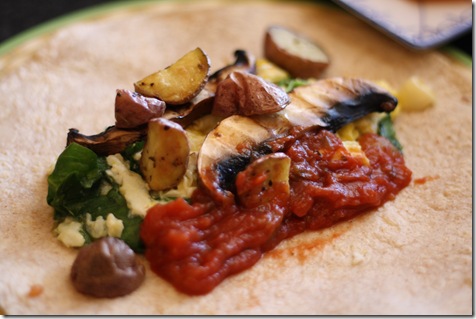 I hardly ever opt for "savory" breakfasts, but this was SO good. Plus, it was covered in salsa, and you know how I feel about salsa!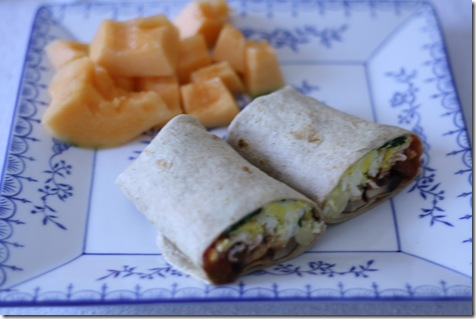 I have a lot of work to get done today – better get cracking!
Have a lovely Sunday!