I got sucked into a 2-hour special episode of Private Practice last night (which was soooo good!) and stayed up until well past midnight! I'm regretting it right now.  :)  But oh, the drama!  I couldn't put down the remote.
I ended up having a bowl of granola + yogurt because I got hungry. 
As a result, my breakfast is a little lighter than normal.  My appetite just wasn't raging like it normally is in the morning.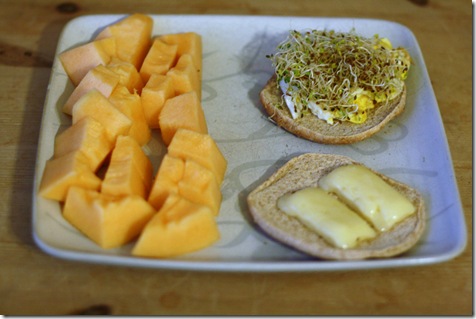 I had an egg, cheese, and sprout sammie on Arnold Sandwich Thins.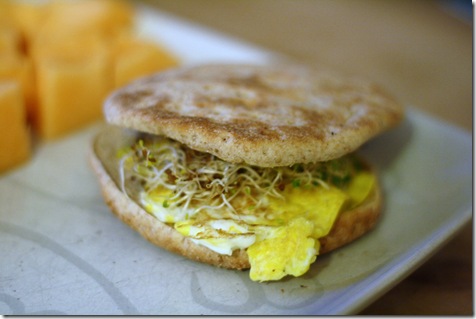 Plus, 1/4 a melon: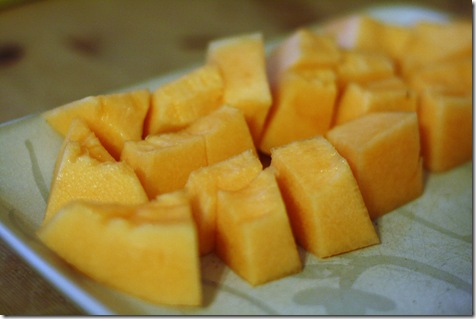 How to Run in the Rain (Unofficially)
Tomorrow, I'm racing in my first Half Marathon of the 2009 – 2010 racing season (and my third Half ever).  However, the weather forecast does NOT look good: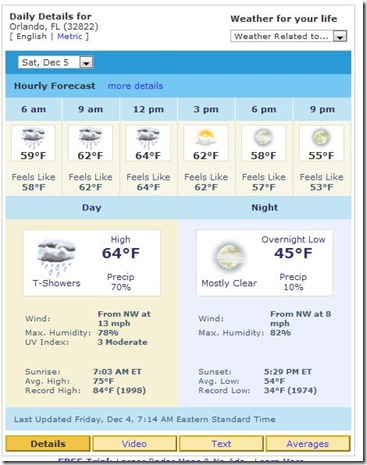 Looks like I'll be running 13.1 miles in the cold and rain, which MIGHT be a good thing for my time, actually.
I've only run one other race in the rain, and it was the last Half Marathon I ran (recap).  However, it didn't start to rain until Mile 11!  I do have a lot of experience in running in the rain, as it pours constantly in Central Florida, and I rarely let rain deter me from a run.  I actually ran in a tropical storm in June 2008! 
Here are my simple rules for running in the rain, when you are too cheap to buy official rain gear (like me):
Tip 1:  Wear a hat.  The brim will keep water from getting into your eyes, and it will help keep your head warm.
Tip 2: Do NOT wear cotton because it will become water logged and increase your risk of awesome chafing.
Tip 3:  Cut holes for your arms and head out of a garbage bag and wear it like a poncho before the race starts.  It will help keep you dry and warm until you start running.  Just ditch it in the trash when you start to race.
Tip 4:  Wrap your electronics in Saran Wrap or a ziploc bag to keep them dry.
Tip 5:  Watch where you step!  Your feet will stay surprisingly dry when running in a light drizzle, but if you step in a puddle, you're done. 
Tip 6:  Have fun!  For my recap of Gasparilla Half Marathon, I wrote, "Then… at Mile 11.0, the inevitable happened.  The clouds opened up and it started to POUR.  I was determined not to let the rain get me down, so I screamed out "WOOOOO HOOOO" at the top of my lungs, which started an awesome change reaction all down the course!!! So many people were cheering for RAIN — it was amazing."   Having a good attitude about the rain makes it more bearable.
Will you work out in all sorts of weather conditions, or is rain, snow, or the cold an excuse to take it indoors (or stay on the couch)?  When I lived in Pittsburgh, I would skip many outdoor runs due to the snow!  :)  Snow and ice are a little more dangerous than rain!