Because sometimes you need a double dose.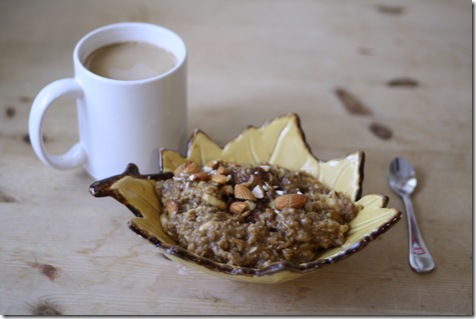 And today is one of those days!
Coffee oatmeal is flavorful, bitter, and delicious.  If you love coffee, and you love oatmeal, you will LOVE coffee oatmeal! 🙂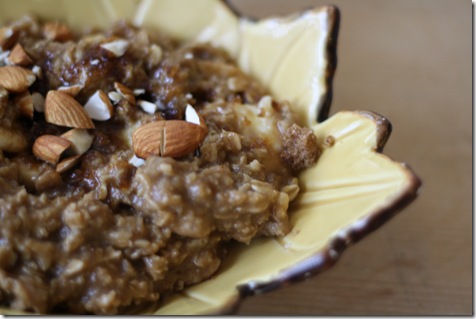 My oatmeal contained:
1/2 cup oatmeal
1/2 cup vanilla rice milk
1/2 cup brewed French vanilla coffee
1 sliced banana
2 drops Stevia
Toppings:  brown sugar, almonds
Perfection in a bowl!
Movie Reviews
Last night, I watched Seven Pounds and Julie & Julia. 
First, I'll review Seven Pounds, which was an emotional melodrama with Will Smith.  It was a kind of "put together the pieces as we go and at the end, it will all come together so neatly" movie.  I didn't like it at all, but the Husband loved it.  I think Will Smith is a great actor, and that was the movie's only saving grace.
Julie & Julia was better!  And I'm not just saying that because I'm a blogger with a book deal (the movie is about a blogger with a book deal!).  It was cute (but a little slow), and the Meryl Streep and Amy Adams were great.   I don't think this movie could've even existed without Meryl Streep as Julia Child.  It's a good chick flick that probably all food bloggers/readers would enjoy.  🙂
I do have to say that Julie & Julia was really weird to watch because Julie's story was pretty much the last year of my life (but WAY cooler and bigger) on the big screen.  The entire movie, my Hus just kept looking and me and cracking up because we've pretty much had every single conversation that Julie and her husband have in the movie. 
On that note….  What's your favorite movie?
My favorites are (in no particular order):