Upgrade, Upgrade, Upgrade!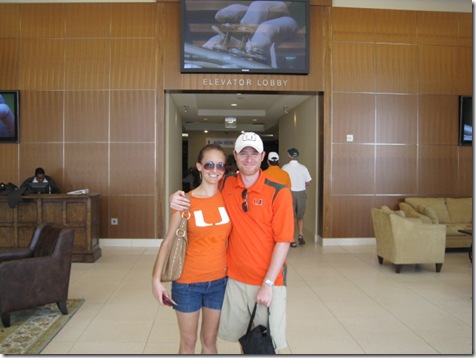 Today's football game was extra special because 1) it was the last home game (but not the last tailgate) of the season and 2) we decided to upgrade our tickets to the swanky Club Level.  TOTALLY worth it!
My day started bright and early at 5 AM.  We were in a rush to get out of the house, so I packed breakfast in an easy to-go container!  I had Oikos Greek yogurt, a banana, and granola: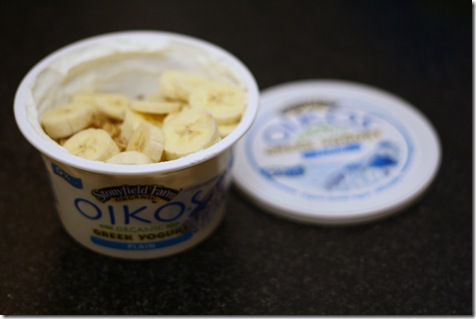 As we drove, the sun came up (and I drank coffee).  I don't know why Northerners are so obsessed with Dunkin Donuts – I hate it!  Bletch!
We arrived at the stadium around 9:30 AM, and set up our tailgate area.  Welcome to our lovely home!  🙂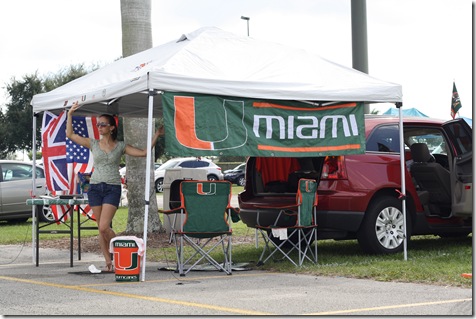 I KNEW I shouldn't have bought this massive bag of chips for just the Husband and I, but I did anyways because I have a serious weak spot for chips and salsa.  We started to tear into it right away:
It was good.  🙂
We played Ladder Golf for a while with the people who were parked next to us.  Ladder Golf is another one of our homemade tailgate games.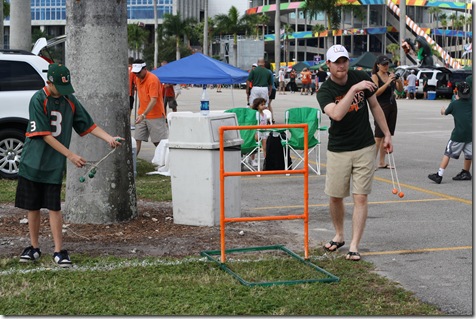 The goal of Ladder Golf is to throw the golf balls around one of the levels of the ladder.  It's really fun!
And then I got to cooking!
So, one of the items I've been wanting to make is  Breakfast Pizza.  Since today's game started at 12:00 PM, I thought this was my perfect opportunity.  As usual, since our tailgate menus are sponsored by Arnold Bread, I used the lovely Boboli crust as my base.  I do really like the Whole Wheat Boboli crusts.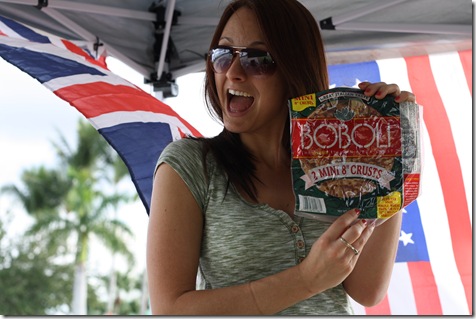 Our breakfast pizzas contained:
Pasta sauce
Spinach
Hashbrowns
Broccoli
Eggs
Green Peppers
Cheddar Cheese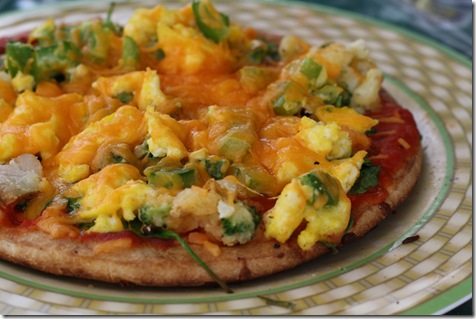 Everything has to be fully cooked before going on the pizza, because I've found the grill doesn't really "cook" the toppings, it just heats everything up (and melts cheese).
I cooked the eggs and green pepper first:
Then I set the cooked eggs aside and did the hashbrowns (which was just a pre-made bagged kind).  After that, I prepared the pizzas and put them on the grill.  The result?
AMAZING. Nom, nom, nom!  I had 1/2 a pizza with some melon (and more chips!).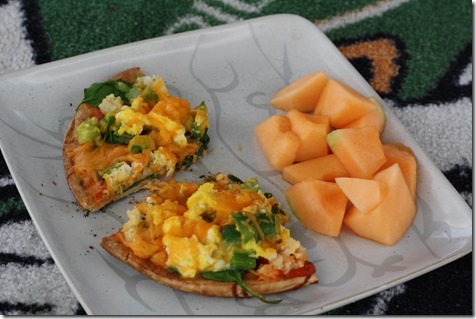 I want to make this again, but at home!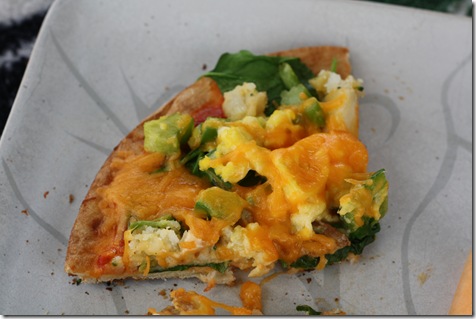 We cleaned up the tailgate and walked to the stadium, which is when I noticed it was approximately ONE MILLION DEGREES outside.  I was just thinking how faint I was feeling when the Husband mentioned we could upgrade to Club Level for buy-one-get-one.    I said, "Hell yes!"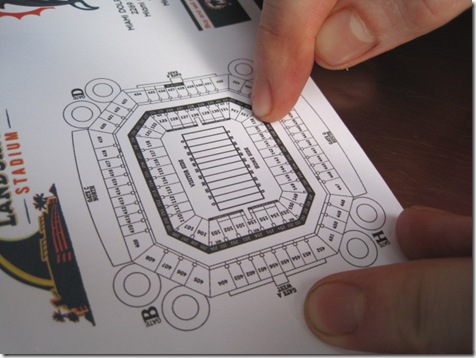 I then proceeded to scalp our regular seats for $20.  I was quite proud of myself for making the sale.  🙂
The Club Level was SOOOO nice.  We couldn't afford to get season tickets for Club Level (it's 6 times the price for season tickets), and it was nice to see "how the other half lives."  The other half has AIR CONDITIONING!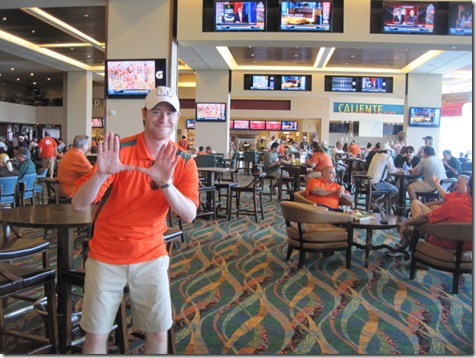 And a swanky BAR!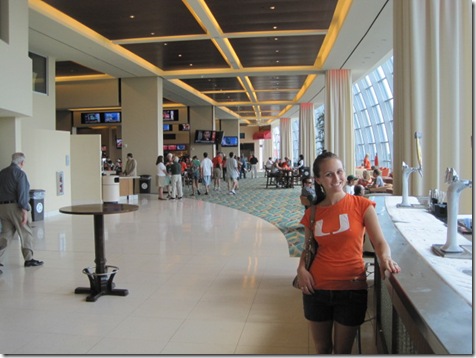 And a Heisman Trophy!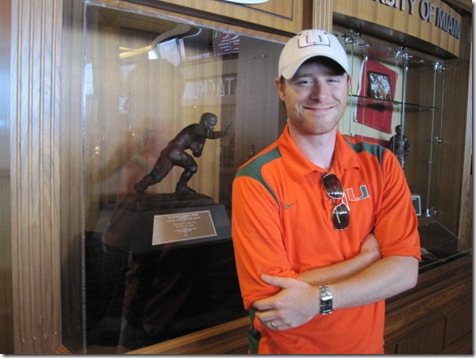 We obviously looked new.  :)  It was a blast! 
Our seats were better, too.  Instead of being in direct sunlight, we were in the cool shade (with FANS!).  Our normal seats are on the upper level in the picture on the left.  Our special seats were under this nice shade structure.  🙂 In Miami, this is a pretty big deal.
The game itself was… interesting.  We sucked during the first half, but came back after half-time and proceeded to whip Duke (sorry, Duke fans – you can beat us in basketball!).  It was loads of fun to watch.  And I didn't even break a sweat!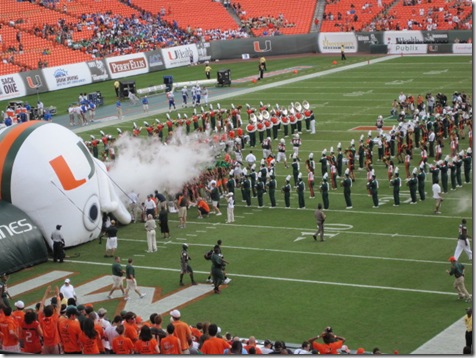 I did split this ice cream with the Husband: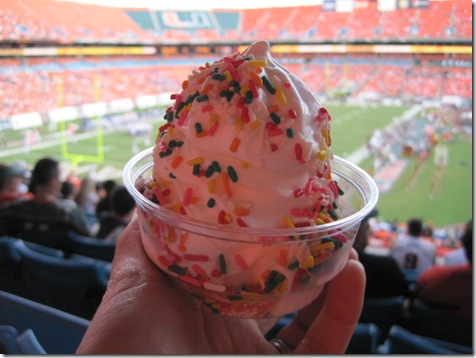 On the way home, the Husband and I sat with the chips and salsa in the front, and he proceeded to feed me as I drove (unsafe, but delicious).  I'm pretty sure we crushed the entire bag (groan!) over the 3-hour period.  
14 hours after I left the house, I'm finally home, and I'm exhausted.  I foresee much relaxation and couch time in my immediate future.   I'm not really hungry (no surprise there – I'm full of chips!), but I'm about to take a shot of wheatgrass and eat a simple spinach and veggie salad. 
Good night, my friends!  See you for a 6.0 miler in the morning!  🙂