Morning!  I crashed at 10 PM last night, and woke up at 7:30 AM.  I feel like a new woman!
Wheatgrass and coffee helped, too.  🙂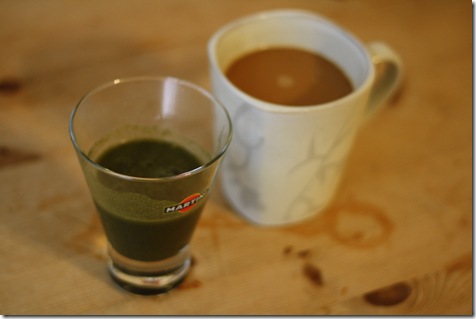 And then I tackled my e-mail, which was entirely out of control.   I had intentions to do Yoga Sculpt afterwards, but I realized that I was essentially using yoga as an excuse not to get to work immediately.  :(  Today is definitely NOT a day of rest – I have a lot of writing to do. 
So instead of yoga, I made breakfast: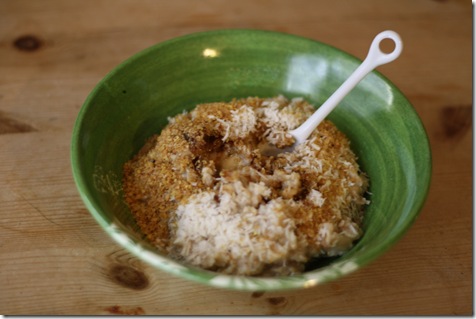 Underneath all that flax and coconut is actually oatmeal.  🙂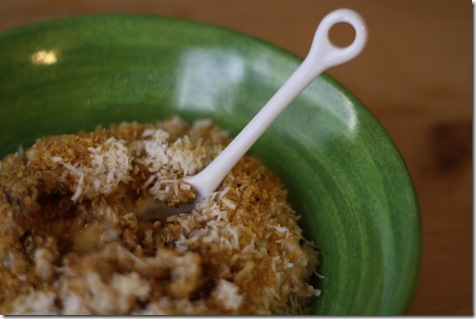 My oatmeal contained:
1/2 cup oatmeal
1/2 cup almond milk
1/2 cup water
1 banana
Toppings: flax, coconut, brown sugar
Yum!
Plans for the rest of the day include:  writing, shopping, and running.  :)  I'm going to H&M with the Husband and Harry this afternoon (I need clothes for my London vacation!) and I also need to squeeze in a run at some point.
My Official New Moon Review
I saw New Moon on Friday night, but I never got a chance to officially review it.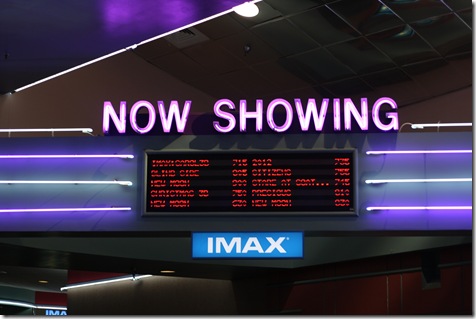 I saw the movie with Ryan, Ashley, LIndsey, and Ryan's friend.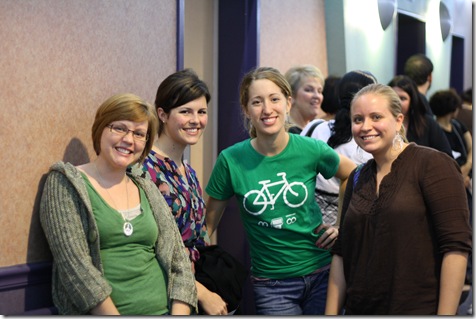 Before we went to the movie, we hung out at Ryan's house, talked about the books, and watched Rob on Ellen.   When we got to the movies, I was taken aback by how many people were there!  There were lines in every single hallway – it was nuts!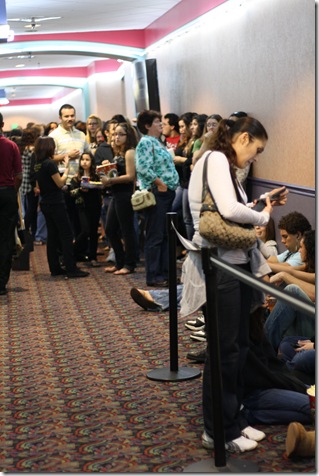 I thought the movie was excellent.  I know some critics are ripping it apart, and I think that's because they simply are not fans of the books.   If you love the books, you will love this movie. 
My grips with the first Twilight film include:  really, really bad makeup; mediocre acting; weird Indie-style of shooting; and a lack of dramatic build-up.  My biggest fear for New Moon was that the (SPOLIER) werewolves would look super cheesy.
The acting in New Moon was MUCH better.  I think someone told Kristen (Bella) and Rob (Edward) that staring at each other, sighing, and biting their lips does not equal emotion (thank God!), and both actors did a MUCH better job of being emotional without being cheesy.  I do think that Taylor (Jacob) and Kristen have much better chemistry on-screen than her and Rob (which is ironic, considering that Kristen and Rob are suppose to really be dating).
The CGI effects for the werewolves were so good that I found myself forgetting it was computer animated and just getting into the scenes!  At NO point did I think, "Wow, that looks terribly fake."  The fight scenes between the vamps and the werewolves were really well done, as well.  There's one overhead shot that shows a bird beating its wings as the werewolves and vamps race underneath (to convey speed), and it was just such a creative shot – I was impressed.
Oh, and the vampire makeup was so much better.  During the Meet-The-Cullens scene in Twilight, I want to scream EVERY TIME because you can see Esme's makeup line on her forehead.  I noticed no visible makeup lines this time around, and I think they toned down the paleness/red lips on Edward a little. 
My ONLY issue with the movie was that the ending seemed really, really rushed.  It was a long movie (2 hours) but it didn't feel long, so I wanted them to extend the Italy scenes by at least five minutes.  However, the rushed Italy scenes were redeemed by a really excellent Edward-Bella-Jacob conversation at the end.
So, in review – the movie rocked.  If you're a fan, you'll love it (especially the GREAT cliff hanger ending!).  I'm pretty picky (and willing to admit Twilight was mediocre at best), so if I think it was good, you probably will, too!  I can't wait to see it again.   Oh, and I can't wait for June 2010 when Eclipse comes out.  🙂
(Also, apparently New Moon pulled in more than $80 MILLION domestically on Friday alone, making it the biggest Friday opener EVER).