French Toast is a breakfast that always symbolized the weekend and holidays.  I can remember my mom cooking it for me on Christmas.  I consider it a "special" breakfast, which is probably why I make it ALL THE TIME.  Why wait to experience the good stuff?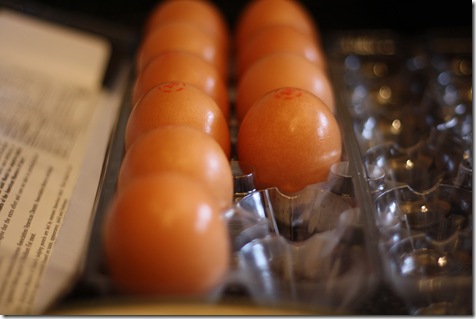 I'm entering this recipe in Tina's Eggland's Best Competition.  :)  I know it's not a very complicated recipe, but it's delicious, healthy, and fun.  And I cannot follow complicated recipes, anyway!  🙂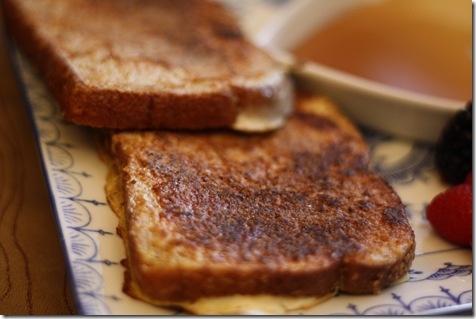 I was excited for Tina's contest because I always use Eggland's Best Organic/Cage Free anyways.  It's the most humane option at my grocery store, so I'm willing to pay the premium.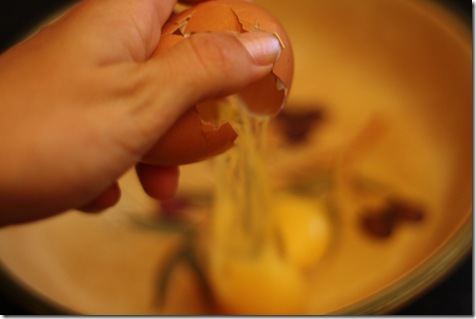 Ingredients:
2 eggs
1 tablespoon unsweeteneed almond breeze
2 pinches of cinnamon
1 pinch of ginger
1 pinch of nutmeg
1 tablespoon of ground flax
2 piece of whole wheat toast
Maple syrup for dipping
Directions:
Put bread in toast and set to medium-low toast.
In a shallow bowl, combine all the other ingredients except maple syrup.
Dip the toast into the egg mixture, coating each side.
Place toasts on griddle and cook until browned on each side.
Serve with fresh fruit and maple syrup on the side.
The spices give this version of French Toast a nice holiday flavor, and toasting the bread before dipping it into the egg mixture keeps it crunchy and firm, not soggy.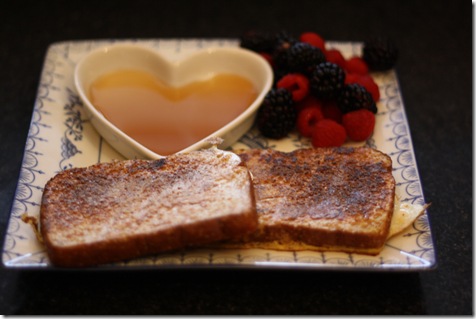 With maple syrup: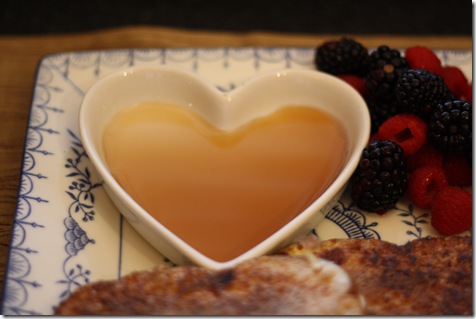 And delicious berries (which, by the way, the Husband bought in bulk at Costco on Monday.  That's why you are seeing so many berries in November!):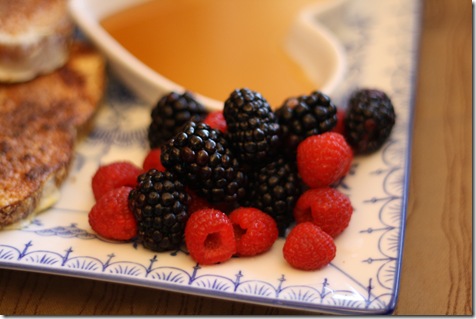 Nom, nom, nom!
Since I've taken this week off from running due to my calf injury (which feels 90% better!), I've been doing lots of yoga and strength moves.  I was JUST thinking how I've let my strength training fall to the wayside as my mileage increased when Angela posted the Whittle My Middle Challenge.
The goal of Whittle My Middle is to do 6 – 10 minutes of abdominal exercises 5 days a week in addition to your regular cardio and healthy eating habits.  
My ab strength is TERRIBLE (I have trouble holding a 30 second plank!) so this challenge seems right up my alley.  With Angela motivating me to stick to it, I know I can!  Check out Angela's Whittle My Middle Challenge for the list of ab exercises we'll be doing.   I'm going to use Online Stopwatch to ensure I do at least 6 minutes a day.  Also, I'll be taking measurements and photographs on at the "before," "half way," and "after" points today, November 25, and December 9th, respectively.
My goal is to achieve a stronger core so I'm less prone to back pain.  I also hope stronger abs will make me a better runner (of course, it always goes back to running!).
Who's in?  Off to do my exercises right now!
PS – Anatomy class is canceled AGAIN! I feel bad my professor is sick, but this is AWESOME.