We are rapidly reaching the point of an empty fridge.  There's no milk, almond milk, or half and half (so I'm drinking black coffee – ugh), and we're running quite low on fruits and veggies. I think a trip to the store is in order!
I did pull together a semi-decent breakfast: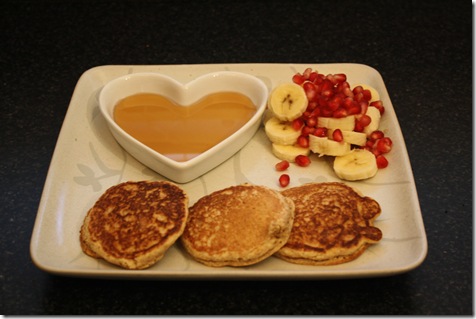 I reheated leftover Almond Pancakes and paired them with a banana and POM Wonderful arials.
I think the best way to reheat frozen pancakes is to pop them in the microwave for about 30 seconds and then lightly toast them.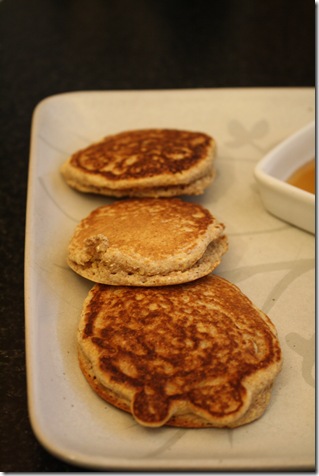 When I decided to start blogging in June 2008, the first thing I did (literally, even before setting up the blog) was go to Marshall's and buy cute plates.  This heart plate was one of my first purchases.  🙂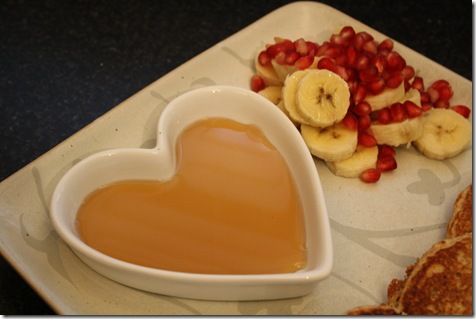 Top Holiday Gifts for the Fitness Fanatic or Foodie in Your Life
Struggling over your Holiday Gift List?  Here's a list of my favorite foodie/fitness gifts for the active person in your life!
In Defense of Food by Michael Pollan – $10
SpiBelt – $19.99  (Read my review of the SpiBelt here)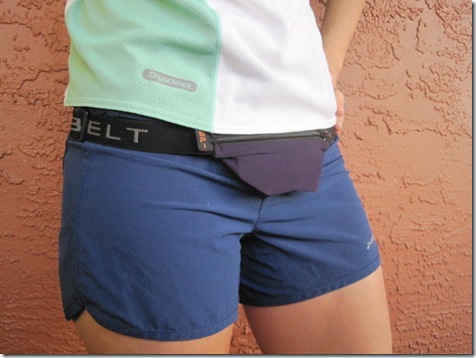 RoadID – $20 to $25
CamelBak Hydration Pack – Ladies Fit – $38
Yogitoes Skidless Yoga Towel/Mat – $69
Garmin Forerunner 305 – $149
SpaFinder.com Gift Certificate – Any Value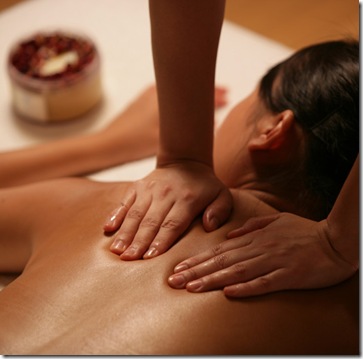 GloBakery.com Gift Certificate – Any Value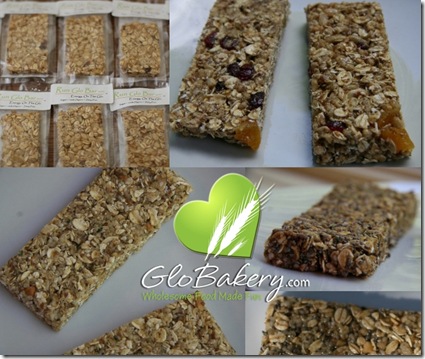 What is the biggest item on your holiday wish list?  What gifts do you plan on giving?  I would like a sparkly piece of jewelry (hint, hint Husband).