Megan came over around 9, and we went for a 4.0 miler.  She was very excited to be running again after her toe surgery!  Weeeeeeeee!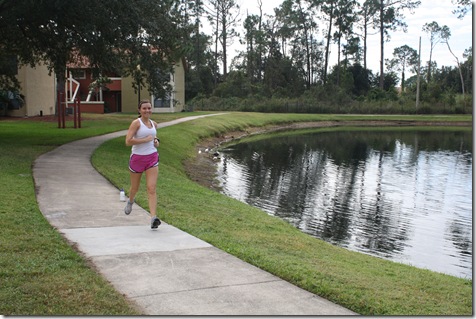 And I'm glad to have my next-door running partner back.  🙂
Here are our statistics:
Duration: 39:28
Distance: 4.0 miles
Mile 1: 9:53
Mile 2: 9:46
Mile 3: 9:55
Mile 4: 9:57
One of these days, Megan and I need to duct-tape our mouths shut and actually focus on running as opposed to chattering.
After our run, we tried to do pull-ups at the local park.  I could only do 2!  What a wuss.
Me thinks a blog challenge is coming on… I'd love to be able to bang out 10 pull-ups in a row.
And then I made lunch: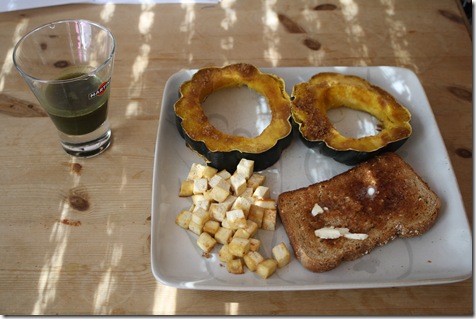 I microwaved an acorn squash for 5 minutes to soften it, and then I cut two thick rings, dusted them with brown sugar, and baked them with the tofu for about 25 minutes.  (I ate around the skin.)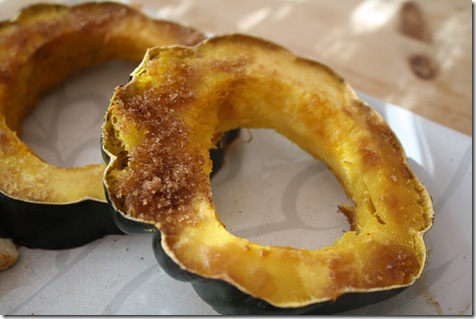 The tofu was simple, too.  Just a dab of maple syrup + cayenne.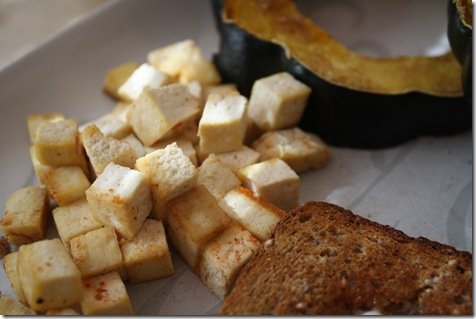 Plus, bread and buttah for a "filler":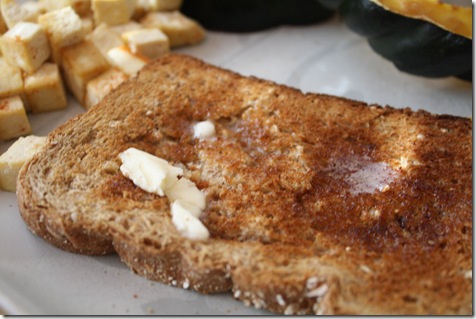 And a shot of wheatgrass (shudder!):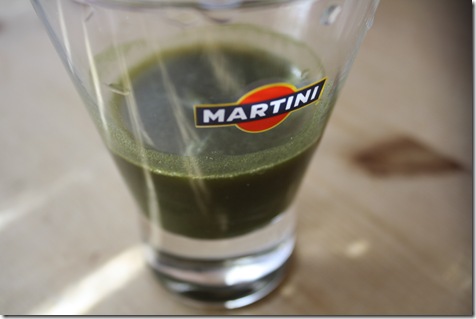 Operation Chocolate Covered Kindness
Katie is doing an awesome thing with her blog for the month of November, and YOU CAN HELP!  Katie is donating all the money she earns through her blog to The Enough Project, which works to stop genocide in Africa.  Since she gets paid based on the number of impressions she receives, simply head over to her blog and hit refresh a few times.
The Weighty Question
Lately, I've gotten this question A LOT:  Have you gained weight while marathon training?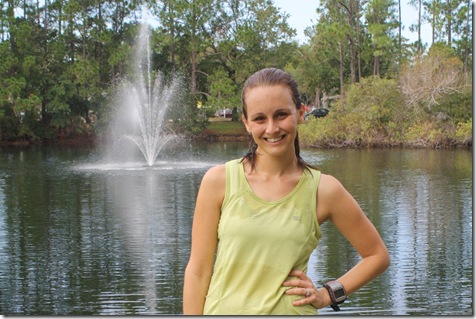 Although I try not to discuss weight on the blog for a variety of reasons, I do want to talk about "The Marathon Weight Gain."  Based on my entirely unscientific research, many people do gain weight while training for a marathon.  Why?
Increased muscle mass.  Muscle "weighs more" than fat (i.e. muscle is denser, but takes up less space).  If you don't have a lot of body fat to lose, but you gain muscle mass, you may actually end up weighing more.
Running makes you hangry.  I definitely can recall a time when I came home from a double-digit run and ate an entire box of macaroni and cheese on my own, and then I had lunch two hours later.  It is entirely possible that a person ends up "eating back" far more calories than they burned.
You think you can eat whatever you want, all the time.  Not only are you hungrier, but you're also training for a FREAKING MARATHON, so you become convinced that you can eat a pint of ice cream every other night and not gain weight.  However, a woman my size only burns about 80 calories a mile, which is not enough to justify eating loads of crap. 
Your body is storing glycogen.  Literally, your body is starting to build up carbohydrate reserves to tap into for long runs, which increases your mass (although, not significantly).
So, the million dollar question is…. Have I gained weight?  Actually, I have not, and I've actually lost a pound.  Just one.  🙂 I have tried to be conscious of eating healthy, filling, calorie-dense foods that will fuel my body and help repair my muscles. 
Note:  People who are capable of building muscle faster may gain weight more rapidly while marathon training.  Therefore, it's not fair to say that someone who is gaining weight while training is simply overeating.  As noted above, there are many factors involved in the marathon weight gain.
I do believe my body fat percentage has dropped by a point or two as I put on muscle mass.   As my mileage continues to increase, my calories will as well.  Therefore, I fully hope to/expect to put on a few pounds of muscle in the next 7 weeks (I have already been marathon training for 13 weeks). 
Does this possibility upset me?  NO.  A number on the scale is just a number.  A number does not tell you how fit your are, how strong your legs are, how fast you are, etc.  I am focusing on all the wonderful things I can do while marathon training, not the number that pops up on a scale.
So… there you have it.  My opinion on the dreaded Marathon Weight Gain.  🙂
How much do you focus on the scale?  Have you tossed it out?  Why or why not?