Another day comes to a close… at least today was VERY PRODUCTIVE!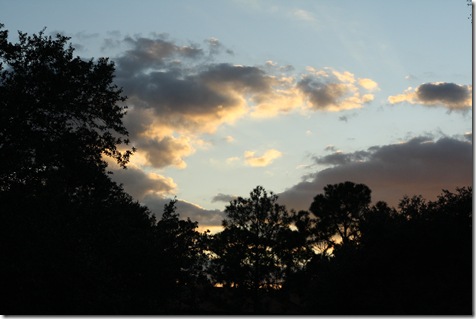 When the Husband came home tonight, I asked if he wanted to do a yoga workout session, and he asked if I wanted to do meditation.  We compromised and did both.  🙂
It's funny because I am so much better at yoga, and he is SO much better at meditation.   We did a 30 minute Yoga Sculpt On Demand program, and then he popped in a 58 minute meditation CD based on Qi Gong principles. 
Try as I might, I cannot get through 58 minutes of meditation.  Halfway through, my mind started to wander, and I began to sing Bad Romance in my head.  🙂
Eats of the afternoon included granola and almond milk: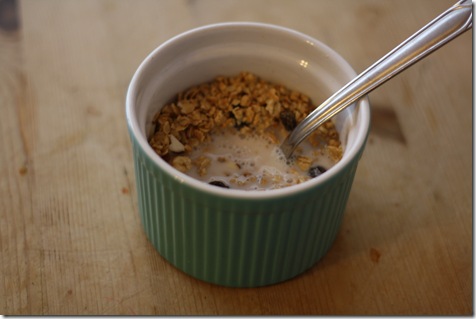 Nuts and M&Ms: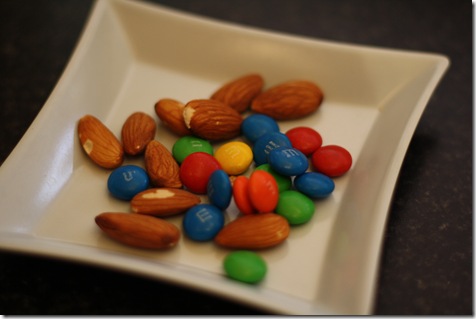 POM Wonderful arials:
And dinner was Hearty Vegetable Soup from Wolfgang Puck and a slice of bread with Sabra hummus.  I was feeling lazy.  🙂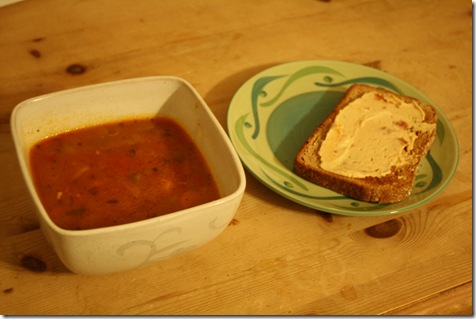 Blogger Vegan 4 A Day
Last week, Katy and Michelle e-mailed me with a challenge: Would I be willing to go vegan for just ONE DAY? Blogger Vegan 4 A Day is on this Thursday, November 19 and is part of the larger Vegan 4 A Week Challenge.
In case you aren't sure:
Vegetarians:  No meat, including fish, poultry, or red meat.  Dairy and eggs are acceptable.
Vegans: No animal products at all, which includes flesh, dairy products, or eggs.
I hesitated at first (I really like cheese and yogurt!), but I decided it would be interesting to try out veganism for a day.  I am not a vegan for a variety of reasons (which I'll discuss on Thursday), but I highly respect the lifestyle from an animal-rights perspective.  Also, I am curious to see how 'hard' it is.  I used to think it would be hard to be a vegetarian, and in general, I don't think it's really hard at all!  Maybe veganism will surprise me.  🙂 I hope so.
So, be sure to come back on Thursday for Blogger Vegan 4 A Day – I'm sure the experiment will produce a lot of interesting discussions!
Would you ever go vegan for a day?  Why or why not?