My favorite part of Thanksgiving is the turkey dessert!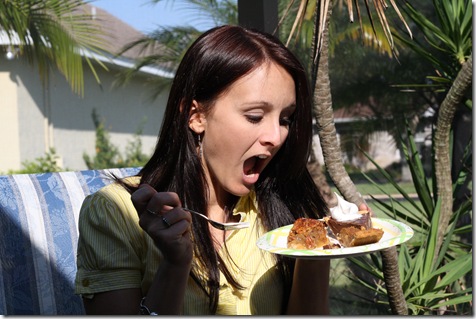 Vegetarians can't be too picky.  🙂
I hope you're having a nice day!  My Thanksgiving celebration was quite lovely.  The Husband drove me and my father down south to my aunt and uncle's house for a big family celebration. Upon arrival, I found the men helping out in the kitchen.  :)  Actually, my uncle Paul does a lot of the work.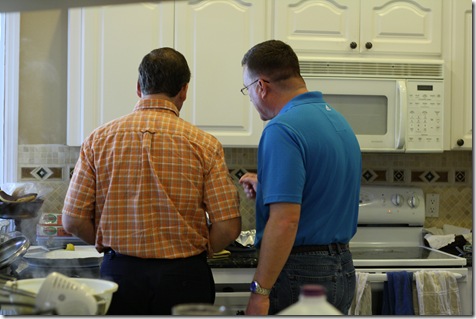 On the other hand, I tend to just wander around the kitchen aimlessly, drinking wine.  :)  Here's my aunt Faire and I (she's my twin, remember?):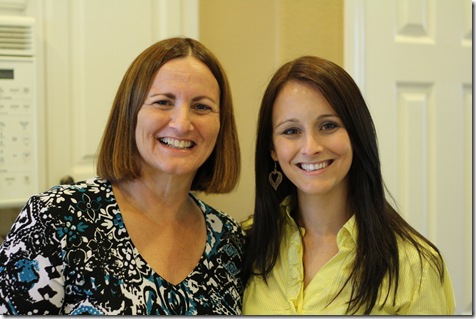 The Husband and my aunt Lynn: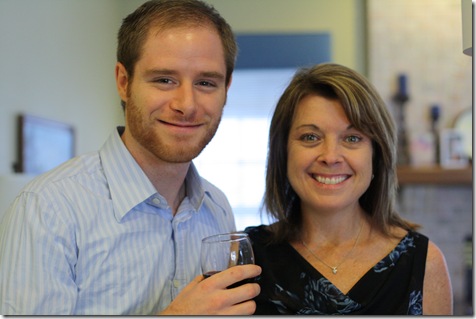 My dad and grandpa: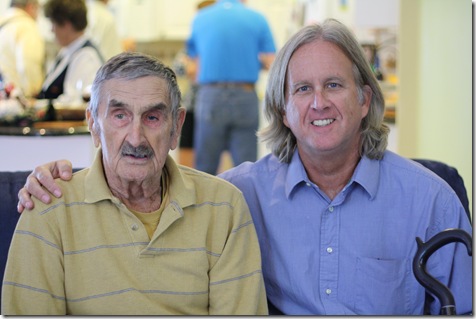 There were about 20 people at our Thanksgiving celebration, so we do a buffet-style lunch and all end up eating in different rooms of the house.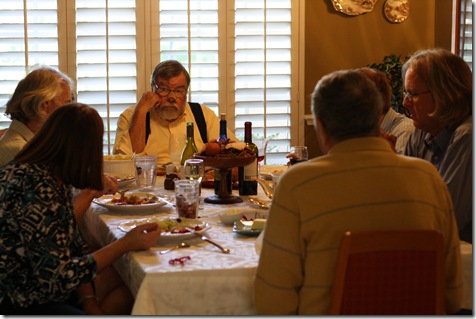 I'm not going to lie, it felt a little weird not eating turkey on Thanksgiving (this was our first year as vegetarians).  However, once I started to eat, I realized that I didn't miss it as much as I initially did.  If anything, I missed the gravy the most! I must bring gravy next year.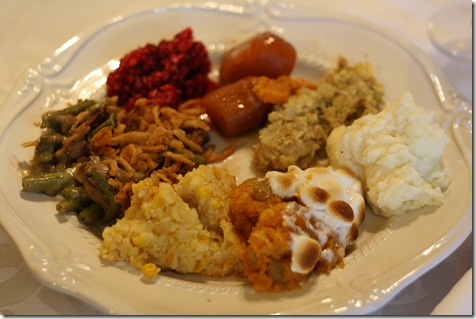 I had green bean casserole, cranberry relish, yams, vegetarian stuffing, mashed potatoes, sweet potato casserole (which I didn't eat – too sweet), and cornbread casserole.
Nom, nom, nom!
I went back for seconds of the green bean casserole, cranberry relish, and cornbread casserole.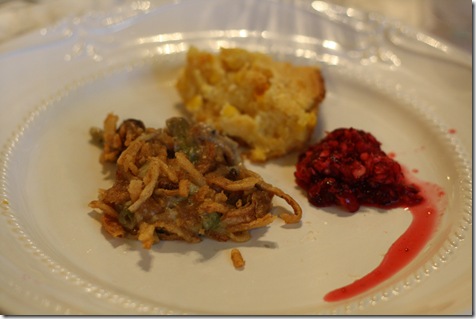 And a little Blueberry wine.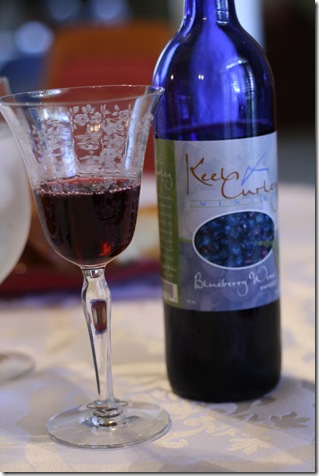 After lunch, I walked around outside with my little cousin and her dog, Precious.  I'm OBSESSED with Precious.  She's the best dog ever.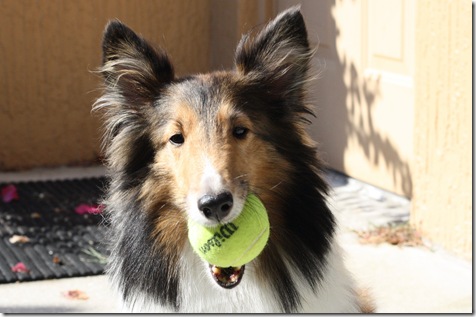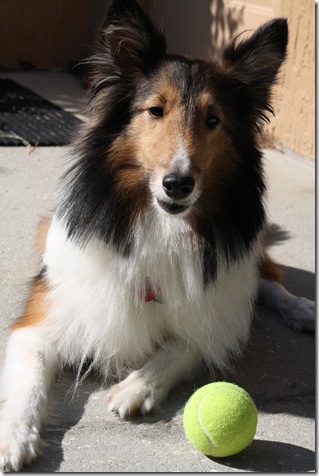 Precious could be a doggie model.  She is so pretty.
Then… time for dessert!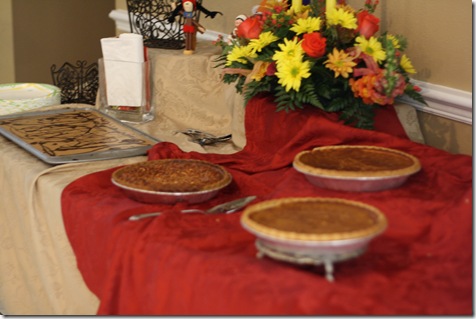 I couldn't choose so I just had a tiny slice of everything: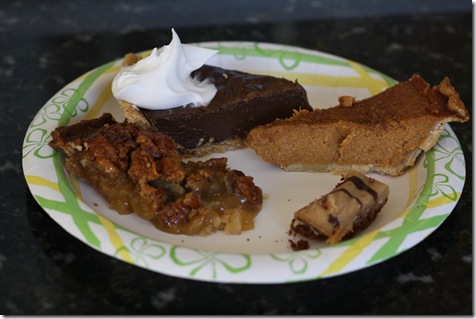 I ended up eating 2/3 the pecan pie, all the pumpkin pie, and a few bites of the chocolate pie…. which totally put me over the end in terms of fullness!  Oomph!
Time for family portraits…
My cousins, my grandpa, and I: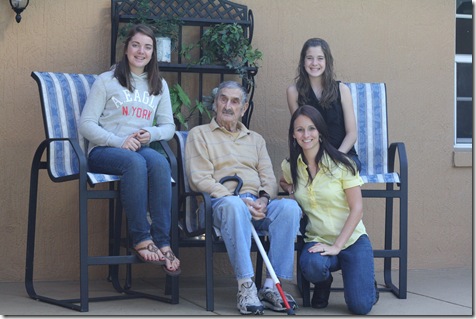 Husband, grandpa, and me: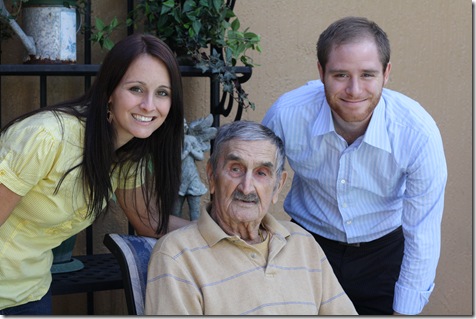 It was a really nice lunch.  I guess most people do Thanksgiving dinner, but we've always done Thanksgiving lunch. Personally, I love doing lunch – it frees up the rest of the night!
After we drove back to Orlando, I waited a few hours and then I went for a run.  I needed to squeeze in 3.0 miles to make my weekly mileage goals (tomorrow, we are biking with my Dad; Saturday, rest day; Sunday; 20.0 mile long run).
Here are my statistics:
Duration: 28:50
Distance: 3.0 miles
My lunch definitely was NOT digested.  But I was listening to good music (Lady Gaga's Telephone is amazing), and the weather is AMAZING right now!
Time to vegetate on the couch…. I hope you're having a nice night! 
What's your favorite holiday dessert?  I LOVE Pecan Pie.