Good morning, and Happy Thanksgiving.  Even if you don't celebrate Thanksgiving today, I'm sure you can find a reason to be grateful!  :) 
I am a stickler for "No Holiday Cheer Prior to Thanksgiving" so I was quite happy to turn on the Christmas music this morning! Let the season officially begin!  (I tend to get burned out on the holidays by Christmas, I'm just warning you!)
I felt a little groggy after our big night out last night (see below) so I started off my day with wheatgrass, coffee, and Yoga Sculpt.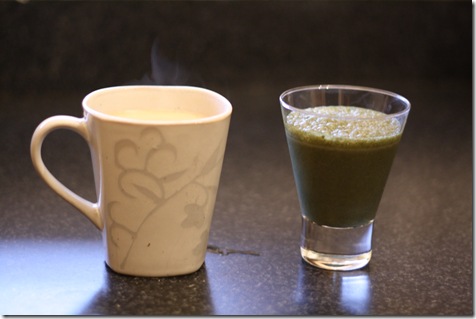 Yoga Sculpt seemed to be extra challenging today!  I was sweating buckets by the end.  I also threw in some ab moves per the Whittle My Middle challenge and a few push-ups.
Then it was time for breakfast.  I had a banana, Greek yogurt, flax, and granola.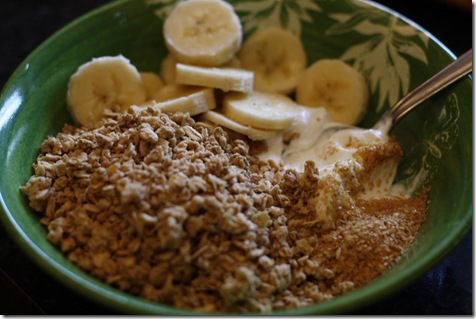 My personal holiday philosophy is that the 1.5 month from Thanksgiving to Christmas is not an excuse to pig out, but Thanksgiving and Christmas days are!  :)  Everyday in between is just a normal eating day.
I'm in charge of the Green Bean Casserole for today's lunch:
I make my GBC the traditional way, except I add shredded cheese and mushrooms (raw) to the cooked green beans (not canned) and cream of mushroom soup.  It's not the "healthiest" version, but MAN – it's good!
Last Night
Last night, I had the pleasure of meeting some of Kath's friends from Charlotte.  It's fun to build our social network before we even move to North Carolina!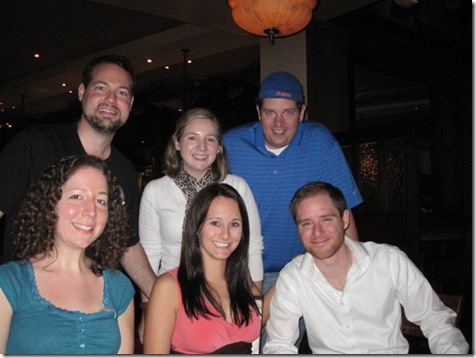 Everyone seemed really nice, and I feel like I have a lot in common with Amanda and Kate.  The Husband and Nate seemed to hit it off, too – they have plans to go golfing already!
Nate and Kate won over my heart by bringing me a bottle of wine.  But not just ANY wine: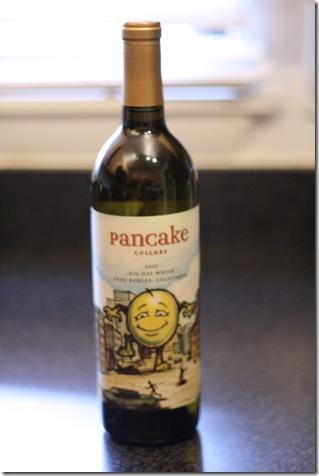 A while back, Nate gave me the nickname "Caitlin Pancake" because I eat so many pancakes.  :)  They said they'd been saving this bottle for me since the summer.  How nice is that?  Love them already!
I had two beers at dinner, which was a little too much alcohol for me.  Oh, for brevity's sake, I had cereal for a snack yesterday afternoon and brown rice, tofu, and veggies for dinner.  Despite my stabilizing meals, I woke up with a killer headache.  Nothing a little pumpkin pie cannot cure! 🙂
There are some wonderful seasonally-inspired Operation Beautiful notes up today – Check it out!
HAPPY HOLIDAYS from Healthy Tipping Point!  May your day be filled with joy and love!