In case you missed it….
Good morning!  Boy, am I sore!  My thighs were killing me last night – I was walking around like a little old lady.   This morning, my knees felt super stiff as I walked down the stairs.  They certainly aren't painful like they used to be, but I definitely feel every step of those 20.0 miles in my joints today.  I cannot imagine how the marathon is going to make me feel!
A filling breakfast: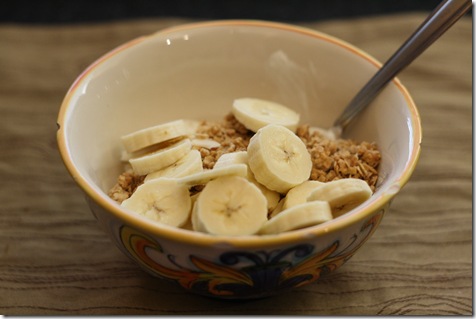 I had:
Greek yogurt
Granola
Flax
Banana
All mixed together! Mmm.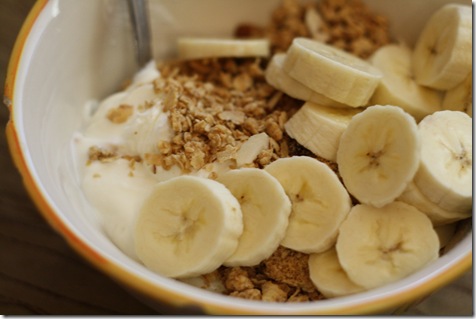 When Tina started working at Nuval, I became really curious about the company.  I asked her to do a guest post describing NuVal and analyzing my breakfast from a NuVal standpoint.  Here's what she said:
NuVal is a nutritional rating company that rates foods on a scale of 1 – 100, based on how nutritious they are for you. The higher the number, the better the nutrition. For instance, broccoli scores 100 while Cheetos score a 5.
From the NuVal standpoint, the median score for cereal is 25 and scores range from 4 – 100. The cereal category is actually pretty surprising: Kashi Go Lean Crunch scores 33, while Cheerios scores a 34. You think you're doing a really healthy thing by eating Kashi Go Lean Crunch, but you could be just as healthy eating Cheerios. Similarly, Kashi Strawberry Fields scores an 11; Capn' Crunch gets a 10. As you can see, not all "health" food is necessarily nutritious for you!
To better understand the NuVal scores, it's important to explain the category medians. Basically, you can't get 100 in every food category. Here's the deal: many fruits and vegetables score in the 90 – 100 range, but you also need to eat protein, healthy fats, whole grains– and, of course, a few treats, like cookies. But, you're not going to find a cookie that scores a 100– and if you did, you probably wouldn't want to eat it! So, when you're talking about cereal, the scores range from 4 – 100 and the median score is a 25. Be sure to keep this in mind when you are considering different kinds of cereal.  
If you want to see some more of the scores for cereal, check out NuVal's newly designed website. You can also play the Nutrition By The Numbers game, which is actually pretty tough!  If you have any questions or would like to spread the word about NuVal, please don't hesitate to contact me at thaupert@nuval.com.
So, how did my breakfast score?
PLAN GREEK YOGURT: 94
BANANA: 91
QUAKER 100% NATURAL HONEY OAT GRANOLA: 22
BOBS RED MILL FLAXSEED MEAL: 100
My granola seems a little low (the median cereal score is 25), so I asked Tina to send me a list of alternate cereals that scored higher:
KASHI SUMMER BERRY BERRY GRANOLA: 31
KASHI ORCHARD SPICE APPLE & SPICE GRANOLA: 34
KASHI 7 WHOLE GRAIN CEREAL PUFFS: 91
KASHI GO LEAN HIGH PROTEIN AND HIGH FIBER CEREAL: 47
POST SHREDDED WHEAT N BRAN:   91
I think NuVal is a great way to get the focus off counting calories and onto looking at a food's overall nutrition!