My name is Caitlin, and I have a spending problem.  :(  Welcome to Day 1 of the Responsible Spending Challenge.  This challenge was inspired by a little conversation that took place last night:
Husband: "Caitlin, can you look at this?" (Points to computer screen)
Me: "Uhh, what is that? Our bank account? Wow, that looks low."
Husband: "Yeah, I'm kind of wondering how we're going to pay rent tomorrow?"
Me: "Uhhhh." (Awkward pause)
We are currently experiencing a little bit of a liquid assets problem.  Part of the problem is that I don't have a regular paycheck anymore, and the Husband only works part-time. But, truthfully, the real issue is that I'm really, really bad with money.
Not I'm-$100,000-in-credit-card-debt bad, but more like I-never-plan-for-a-rainy-day bad.   I don't like to save my money; I like to spend it!  I've mentioned that I've done a lot of traveling – been to Europe four times and Mexico twice.  I'm not rich enough to travel like this – I just don't save.  Ever.  That means I've cleaned out my bank account six times (i.e. from $2,000 – $4,000 to zero) over the last decade to go on awesome vacations.  Oh yea, and I cleaned out most of our bank account for our wedding and honeymoon. 🙂
Was it worth it to travel so much?  Honestly… yes.  But it's not the big-ticket items that are hurting the Husband and I right now.
After that earth-shattering conversation with the Husband yesterday, I signed up for a Mint.com account, which analyzes your bank account to see where you are spending money.
In the month of November….
We spent $700 on Food and Dining, which includes a Costco trip, weekly grocery shopping, date nights, eating out, etc.
Out of the $700 we spent on food, we spent $50 on STARBUCKS COFFEE.  In one month. 
I spent $75 on blog stuff.
I spent $60 in race entry fees.
We spent $122 on shopping (Clothes, etc).
We spent $283 on gas, insurance, and tolls.
We donated $59 to charity (Yay, us!).
I bought a $500+ camera (Worth it).
We spent $250 in dog care (Hopefully some of this will be reimbursed because we have pet insurance).
What does this tell me?
I NEED TO GET A GRIP. I am throwing money out the window.  I feel bad because it's NOT the Husband's fault – I know it's mine (I am the person in charge of finances in our marriage, which like putting the alcoholic in charge of the bar).
What does Responsible Spending Month entail, you may ask?
Before I purchase anything, I must ask myself the following questions:  Do I really need this right now? Is there a cheaper version of this product?
Keep all receipts so I can track my spending more efficiently.
Stop using my credit card to make purchases (because I then "forget" about it).
No eating out.
Eat the contents of my fridge and pantry before buying groceries.
Turn off the air conditioning and take shorter showers (our utility bills are insane).
NO MORE STARBUCKS (it hurt to write that).  🙁
What are the exceptions to Responsible Spending Month?
Christmas presents for each other and our parents.
The Husband and I each get a freebie:  I want to buy a new pair of boots for my trip to England, as well as tights.  He can buy whatever he wants.
I want to make Christmas cookies at least once.
How long will Responsible Spending Month last?
The challenge is taking place from TODAY to December 24 (Christmas Eve; when we leave for England). 
I'll be posting Financial Tips on the blog for the entire month.
Anyone can join the challenge!  It's a great pre-New Year's Eve Resolution experiment.
Onwards and upwards…
I made a very cost-efficient lunch.  😉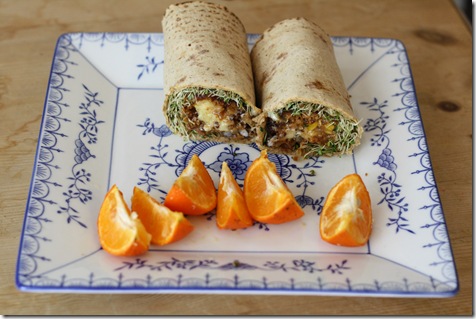 I used a Flat-Out wrap to make a sprouts, melted cheese, and black bean veggie burger sandwich: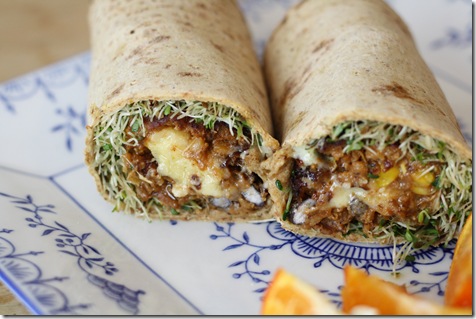 With a Clementine:
What kind of saver or spender are you?  Did you know I actually have a frozen block of credit cards in the freezer?  Cause then I'll have to wait to them to thaw out before I can use them.