Ever had one of those days when you just want to crawl back in bed?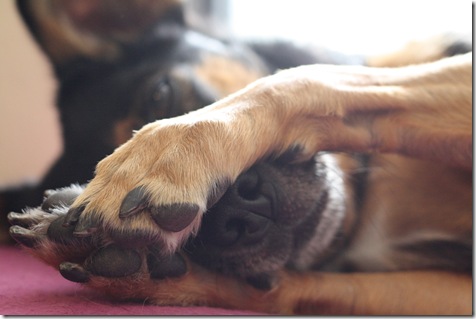 Yea, me too!  :)  It's dreary and rainy outside – perfect snoozing weather!
Despite the lure of my comfy bed, I am getting a lot of work done today! I hope you're having a productive day, too!
Lunch was fabulous: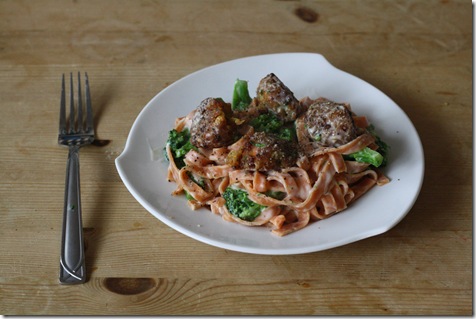 This is Spaghetti and Meatballs, the healthier way!  The star of my pasta were these Veggie Meatballs, which the Husband picked up at Costco.  Very short ingredient list and no faux "meat" flavor.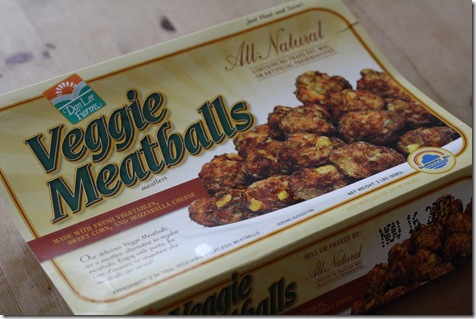 On a bed of Sun-dried Tomato Pasta (from the Farmer's Market), Alfredo sauce (Classico brand), and steamed organic broccoli (frozen, also from Costco).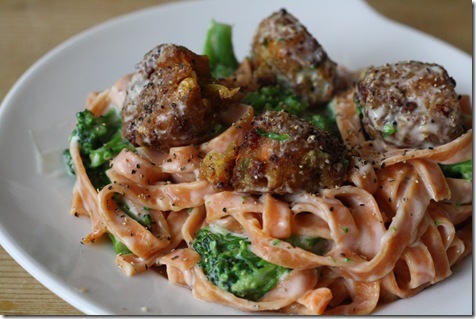 The "meatballs" were really tasty!  I made this exact meal for the Husband last night (sometimes we eat different dinners at different times just due to our schedule), and he really liked them as well.
So fun to twirl and slurp!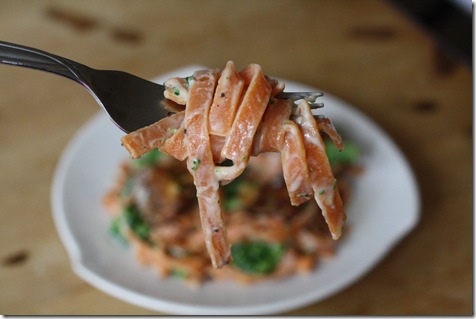 My First "Diet"
I was browsing my bookshelf this morning and stumbled upon…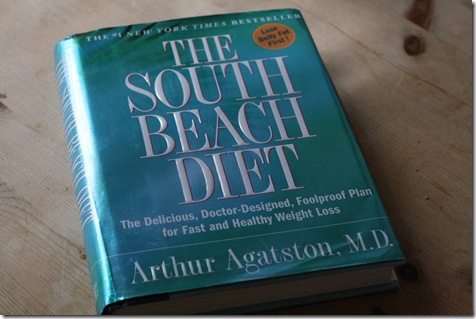 My first (and only) diet book.  I went on the South Beach Diet when I was 17 (I did, after all, live in Miami) and was trying to lose the extra ten pounds hanging around my midsection.
Oh, I remember the South Beach Diet so well.  I read it cover to cover, and it seemed to make so much "sense" to me (bahaha!).  I even highlighted it: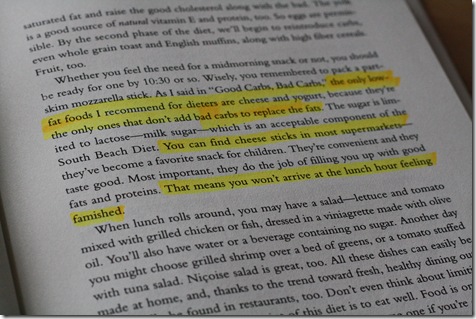 In hindsight, the South Beach Diet taught me a lot of valuable lessons: eat snacks so you never end up hungry, include whole grains in your diet, and eat whole foods.  I remember that I was never hungry on the South Beach Diet, so it also taught me that you could lose weight (or maintain your weight) and actually, you know, eat.  🙂
Flipping through the book now, I see how the South Beach Diet also screwed up my thinking about certain foods for a long time.  I no longer believe bread or pasta is bad (carbs are your primary source of energy!).  I don't think you should avoid certain vegetables or fruits – if it grows in the ground, it's OK in my book.  I notice that The Biggest Loser does this too (about bananas?! Trust me, those people did not become obese by eating bananas!), and it infuriates me.  I also don't like how the book labels certain foods "good" or "bad," like "good carbs" and "bad vegetables."
I am so glad I realized that life is not a diet.  It's as simple as eating good, healthy food and enjoying dessert, etc. in moderation.  As Michael Pollan says, "Eat real food. Not too much. Mostly plants."
So, what "diets" have you been on?  What did they teach you?  Did your diet work? Or how did it fail?  What's YOUR food philosophy?