I've been one busy writer all morning – I'm feeling productive!  I'm currently writing the "Food" chapter of the Operation Beautiful book, which is interesting and challenging.  The subsections of the chapter include discussion on our love affair with diets (and why they don't work), mindful eating (basically the food philosophy you see on this blog), and eating disorders. 
Thinking about food is making me hungry!  :)  I had a snack around 10:30: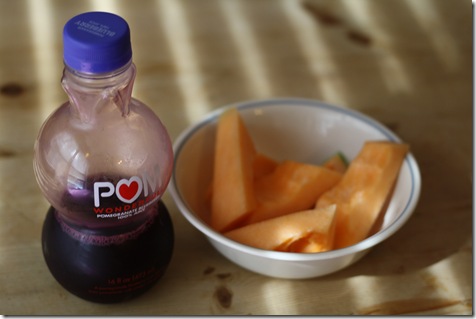 I drank about 1/2 a serving of POM Wonderful Blueberry juice and snacked on some melon.  Although POM Wonderful is pricey, I've found that the Husband and I get 4 servings out of a regular 2 serving bottle.
Lunch was inspired by the Husband's breakfast, which I smelled him cooking a few hours before: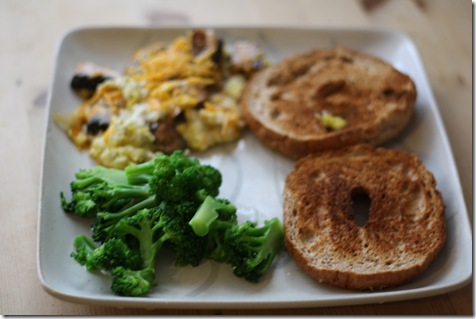 I had two eggs with mushrooms and cheese: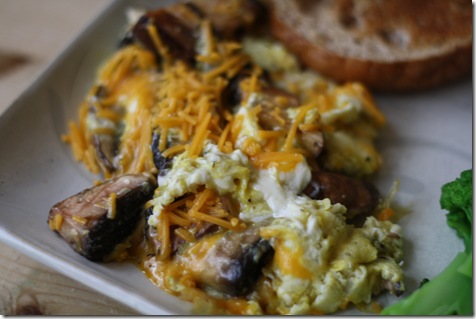 I stacked the egg mix on a whole wheat bagel.  Yum!
And broccoli: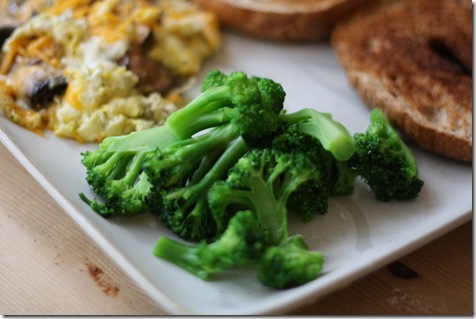 Winter Clothes!
We're going to leave to go shopping in an hour or so.  I desperately need some cute winter digs for our trip to London.  As I live in Florida, my winter wardrobe is lacking.  Even by American standards, I don't think I can pull together 10 decent winter outfits for our trip. 
I know that a lot of my European readers will claim they aren't "stylish," but every time I've gone to Europe, I felt severely underdressed.  In Paris, I felt like I woke up, rolled out of bed, and found myself on a runway at Fashion Week in my pajamas (I rocked a hoodie to Versailles).  You should really come to America and walk around a Wal-mart to see what I mean.  😉
I do have four stylish items to bring with me:  my favorite coat, my hot pink scarf, my favorite boots (which are super dirty!), and a cute white felt hat.
The coat (which is from United Colors of Benetton) is the best (only?) "investment" piece of clothing I own.  I bought it four years ago when I lived in Pittsburgh, and it has definitely stood the test of time!  It was worth every penny.  I feel pretty when I wear it, too.  Do you have an outfit that makes you feel super-special?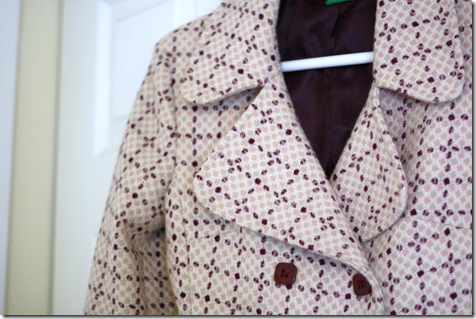 Neither the Husband or myself are big shoppers.  I'd rather spend my money on experiences.  But I cannot wear sweatpants + tank tops in the streets of London!  🙂