I had GRAND PLANS to be super productive, but I ended up just laying around the house. 
I actually found James in this position.  He's like a real boy!
Although I kept my butt glued to the couch for hours, I did find the energy to get into the kitchen.  My appetite felt high today – way higher than normal for a 10K race.  I think it's because I didn't run at all during the week, and then I did two back-to-back longer runs on Saturday and Sunday. I managed to refuel with a variety of foods (even vegetables!), which I consider an accomplishment because I normally just want to inhale straight granola.
I ate Israeli Cous Cous and leftover Glazed Butternut Squash: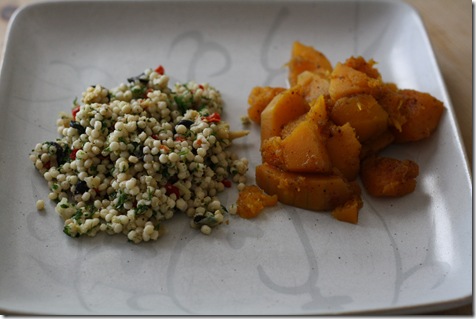 An apple: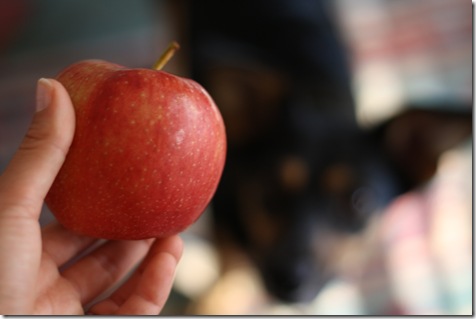 Grilled cheese: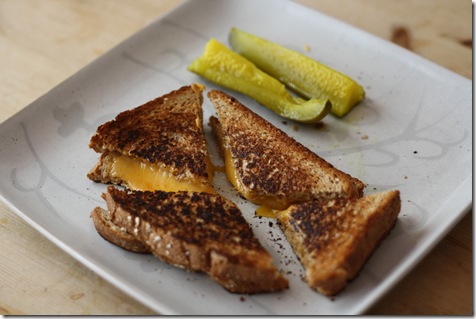 Then the Husband came home around 6 (he spent the day at a golf tournament).  He literally had to wake me up – I was snoozing in bed.  It was nice to see his smiling face!
We decided to grab takeout for dinner.  Per the Back on Track Month challenge, the Husband and I are permitted to spend $$ for one meal out a week, and cheesy Italian food sounded SO appealing.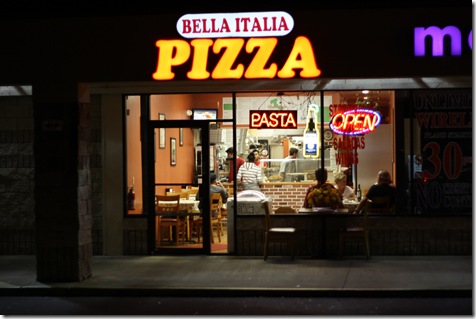 I got baked Ziti, which I bulked up with some homemade steamed broccoli: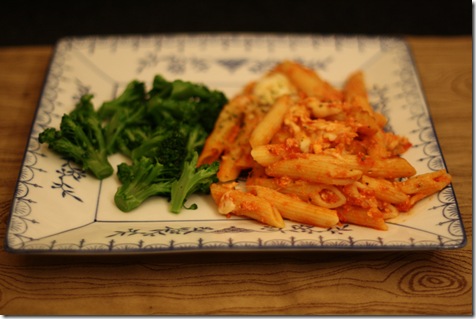 I think I'm going to go back for seconds of ziti!  🙂
I'm going to pay for my laziness tomorrow (and I swear I'll respond to e-mails tomorrow, too).  But it was worth it – I just needed to do NOTHING. Sometimes, doing nothing is so sweet, isn't it?
We're going to watch Changeling tonight – Rotten Tomatoes gave it a 61% but I've heard good things.
Have a wonderful evening!