The curse of the 2009 – 2010 race season is OVER, my friends! 🙂 I tore across the finish line in 53:16.
(MAJOR kudos to Ryan for her excellent photography skills!)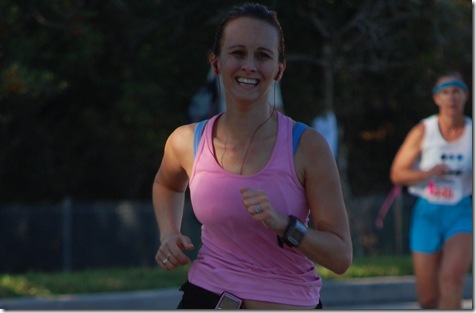 After two less-than-stellar races (the blah 5K and the disastrous 15K), all I wanted today was to PROVE to myself that I still had the speed, endurance, and mental stamina to run a FAST race.
Although I didn't set a new Personal Record (I was off by a mere 18 SECONDS!!), I am so happy and proud because I know I tried my hardest.  I left it all out there on the road, and truly – that is something I haven't been able to say yet this season.  I really ran the best race I was capable of – and that makes me SO HAPPY.
I was SPENT by the end!  :)  But in a good way.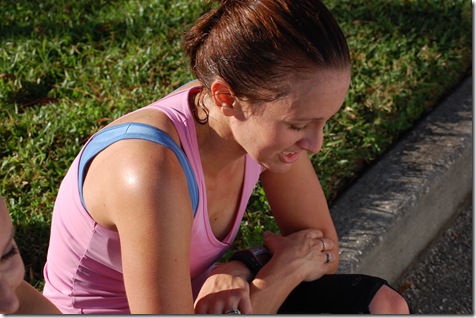 Last night, I tossed and turned for over an hour thinking about my race day strategy.  I built myself up so much that I woke up at 4:55 AM with a HUGE SMILE on my face.  Today was my day, I could just feel it. 
I had my standard pre-race breakfast:  PB toast, apple juice, and coffee.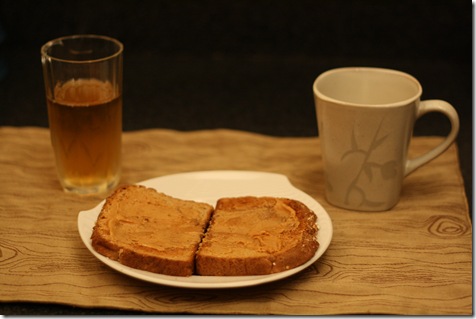 Originally, I was suppose to run this race with my brother-in-law, who has just picked up running.   Nick fell down the stairs on Friday and twisted his ankle!  I saw him last night, and his ankle was literally black and blue. 
Since there was no way he could run, Nick offered his race number to Ashley.   Kelly also ran the race.  Ryan and Katy came for emotional support.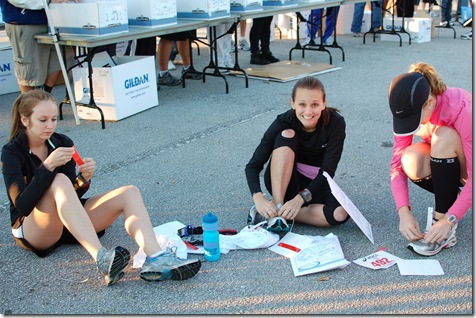 We arrived at the course a little early, so we had time to wander around, admire the pretty scenery, and stand in line for the potties.  🙂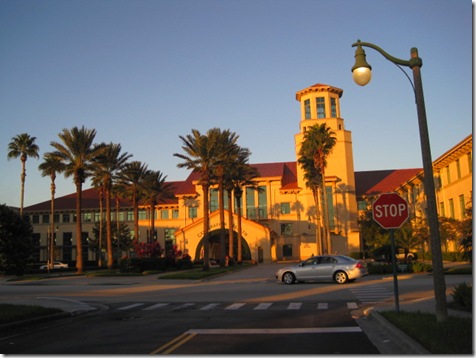 Then, we grabbed our race numbers and packets.  This is when I started to get a little nervous.  I could feel the butterflies in my tummy!
I took a packet of Gu before the race began because I was getting hungry.  I don't normally take mid-run fuel for runs under 8.0 miles of so, but I figured I'd rather be safe than starving.  This flavor was yucky, though.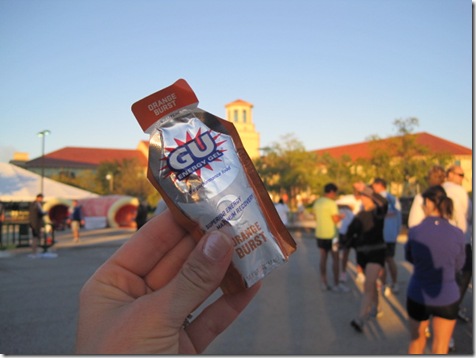 Then we lined up at the start….
My official game plan was to pace around 9:00/mile for the first mile and then drop down to 8:30 for the rest of the way.  I've been having trouble with burning myself out too quickly, so I figured this would help me in the end. 
It was VERY HARD to maintain a 9:00/mile pace at the beginning.  It's a natural urge to sprint when everyone else around you is doing it, too.  All I had to do was see one person pull to the side, gasping for breath at Mile 0.5, to reaffirm that slow and steady would win the race.
I never, ever let doubt creep into my mind.  I just focused on maintaining my goal pace and hugging the inside of each curve (did you know races are measured at the inside of curves, so if you run on the outside, you will end up running way more than the official distance? For example, Kelly did a much better job at hugging the curve, so she ran .06 miles less than I did – which DOES make a time difference!). 
Around Mile 4.5, I could feel myself start to hit a wall.  Instead of freaking out, I repeated my mantra ("Pain is temporary, quitting is forever").  I imagined myself literally pushing down a brick wall.  I told myself the second wind was coming, and eventually, it did.
The last mile was a complete blur.  I knew I was SO CLOSE to setting a new PR, and I just went as fast as I could.  I really gave it everything I had.  Even though I didn't PR, I was so ecstatic when I crossed the finish line.  I almost cried, and I haven't cried at many of the eighteen races that I've completed.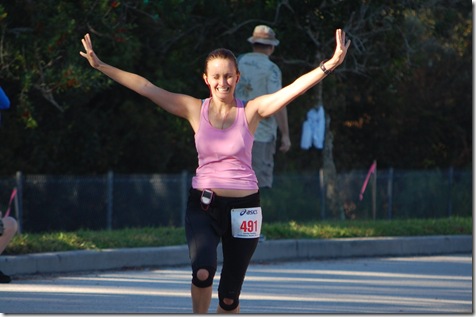 Here are my statistics:
Official Race Distance/Duration: 6.2 miles/53:16
Garmin Distance/Duration: 6.31 miles/53:19
Mile 1: 8:44
Mile 2: 8:21
Mile 3: 8:26
Mile 4: 8:25
Mile 5: 8:33
Mile 6: 8:26
Mile 6 to 6.31:  2:23 (7:54 pace)
I quickly found Kelly at the finish line.  She came in two minutes before I did: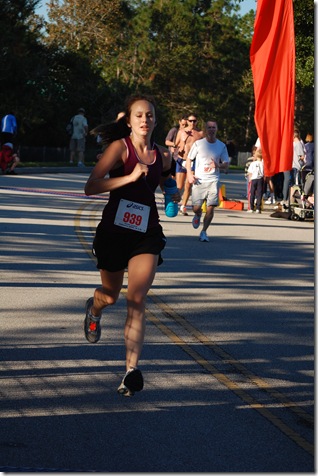 And then we cheered on Ashley, who came in around 58 minutes, beating her previous 10K PR by THIRTEEN MINUTES!  Amazing!
It truly was an amazing race with amazing friends.  I am singing on the inside as I type this!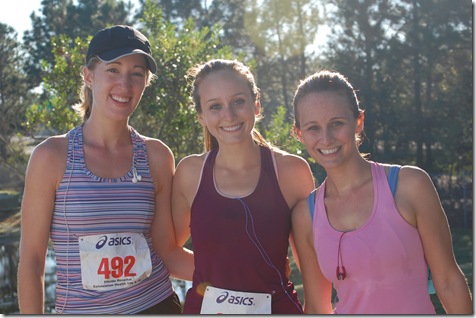 I inhaled 1/2 a banana right away – I was RAVENOUS.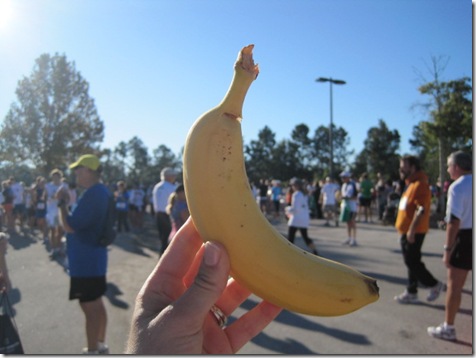 And then we piled in the car and headed back to Orlando.  We were all so happy and cheerful.  It felt good to finish a race and not be disappointed.  This race wasn't about the time, but it was about the level of effort I put in.  By the time I crossed that finish line, I felt like I had nothing more to give.  I ran my little heart out!
I'm currently icing my knees and eating Breakfast #2: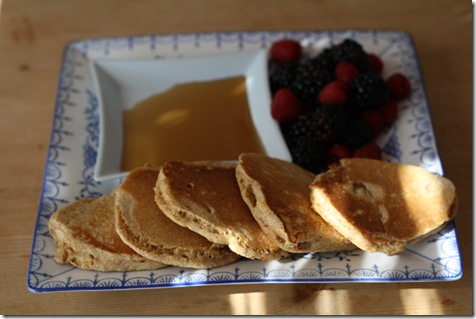 I'm loving these almond pancakes and fruit!  Yum!
Off to nap and then get to work.  HOPE YOU'RE HAVING A FABULOUS SUNDAY! 🙂