Previous long runs for Marathon Training:
More long runs should culminate in an icy dip in a public fountain!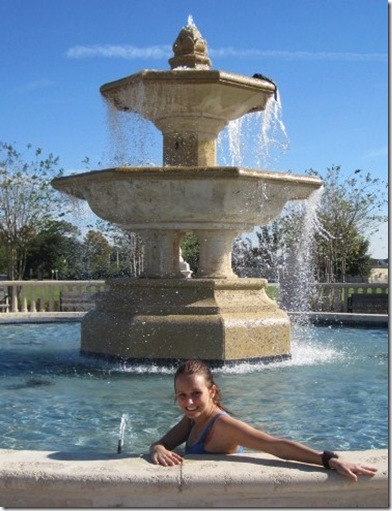 Now, that's what I call an ICE BATH! :)  Yes – I totally jumped in a fountain in the middle of a park after my 18.0 mile run today. 
My day started QUITE early when my alarm went off at 4:15 AM.  I stumbled to the kitchen and made breakfast: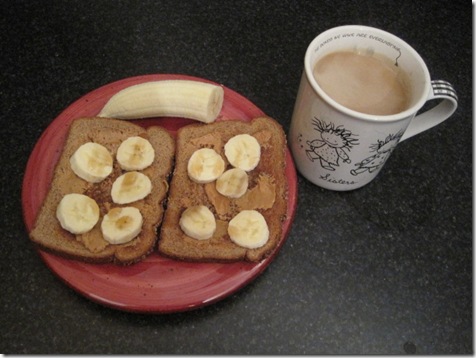 Coffee with a PB and banana sandwich.  After I ate, I did a TON of stretching.  My legs (especially my ankles) have been feeling tight lately.
Megan picked me up around 5:15, and we drove to a lovely park called Blue Jacket Park to meet Ashley (she is also running the Disney Marathon).  Our plan was to do 18.0 miles, occasionally looping back to our car so we could refill our water bottles.  I have a CamelBak, but I do prefer to hold my water bottle.
When we started off, it was pitch black outside, but by the first loop back to the car (around mile 6.0), it was starting to get light out.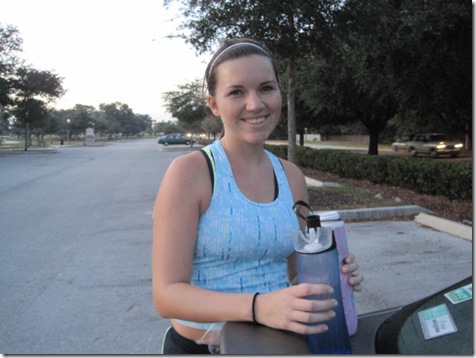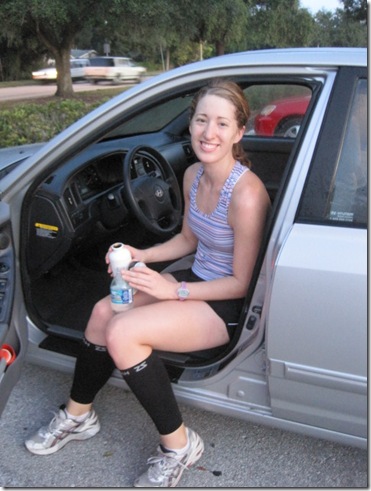 We ran ALL OVER this portion of Orlando.  I feel like we covered SO much territory!  We ran through neighborhoods, around a few lakes, through a commercial districts, and through the park.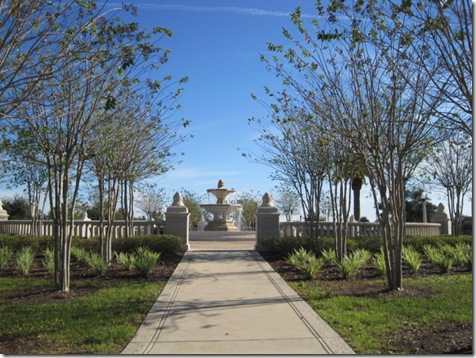 Our pace was slow, I'll admit.  I don't mind being slower (for me) on long runs because I've heard a theory that the longer you're on your feet (when it comes to marathon training), the better.  Unless you're trying to qualify for the Boston Marathon and focusing on speed, an 18.0-mile run that takes you 3:15 is building your distance endurance much better than a 2:50 run.  Or so Runner's World says!  🙂
We split from Ashley around Mile 13.5 because she had a really bad stomach stitch and wanted to cut her run short.  Megan and I chugged on, but I could feel myself getting even slower.
I fueled on 150 calories of Sharkies during the run (Mile 6.0, 10.0, 13.0).  This was my first time trying Sharkies, and they were good!
I think I hit an emotional/physical wall around Mile 15.5.   The first thing that always hurts for me are my butt muscles!  :)  When this happens, I tend to stop talking and just buckle down.  If you think too much about how much farther you have to go, it can be disastrous!
I managed to pick it up for the last mile, getting under a 9:00/mile sprint at the very end.  Wahoo!
Distance: 18.0 miles
Duration: 3 hours, 10  minutes
(Too lazy to type out my mileage splits, sorry!)
After our run, Megan and I walked over to the central fountain in the middle of the park to take some silly pictures: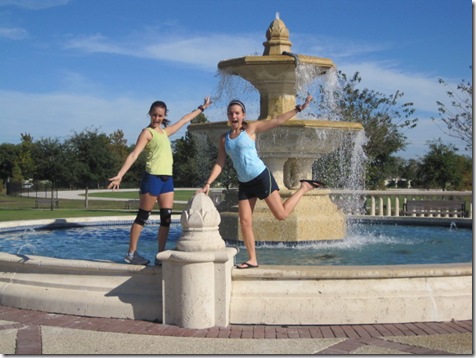 But…. then I started to stare into the water and thought, "Man, that looks really refreshing!"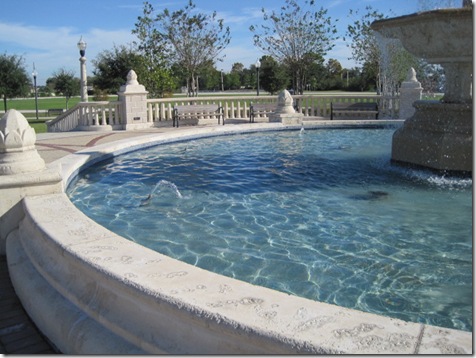 So, off came the shoes: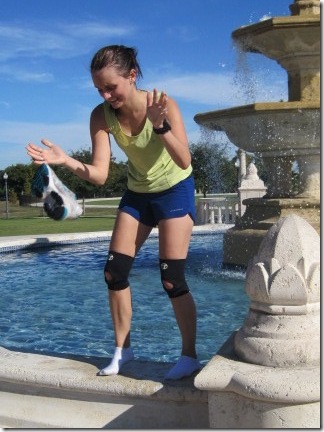 And the rest of the gear that I could shed without being arrested….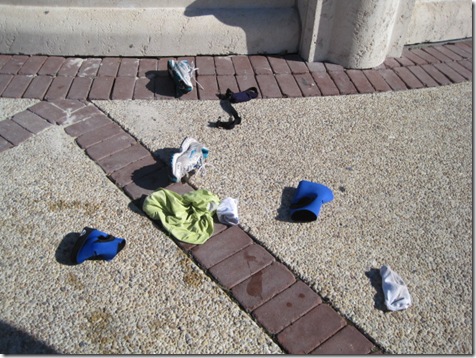 And then I jumped in!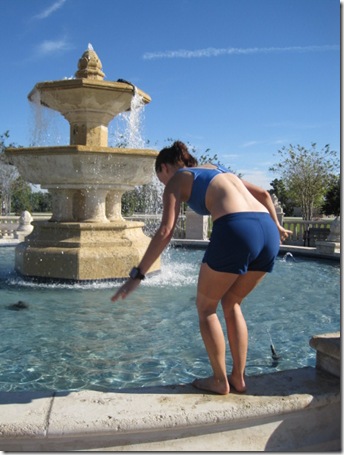 It felt SOOOO refreshing.  I felt like a wild child for doing something so naughty and likely illegal.  😉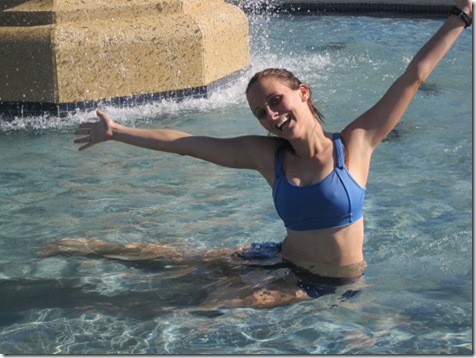 It was FREEZING – kind of like taking an ice bath!  I sat in the water for about 5 minutes.  Megan didn't get all the way in, but she did put her feet in (she didn't have a towel to sit on in the car).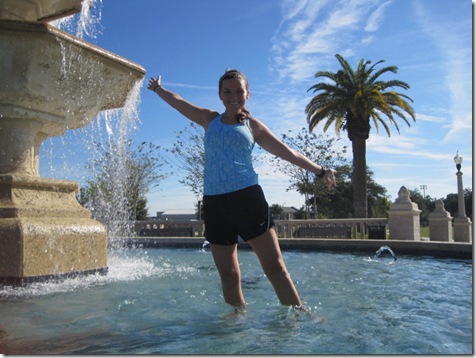 Note to self: must do more long runs at Blue Jacket Park and jump in the fountain EVERY TIME.  It felt amazing!  And it made me generally happy about life.  🙂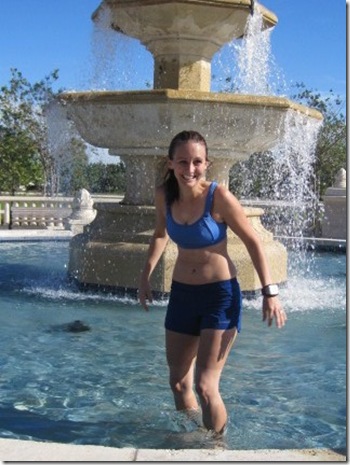 After our little adventure, we went to Panera Bread for bagels.  I ate 1.5 bagels: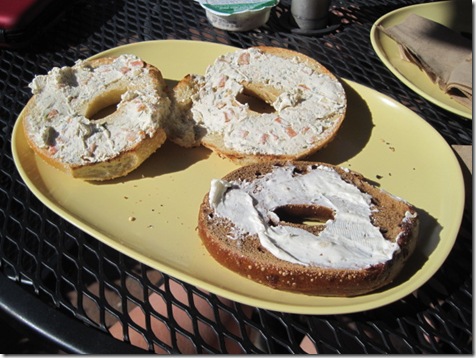 Now I'm home, showered, icing my knees, and thinking about rummaging in the kitchen for a nice carb/protein combo.  I burned at least 1,500 calories on this run, and I want to chew off my arm!  🙂
Off to work I go!