Did you know this month is National Pomegranate Month?  Yay!  Better get your fresh pomegranates soon, because the season only lasts a few short weeks.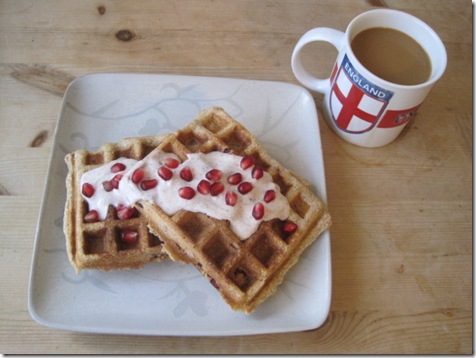 I decided to celebrate with a POM Wonderful breakfast.  Introducing… POM Waffles with Christmas Icing!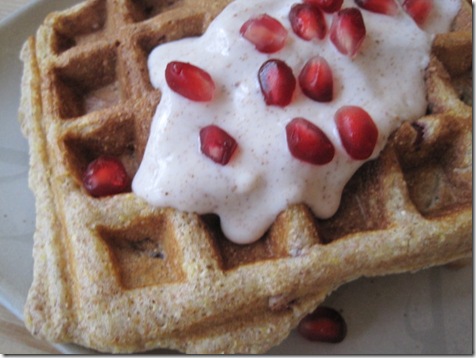 I made regular whole wheat waffles, added 1/4 cup of pomegranates to the batter, and cooked as I normally would.  But I topped them off with something extra special.
Christmas Icing
1/4 cup Greek yogurt (plain)
1 teaspoon cinnamon
1/4 teaspoon ground cloves
1/4 teaspoon nutmeg
1/2 tablespoon maple syrup
POM Wonderful arials, to taste
Nom, nom, nom!
A Rebellious Friend
Today is a very, very big day in Caitlin land.  A new Rebellious Friend is coming to visit me.  Can you guess who is it?
My former friends included… a Nikon CoolPix S1. The Husband gave it to me as a birthday present and it has 5.1 megapixels.  It was a good, sturdy friend.  :)  However, it completely lacked the ability to take flash-less photographs (essential for a food blogger).
So, I broke up with Nikons and bought a Casio Exilim in January.  It was $170 and I bought it literally two days before my wedding.  The Casio took much better photographs, and even some flash-less pictures (as long as it was bright outside, but never with artificial light).
At the Healthy Living Summit, I experienced my first bout of CAMERA ENVY. :)  All the other bloggers on the planning committee (Kath, Tina, Jenna, Heather, Meghann) had really nice point-and-shoots that could take excellent indoor photographs.  I literally could not stand to be blogging about such an important event without a good camera, so I went to Radio Shack in Boston and bought my current camera, a Canon PowerShot SD1200 IS with 10.0 megapixels.
I LOVE my Canon PowerShot.  It is a great camera and takes excellent indoor photographs.  I rarely have to use the flash (normally dinner is photographed with flash, but the rest is flash-less). 
However…. at the POM Wonderful Harvest Tour, I was stricken with my second bout of camera envy.  I was inspecting some of the bloggers' DSLR cameras and fell in love.
I've always liked taking pictures.  I took SO many photographs of my friends in college that I was nicknamed, "The Camera Nazi."   Now that I take approximately 60 photographs a day (I photograph tons of things that never make it onto the blog), I have become interested in getting a significantly better camera.   I'm trying to make my photographs more artistic, too (so you like to look at them!).
So… I did tons of research and decided the Canon Rebel XS 10.1MP Digital SLR Camera with EF-S 18-55mm f/3.5-5.6 IS Lens was the right one for me.  It's considered to be one of the best entry-level and affordable DSLRs on the market, and a few photographers I respect recommended it. 
The Husband gave me the go-ahead yesterday to buy the Rebel, and I immediately bought it through Amazon (and selected 1 day shipping!).  My Rebellious Friend will be here this afternoon!  :)  I have already decided to name her Bella since my Garmin is named Edward Cullen.
Of course, for my photography needs, I will continue to rely on my point-and-shoot Canon Powershot a lot.  But I'm so excited to have a great camera for races, vacations, and fancy dinners!  Do you need a DSLR or a point-and-shoot?  Check this out for a summary of each camera's strengths and weaknesses.
What electronics get your all riled up?  Is it the iPhone, a big flat screen TV, a Garmin, computers, or a camera?  I told the Husband that cameras are my version of his obsession with flat screen TVs, and he understood right away.  🙂