Sweetened coconut vs. unsweetened coconut – who's the winner?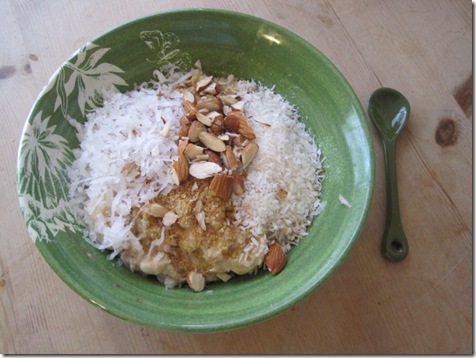 To me, the winner is pretty obvious – SWEETENED coconut tastes so much better than unsweetened, especially on top of oatmeal!
Sweetened coconut is fluffy and delicious.  And sweet, of course!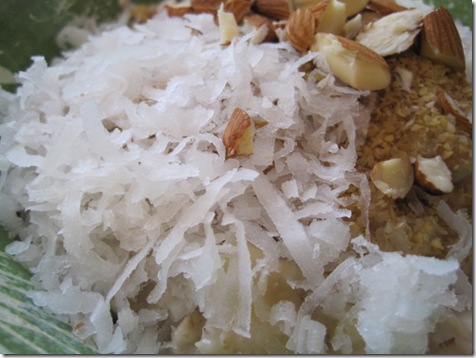 Unsweetened coconut is hard and bland tasting.  🙁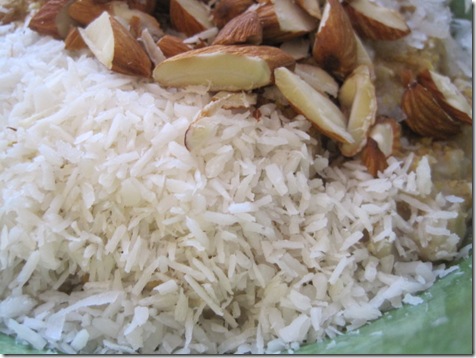 I did a side-by-side taste test on my banana oatmeal to see which I really prefer.  And although I'd like to say the unsweetened kind is just as good, it's not.  Sweet all the way! 🙂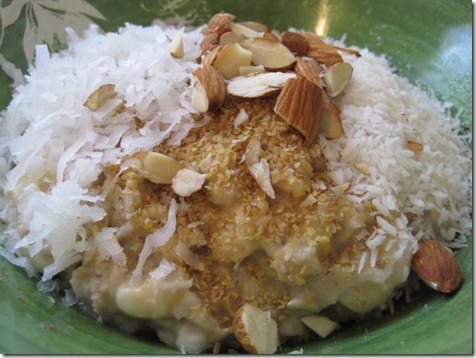 My lunchtime oatmeal contained:
3/4 cup oatmeal
1/2 cup water
1/2 cup almond breeze
1 sliced banana
Toppings: unsweet vs sweet coconut, almonds, and flax
When is a Treat Worth It?
I believe to live a balanced lifestyle, you have to decide which foods are "worth it."  Some foods are only yummy in their full-fat, unadulterated glory!  Which is exactly why I almost never get FroYo and always get real ice cream.  🙂 And sweetened coconut is totally worth the extra calories and 6 grams of sugar! A little sugar never hurt anyone.  :) 
But I think that some treats just aren't worth the wasted calories – store-bought cake, crappy Halloween candy, regular soda, etc.  I'd rather use my appetite to eat other more nutritious and yummy foods.  Plus, I tend to eat more of the "fake" stuff in an attempt to satisfy my taste buds (they aren't fooled!).
A survey:  which of these foods do you prefer the "real" version of, and which do you not see as "worth it"?
Ice cream or frozen yogurt?
Regular coke or diet?
Sugar or artificial sweetener?
Butter or fake butter?
Real salad dressing or the light stuff?
Half and half or fake creamer?
Real sugary gum or artificially sweetened gum?
My answers:
Worth it – Ice cream
Not worth it – I drink diet coke over regular
Worth it – Sugar
Worth it – Butter
Worth it – Real Salad Dressing
Worth it – Half and Half
Not worth it – I chew artificially sweetened gum (I chew a lot of gum)
Obviously, I think the real version is usually better!  :)  Everything in moderation, right?!