Good morning! So sorry for the delay – I was running.  :)  Before I left, I had PB toast: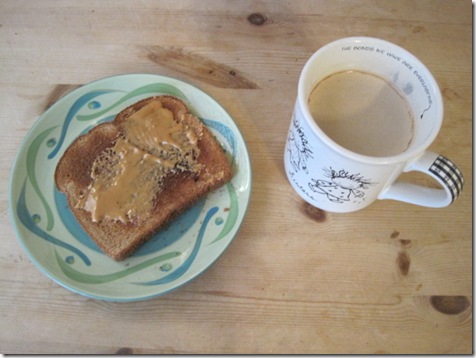 And then I slathered sunscreen all over myself because I had read a post about skin cancer on Oh She Glows.  I have been really bad about sunscreen on my long runs.  In the past, I've been religious about using it, but I keep forgetting lately.  It's a bad habit I must break!
I wanted to do 5.0 miles as fast I could.  I'm working hard to regain some of my old speed, and longer "short" runs like today's are perfect for building back my base. 
I aimed to maintain a 9:15-mile pace until the last 0.4 mile, when I simply sprinted my little heart out.  When I try to run fast for a long distance, I strive to disconnect my mind from my body.  It seems weird, but if I think too much about what I'm doing, I freak out and back off the speed.  I usually chant a mantra in my head to help lull myself into a happy disconnect.  🙂
Here are my statistics:
Duration: 45:54
Distance: 5.0 miles
Mile 1: 9:17
Mile 2: 9:00
Mile 3: 9:19
Mile 4: 9:26
Mile 5: 8:51 (yay)
And then I came home and ate exactly what I was craving: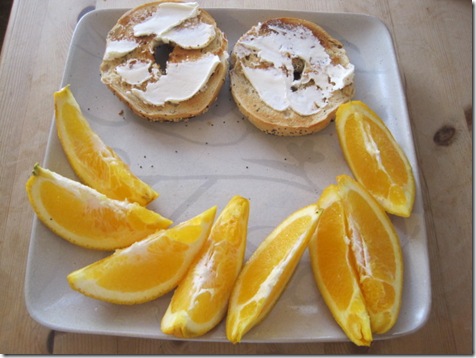 Smile! 🙂
An everything bagel with cream cheese + an orange:
Being Healthy on Vacation
A few of you have asked how our Christmas-time trip to England will affect my Marathon Training. Luckily, my marathon is on January 10, so the 10 days I am in England are actually a taper period.
My training plan calls for 5 days of running while we're in England.  The longest distance I have to do is 5.0 miles.  I'm concerned about running in the cold, but I'll live.
I worked out or ran 5 out of the 10 days I was on my honeymoon and clocked about 20 miles, if I remember correctly. 
I've also gotten a few questions about eating on vacation.  This will be my first vacation as a vegetarian, and I am a little nervous.  Nutrition is very important in the weeks leading up to the marathon, and I hope I can find enough healthy vegetarian meals while abroad.  I'm sure it won't be an issue in London, but it may be when we go to the countryside.
Do you workout on vacation?  If it's a short trip, I usually won't.  But, I actually really love to run on vacation because its an excellent way to see a city!