I woke up early, got some work on the Operation Beautiful book done, and had a starter breakfast: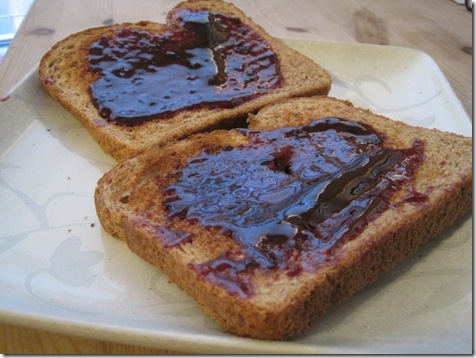 Just toast and organic blueberry jam.
It's just a starter because I'm about to go work out and will eat more when I return.  :)  However, I cannot decide if I want to run or bike.  Technically, my training plan says I'm suppose to do 5.0 miles today, and since I slacked on mileage last night, I feel like I should run.  On the other hand, I have not biked in MONTHS, and my bike looks lonely on my porch.
Decisions, decisions….
It's an Honor Just to be Nominated
No, really!  :)  I'm so excited to be a finalist for the FoodBuzz Blog Awards!  Healthy Tipping Point and Operation Beautiful are up for two awards:
10. Best Healthy Living Blog:
1. Carrots 'n Cake
2. Eat, Live, Run
3. Gluten-Free Girl
4. Healthy Tipping Point
5. Kath Eats
13. Best Blogger Humanitarian Effort:
1. Chez Pim & Menu for Hope
2. Healthy Tipping Point & Operation Beautiful
3. No Recipes/Blog Away Hunger
4. Share our Strength Virtual Bakesale
Please go vote for me HERE!  You can vote even if you aren't a blogger or a member of FoodBuzz. 
I'd be especially excited if Operation Beautiful won the Blogger Humanitarian award because then more women would find out about the mission!  :)  And we all know the world needs a little bit more love.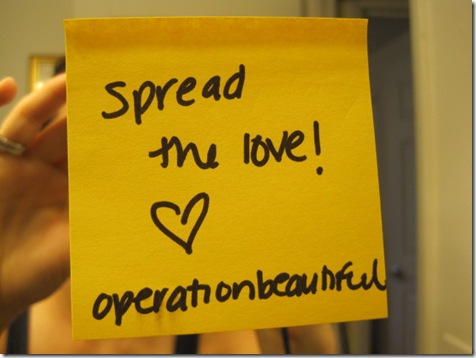 Thanks in advance.  :)  Please go vote for me HERE! 
Now…. onto that workout….