Sorry for the lack of posting last night… I needed to disengage from the computer!  The Husband was feeling sick so I took care of him, and we watched Adventureland, which was pretty good.
I also filled out my Disney Marathon application:
Today is Recommitment Day for Team in Training.  I'm running the Disney Marathon in my college friend Megan's honor.  Megan is going through her second bout of leukemia right now and is waiting for a bone marrow transplant.  :(  I'm also running the marathon in honor of my Aunt Lynn, who had leukemia about 12 years ago and is healthy now.
Team in Training is a great organization, and I've raised $2,994.00 so far.  But, I haven't actually done any training runs with the group due to scheduling conflicts. I am going to go to Recommitment Day.  :)  Recommitment Day basically means you're promising to raise the rest of the minimum donation (if you haven't done so already) and run the marathon.   We'll also run for 1 hour.
It's official – I'm registered!
I woke up this morning and did a little strength training:
30 push-ups
100 bicycle crunches
2 30-second planks
And ate a lovely brekkie: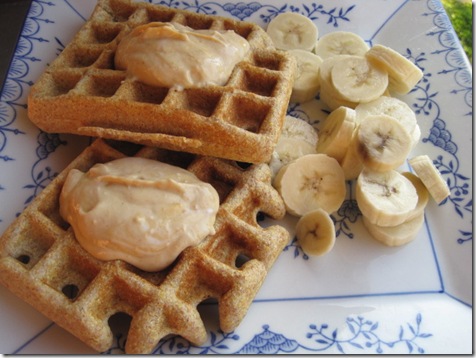 I made Hodgon's Mills Whole Wheat Buttermilk waffles.  On the top, I smeared some Greek Yogurt mixed with Pumpkin Dip.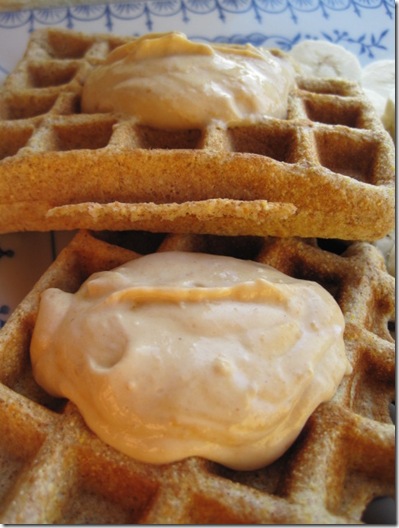 And a banana.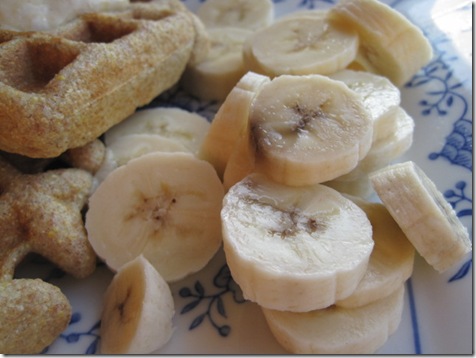 Off to work I go!
Reminder!
You've got 1 week to enter the Operation Beautiful book contest.  If you submit a note to me using THIS FORM, your note will be considered for the book – plus, you'll be entered to win the following prizes:
A $100 Spafinder.com gift card
A variety pack of Glo Bars from Oh She Glows
A Stonyfield Farm gift bag
A case of POM Wonderful
A Superchick CD
A pair of Feelgoodz Flip Flops
A piece of jewelry from DragonFlie Designs
Contest ends on October 19 – don't delay!