Congrats to the happy couple!  🙂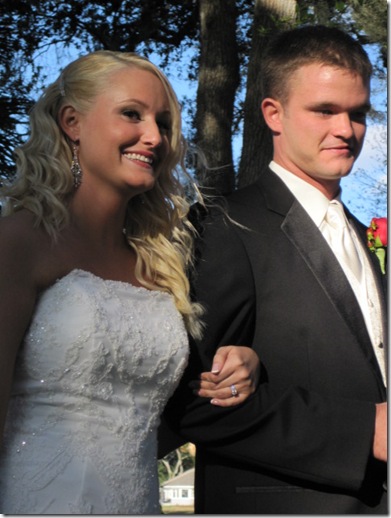 Honour and Kyle's wedding was a smashing success! I've known Honour since I was about 10 years old, and she was just 8.  It was wonderful to get together with our old family friends to celebrate.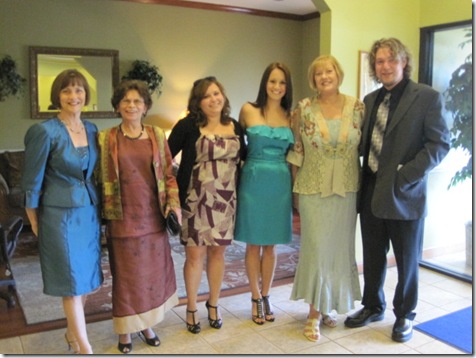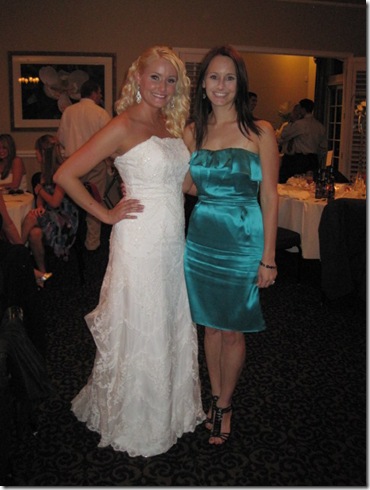 Honour and Kyle had an outdoor wedding at a country club.  I really love outdoor weddings…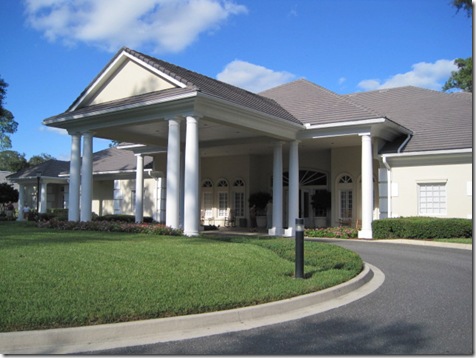 When we walked into the grand entryway, we were greeted by the wonderful, awesome CAKE!  I had been talking about the wedding cake all day.  :)  Yum!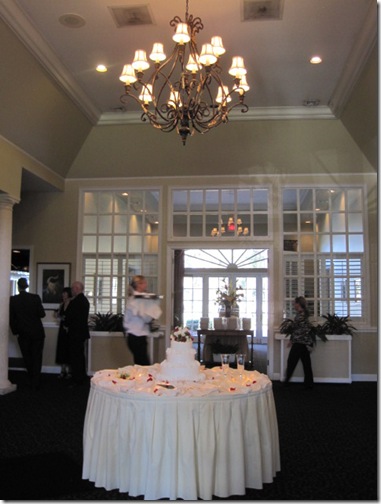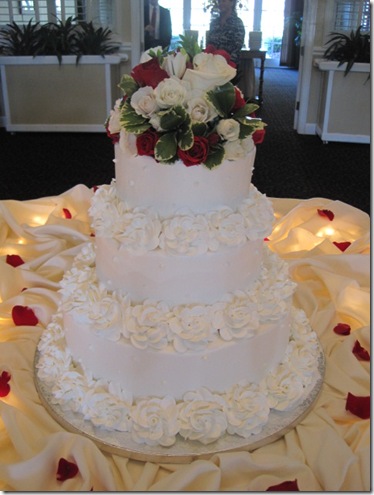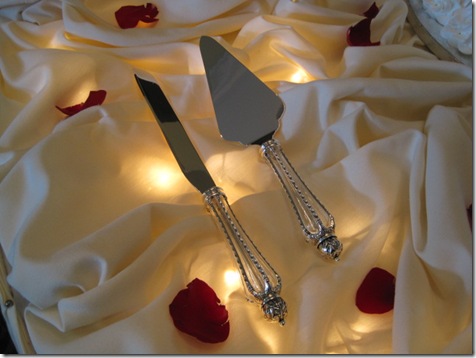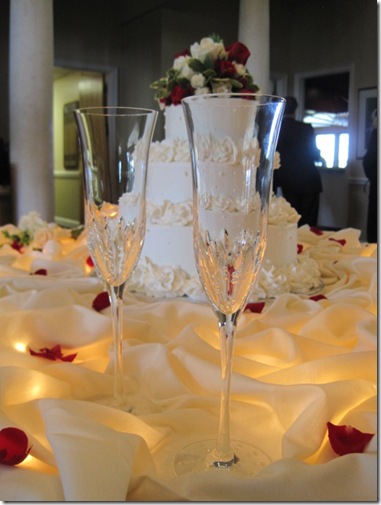 Part of my gift to Honour and Kyle was that I videotaped the entire wedding for them!  When I got married, I decided a videographer wasn't "worth it" and now I really regret not having a video tape of our wedding.  We have a few clips that friends posted on YouTube, but that's all.  So, I served as Honour's videographer!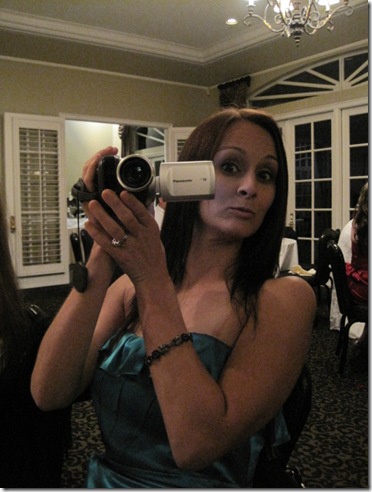 The ceremony was lovely.  It was a little chilly sitting outside!  We're having a "cold front" in Florida right now.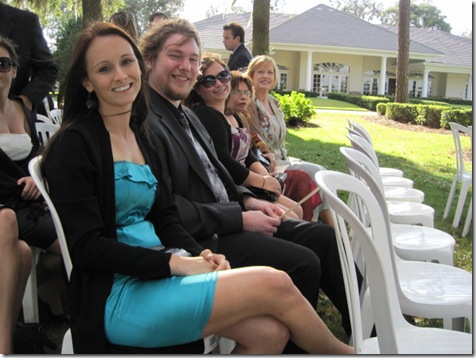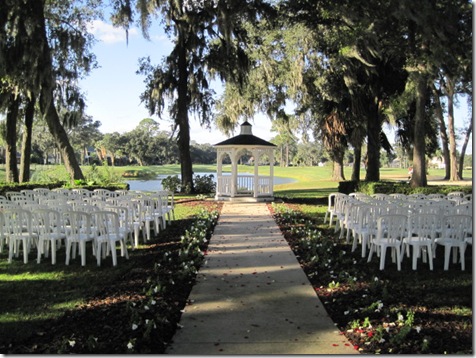 Not going to lie, I got teary-eyed multiple times during the wedding!  The couple had a semi-traditional Christian ceremony (reading of passages from the Bible and prayer), but it was also very modern with a funny officiant who cracked jokes and talked about life in ways a 23-year old bride and groom would relate to.  I love unique ceremonies with personal spins.
The Mother of the Bride walked Honour down the aisle, too!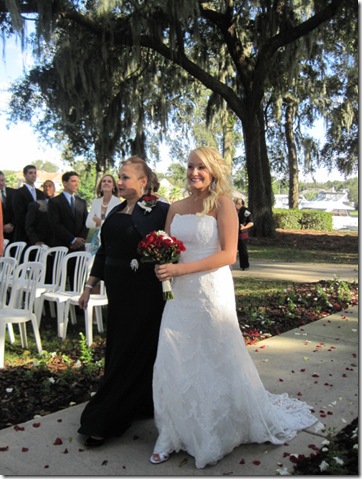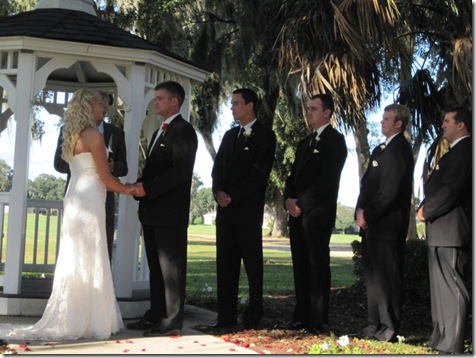 Exchanging rings (yes, I was videotaping WHILE taking pictures!: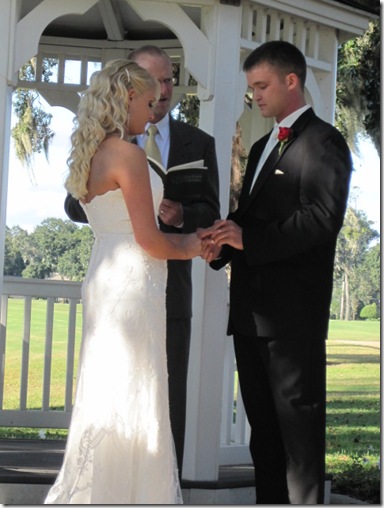 The KISS!  It was a nice long one….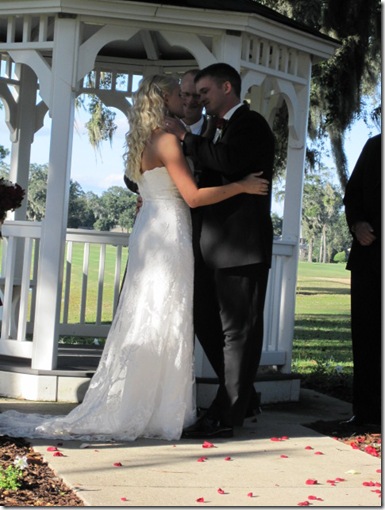 And lipstick was wiped off afterwards!  🙂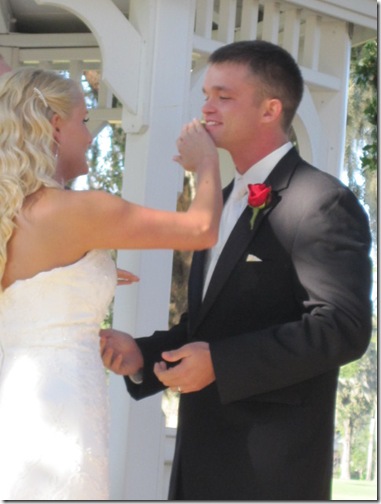 The couple and the wedding party went to take pictures, and it was time for cocktails for the guests.   I snagged the first vegetarian appetizer I could find (a spring roll):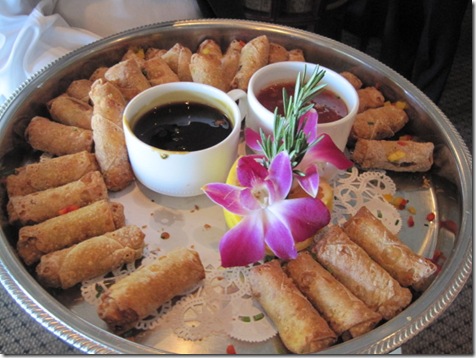 And I had a gin and tonic: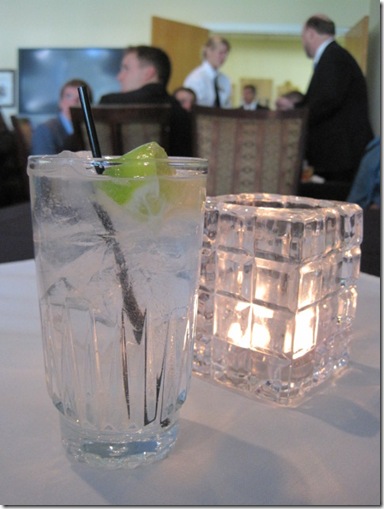 Then, it was time for the reception.  I sat at a table with my mom, family friends, and Honour's work friends.  It was a fun table.  :)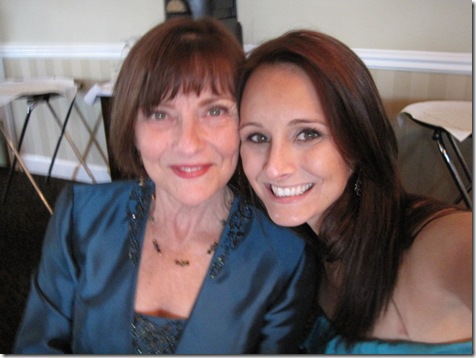 Our favors were Jordan almonds, which I love!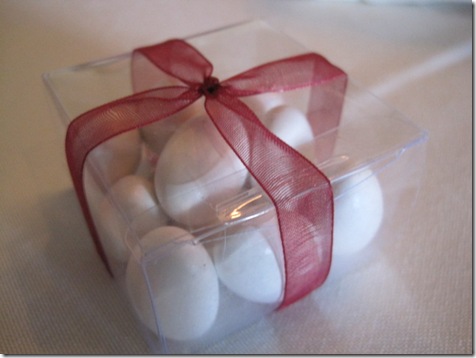 Then it was time for the first dance.  I thought my first dance with the Husband was so awkward, but Honour and Kyle did very well and didn't look embarrassed.  🙂 Kyle and his mom danced together, and then Honour and her mom danced together, which I thought was AWESOME!  I love it when people do their weddings the way THEY want to do it.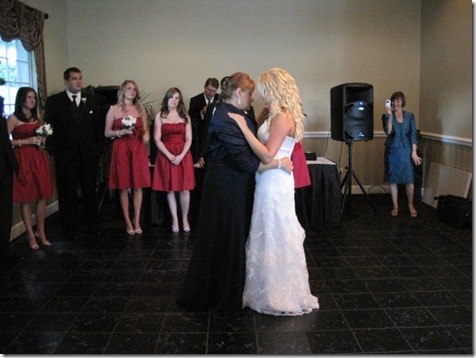 Time for FOOD!  Luckily for my vegetarian self, it was a buffet dinner.  I think buffet weddings are the way to go… it's cheaper, you get more food options, and your guests can decide what they want.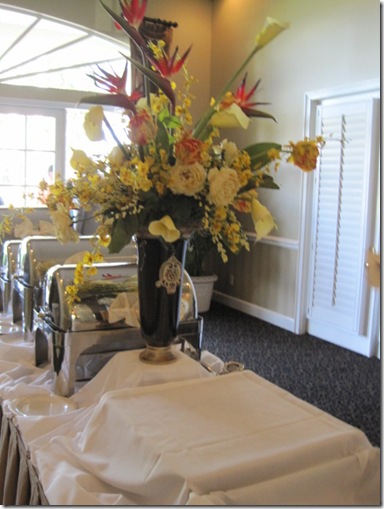 I loaded up on the fruit and veggies: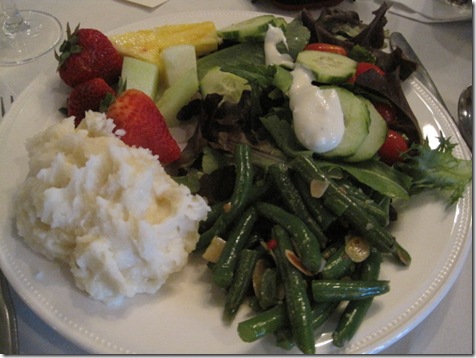 Mashed potatoes, fruit, and salad, and green beans.
Plus, a smushy roll: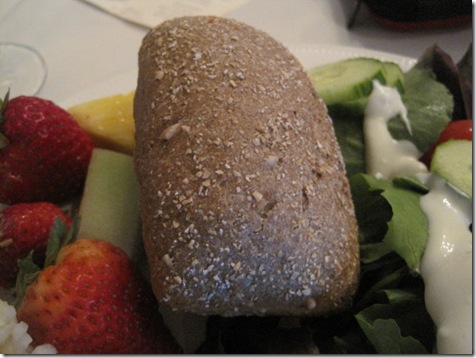 The meat options were chicken and beef.
The rest of the reception was a lot of fun. My mom danced more than I did (I'm not a good dancer)!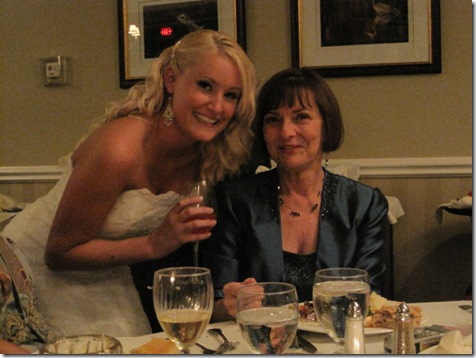 I did, however, drink some wine and toasted with some champagne.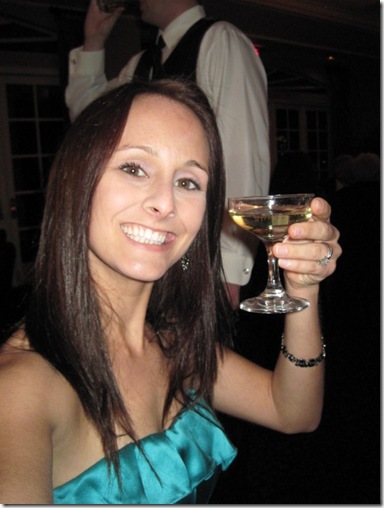 And ate some of the AMAZING wedding cake!  I didn't get pictures of the cake-cutting (because I was videotaping), but Kyle fed it sweetly to Honour, and then she smashed it in his face at the urging of the crowd.  He proceeded to kiss her with a cake-face and get it all over her, too!  It was pretty funny! 🙂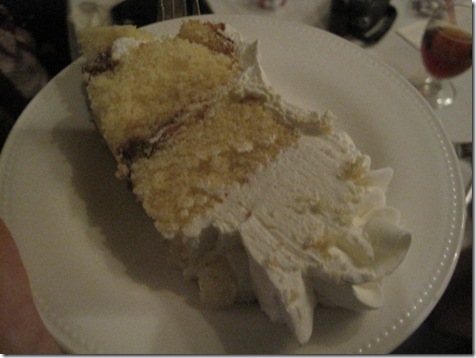 After some dancing to the Spice Girls and Shout!, we called it a night….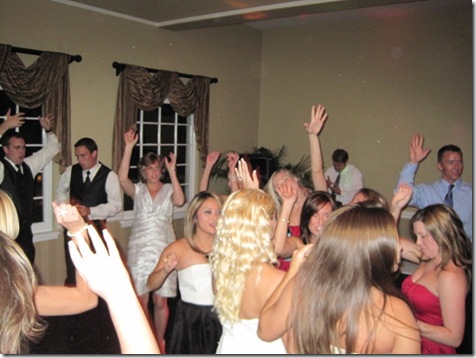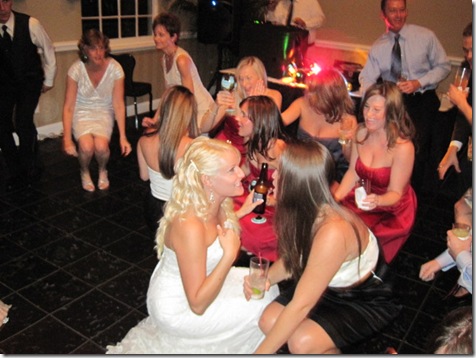 Well, kind of! :)  My two family friends (Steven and Katie) went to a rinky-dink Jacksonville bar to play pool for a while.  I drank a half of a Yuengling and called it a night early – I was pooped!
All in all, a fabulous wedding!  I hope you enjoyed the recap.  :)  I'm going to have brunch with my mom, and then it's back to Orlando.  Tonight, I'm meeting with a photographer and the Husband and I are recreating OUR WEDDING.  Hopefully, we'll get some new photos that we enjoy, too.  In 50 years, we won't remember that it wasn't our actual wedding day, right?  🙂
Have a fabulous Sunday!