Immediately after checking into the hotel, Tina and I headed to the gym and get a quick workout in: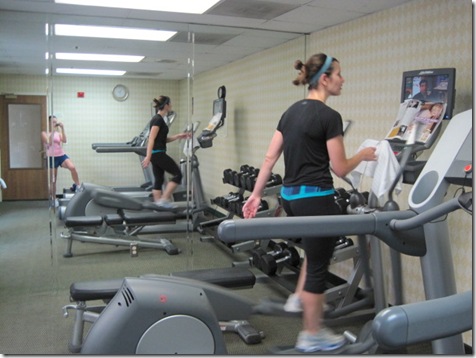 But I realized that I was STARVING.  I had been in such a rush to pack the right clothes that I forgot to pack snacks!  I had to rely on a Hammer Gel that I happened to have in my purse (you know you're training for a marathon when….)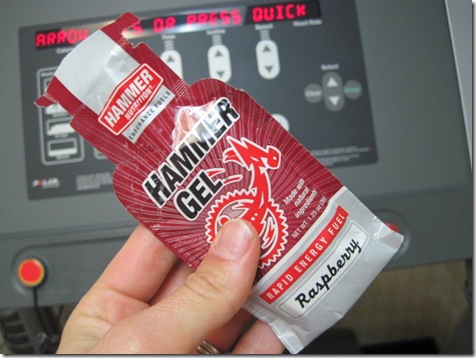 I did 4.0 miles in 35:45 minutes!  My goal was to finish under 36:00 minutes and BOY did I have to book it at the very end.  I have trouble staying on the treadmill for longer than a few miles – it's just so boring.
I discovered a crushed Kashi Pumpkin Pie bar in the bottom of my laptop bag and ate it as a post-workout recovery snack.  This bar is definitely from August, when I went to the Healthy Living Summit.  Whoops.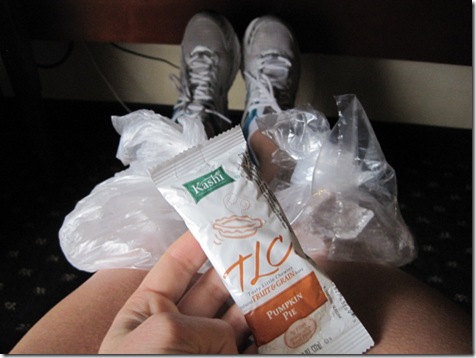 (Icing my knees).
I took a nap all by my lonesome self.  It's weird to be in such a big bed without my Husband and two dogs.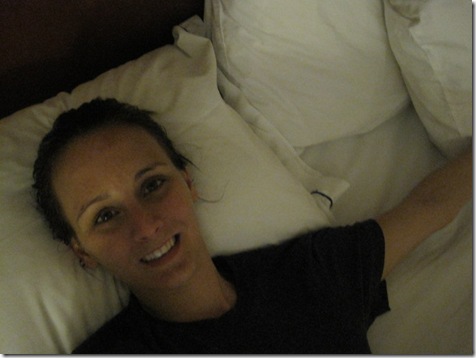 When I woke up an hour later, I was hungry.  I realized my body thought it was 8:00 PM, not 5:00 PM, and my stomach was asking why I hadn't eaten dinner yet.  I was RAVENOUS, FAINT, and getting CRANKY.
Twitter to the rescue!  🙂
Twitter put me in touch with Andrea of POM Wonderful, who told me to come to her hotel room and grab an apple.  Thank you so much, Andrea! You saved me!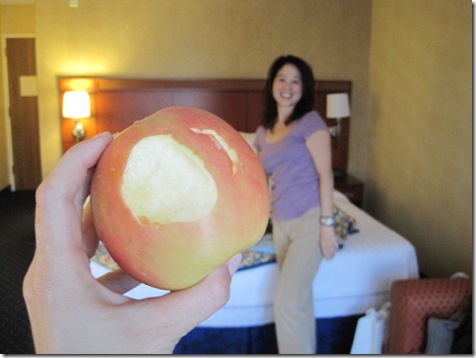 I changed and met the rest of the POM Wonderful bloggers downstairs.  Jeff, the Director of Internet Marketing, gave a little speech.  He seems so nice and knowledgeable.  And check out that camera!  I am jealous.  🙂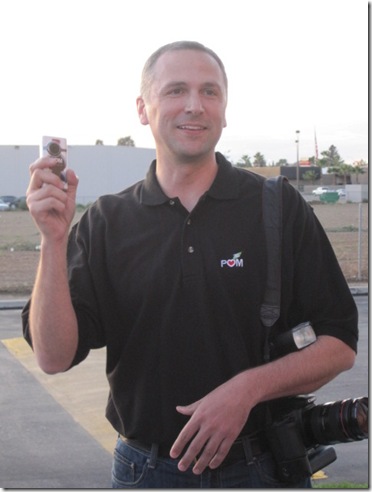 And then it was off to dinner at BJ's Restaurant and Brewery.  It's a chain, but it's SO good.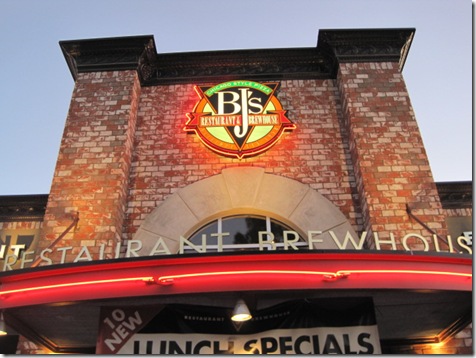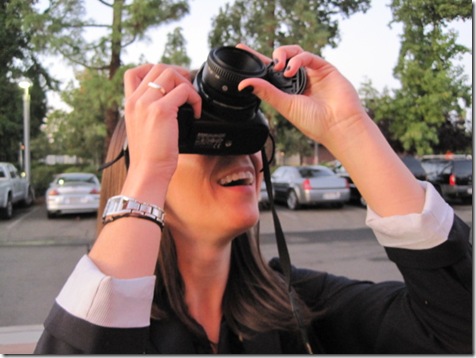 Our table was quite rowdy!  There's an interesting mix of bloggers – most are new to me – from several different niches, including fitness, food, cooking, lifestyle, gluten-free, etc.  I will post a list of all the bloggers tomorrow. 
Tina and Roni!  Roni is one of the first blogs I ever read.  I was really excited to meet her.  🙂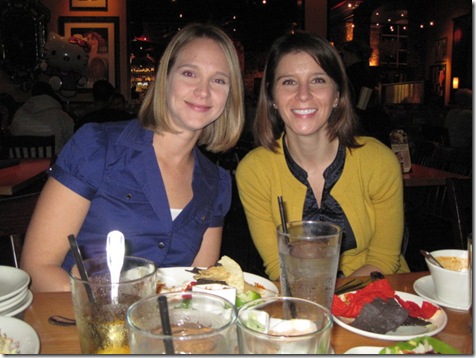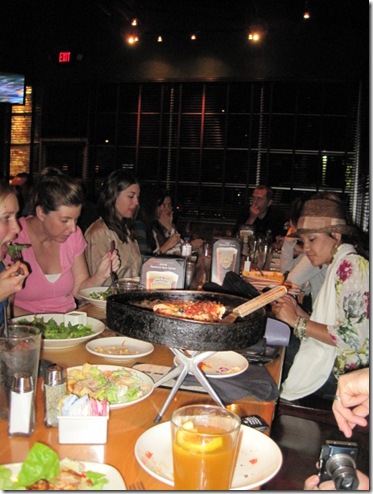 I asked the one lone male blogger, Eric, if he wanted to split pizza with me.  He said YES!  :)  I had two and a half amazing slices of deep-dish vegetarian pizza.  It finally took the edge off my hunger!  I felt SO satisfied afterwards.
And a pint of Pumpkin Beer and a bite of apple crisp. 
Tomorrow we are touring the POM Wonderful groves and taking a 6-seater plane ride to view the estate!  I'm nervous about the flight, but I know it will be fun.   I'm expected downstairs at 7 AM, and I'm hoping I can squeeze in a quick workout beforehand. 
Have a wonderful evening!