My eyes snapped open at 4 AM.  I think my body is a little confused about the time change (California is three hours behind).  I forced myself to go back to sleep until 5:30, and then I woke up to get some exercise in.
But when I walked over to the hotel gym, it was all full.  There's only 2 treadmills and 1 elliptical.  I contemplating doing an in-room aerobic routine, but I decided I'd rather brave the cold weather.  It's 52 degrees in Fresno!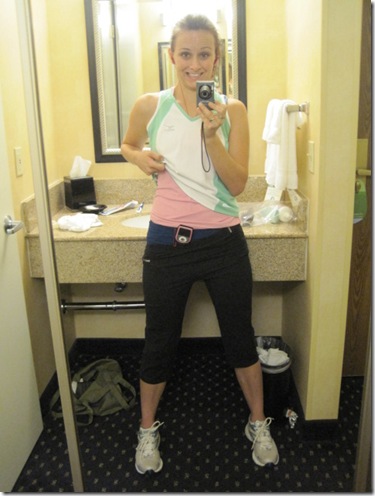 I layered.  :)  I ended up wearing the shorts + tank I ran in yesterday, plus yoga pants and another running top.  My arms were FREEZING, but my legs and chest were fine.
I ran along a main commercial drag.  Lots of car dealerships and McDonald's, so although there weren't a lot of people walking around, there was traffic and lighting.  I felt safe.  It was just a boring run, visually.
Here are my statistics:
Duration:  29:07
Distance: 3.0 miles
Mile 1: 9:37
Mile 2: 9:47
Mile 3: 9:42
I met Tina for breakfast in the lobby:
The hotel food was excellent.  I love breakfast buffets!  There was real Quaker oatmeal with a variety of fun toppings: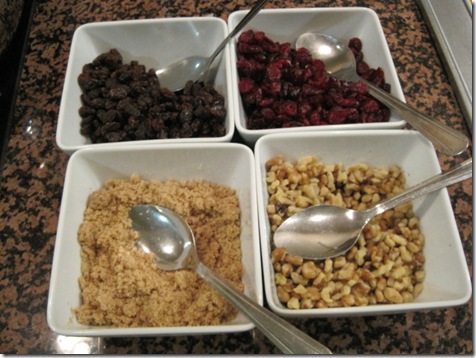 My plate:
I had eggs, fruit, and oatmeal with cranberries and brown sugar: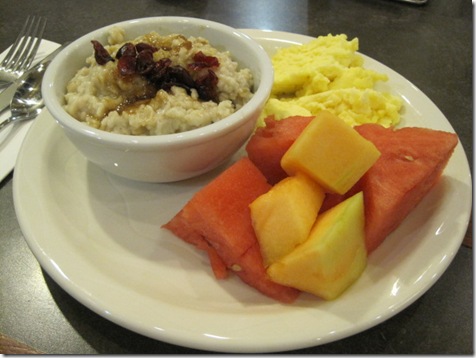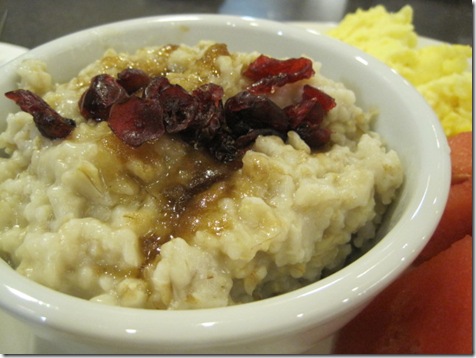 Watching Tina use her sweet SLR camera (and comparing my dinner photographs to her dinner photographs) has really solidified the fact that I need an SLR camera in addition to a point-and-shoot.  The quality is so much better.  I hope I can get one before our trip to England!  If anyone would make good use out of such an expensive camera, it's a food blogger, right? 🙂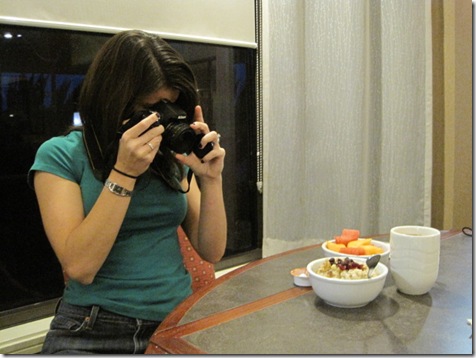 Well, if I don't hurry up, I'm going to be the last person ready, so I'd better get a move on.   Today we're going to the POM Wonderful orchards.  I'm really excited – I love agriculture.  🙂
See you soon!
What kind of camera do you have?  My point-and-shoot is a Canon PowerShot SD1200 IS.  For a little camera, it takes excellent non-flash photographs, which I think is key for food photographs.