Good morning!  Today, we are driving to Miami to watch the University of Miami vs. Oklahoma football game.  The Husband and I are serious tailgaters, but we try to keep it healthy.  Our days of Keg 'N Eggs are over. 🙂
This year's tailgating activities are sponsored by Arnold Bread.  The Healthy Tailgate series will be a regular feature on the blog until November, at the very least! :)  Hopefully, there is a National Championship is our future!
Without further ado, here is today's menu!  We'll be back with a full recap later!
~~~~~~~~~~~~~~~~~~~~~~~~~~~~~~~~~~~~~~~~~~~~~~~~~~~~~~~~~~~~
October 3, 2009 Tailgate Menu
Grilled Vegetable Sandwiches on Arnold Select Sandwich Thins:  Marinated zucchini, squash, and bella mushrooms with cheese, onions, tomatoes, and sprouts.
Fruit Salad: Watermelon, melon, grapes, and strawberries.
"Homemade" Corn and Black Bean Salsa with Blue Corn Chips:  This easy salsa tastes 100% homemade, but it only requires three ingredients and always impresses guests.  I'll share the recipe later!
Red Potato Salad:  Not homemade, but I cannot imagine the first tailgate of the season without a little potato salad! 
Grilled Peaches:  A sweet and healthy dessert.
~~~~~~~~~~~~~~~~~~~~~~~~~~~~~~~~~~~~~~~~~~~~~~~~~~~~~~~~~~~~
This morning, I had Flax French Toast with whole wheat bread and strawberries: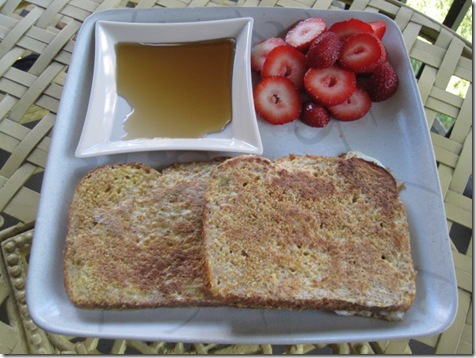 Mixing flax in with the eggs really creates amazing French Toast.  So simple, yet such a big taste difference!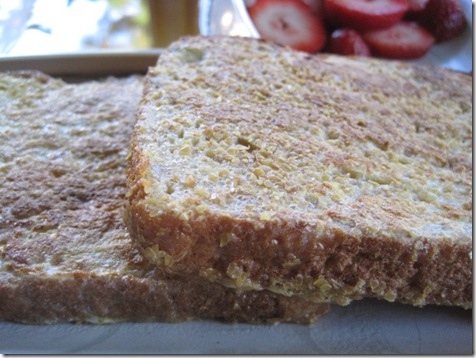 After breakfast digested, I did some yoga on TV.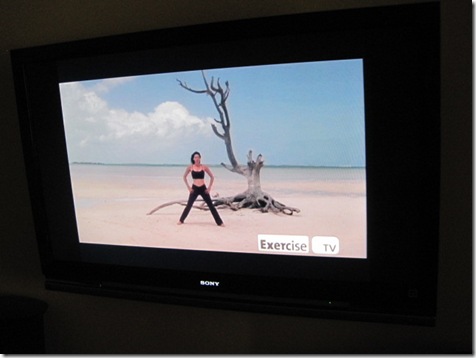 I only did about 25 minutes because warrior poses were making my knees ache.  I actually feel pretty great for a gal who ran 14.0 miles this morning, but I don't need to push it on my rest day.  :)  YAY for successful marathon training!
And…. we're off!  Let's go CANES!