I've gotten to the point in my pregnancy (three weeks to go!) that I'm doing anything and everything to get my mind off the waiting-for-baby game.  Waiting sucks.  My favorite way to pass the time?  Researching races, of course.  Not that I'll be racing again anytime soon, but it is fun to build an imaginary race calendar.  Since writing the Obstacle Races: Cool, But Are They Safe? post, I've been looking into other 'unusual' races with a fun hook.  Here are ten of the wackiest, tackiest, and most insane races that I've come across in my Internet browsing.
Streak the Cove 5K – Kissimmee, Florida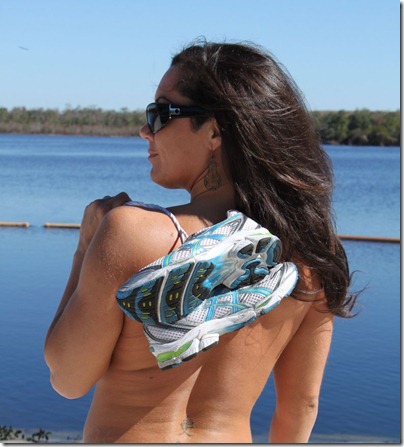 The Streak the Cover 5K is a "clothing optional" 5K held on the Cypress Cove Resort in Kissimmee, Florida.  Runners are encouraged to wear "as little or as much as they want…" although sunscreen is highly recommended.  All I can think is, "No clothes… Does that mean no chafing?!"  And, "Man, my boobies would hurt."  Anyway, proper nudist etiquette must be followed at all times (put a towel down before sitting and no camera or cell phones allowed on the property).  And yes… runners still get a free T-shirt for entering.
Cross Bay Half Marathon – United Kingdom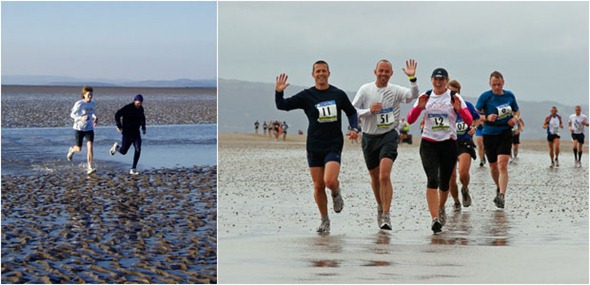 This Half Marathon is a trail race that crosses beautiful scenery, a tidal bay, and two rivers.  The quickest route between the counties of Cumbria to Lancashire, the crossing dates back as far as the 13th century, when monks would guide travelers across the bay on foot.  This is believed to be the only race in the world that crosses a tidal bay – pretty neat!  But expect a few blisters – you are running through several water challenges and wet sand, after all.
The Urban Dare – Cities Throughout America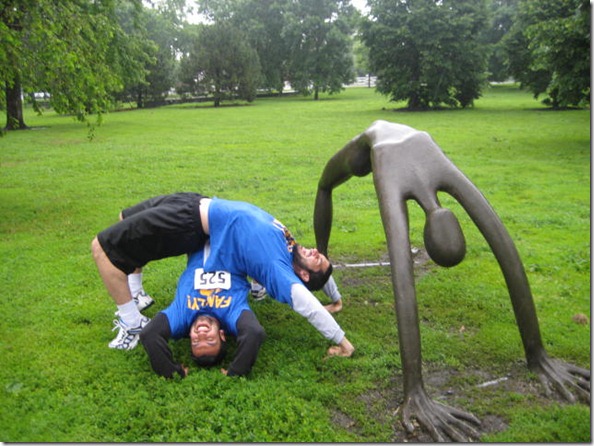 The Urban Dare is a race where teams of two solve a set of twelve clues, including trivia, photo hunt games, and mental and physical challenges.  To move onto the next challenge, teams must take photographs or complete dares, which may include climbing a wall, solving or puzzle, or other activities.  Teams can run, walk, or use public transportation – but not cars – to move between checkpoints. The events usually take two to four hours and cover a total of 5 – 7 miles.
The Runyon 5K – Bronx, New York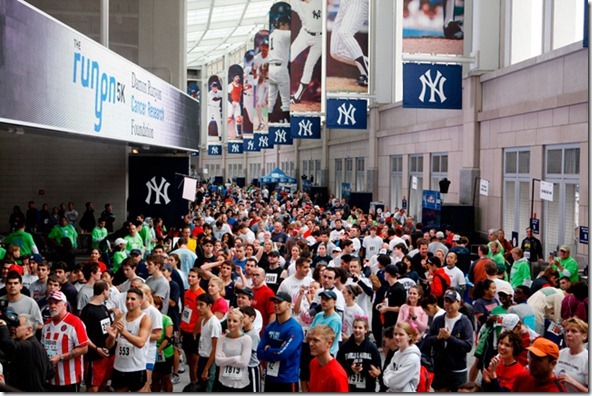 I've done a race that finished inside a stadium – but the Runyon 5K is unique in that it occurs entirely within the Yankee Stadium.  Runners traverse concourses, ramps, and nearly 268 stairs to travel 3.1 miles through the stadium, finishing up with a victory lap around the warning track (near, but not on, the actual field). To prevent bottlenecking, start times are staggered.
Skirt Chaser 5K – Tempe, Arizona and Denver, Colorado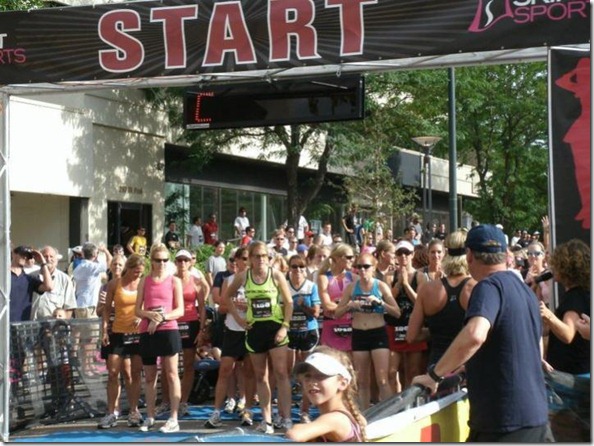 The Skirt Chaser 5K mixes "flirting and racing."  Most participants sign up as a couple, and the women get a 3-minute head start on their partners, who try to 'catch them' on the course.  If you're single and looking for a love who appreciates racing as much as you do, you wear a special sticker – who knows, maybe you'll meet someone nice on the course!
Crystal City Cave Run – Crystal City, Missouri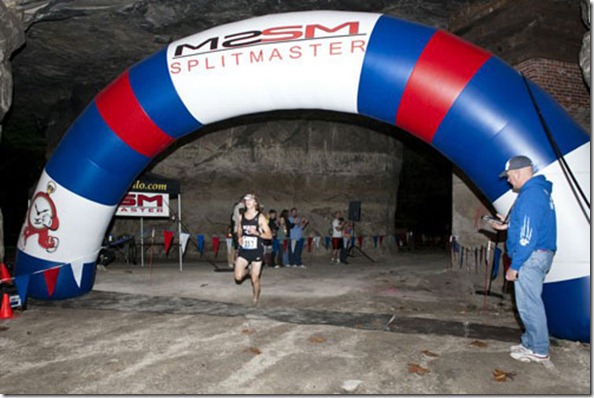 This race is definitely in the wackiest location – it's an underground 5K!  The race goes through the Crystal City sand mine, taking runners past underground lakes, over wet sand, under air shafts, and on top of sand dunes.  It's a two-loop course and, save for a small portion at the start, takes place entirely underground. 
Night of the Living Dead 5K – Salty Lake City, Utah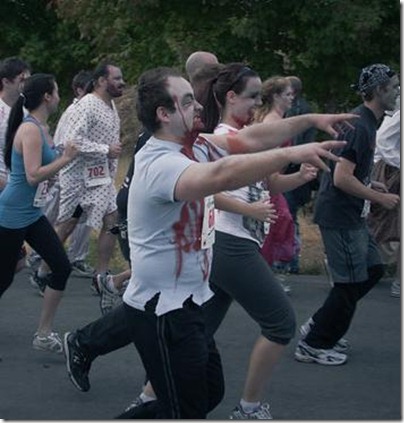 Like the Skirt Chaser, this Halloween-themed race features a slight head start for some participants… but it's humans v. zombies.  Runners register as 'humans' or 'zombies' (and zombies are, of course, encouraged to dress up and play the part), and humans get the first whistle.  Two minutes later, the zombies take off.  Race rules specifically state that zombies are not allowed to be aggressive or harass humans.  Eck!  Run for your life!
Napa to Sonoma Wine County Half Marathon – Wine Country, California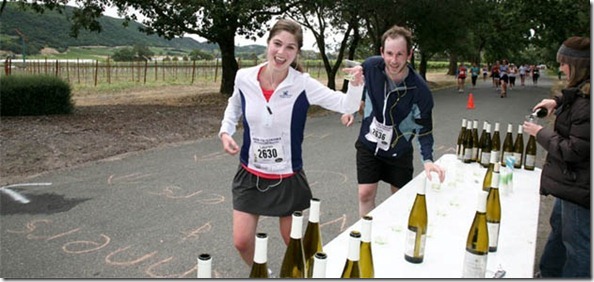 I would LOVE to do this race one day.  It's definitely on my bucket list.  First of all, it's a scenic half marathon through beautiful wine country, and there's an awesome wine and music festival following the race.  But more importantly, they serve wine on the course.  Who needs a water stop when you have a wine stop?  Bottoms up!  Oh, and the prizes include over 20 cases of wine in addition to the traditional cash.
The Enduroman Arch to Arc – London to Paris
Whatever. I could totes do that.
Billed as the "world's ultimate triathlon," the Enduroman requires participants to run 87 miles from London to Dover, swim the entire English channel, and then cycle 181 miles from Calais to Paris.  Yes.  Seriously.  Alternatively, you can run from London to Dover, kayak the English Channel, and then bike from Calais to Paris.  Your decision.  Only nine people have ever completed the entire race by themselves.  Four relay teams have completed the event.  To qualify to participate in the 300-mile race, you must have completed a six-hour sea swim in 16 degrees or colder water within the last year.  Oh, and the race costs around $8,000 for a single entry.
The Krispy Kreme Challenge – Raleigh, North Carolina and Tallahassee, Florida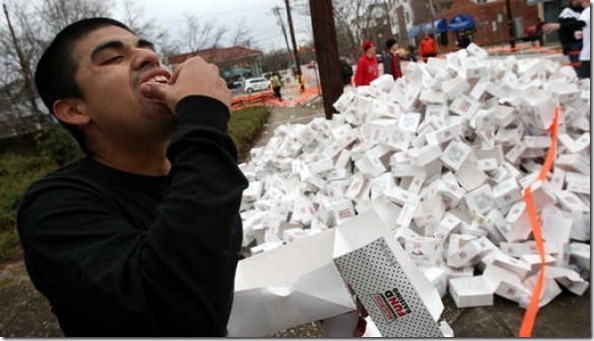 Does running 2.5 miles or so, wolfing down a dozen donuts, and running back to the start line sound like your idea of a good time?   Yeah.  Me neither.  But loads of people love to participate in the annual Krispy Kreme Challenge, which raises money for charity.  Part of the challenge is that the running and donut-eating (which, by the way, clocks in around 2,400 calories and 144 grams of fat) must be completed in under an hour.  And yes, there are actually 'designated puke areas,' including a puke tent.  Gross!
Would you run nude?  Would you rather be a zombie or a human?  Would you barf if you had to eat 12 donuts in the middle of a 5-mile race?  Would you feel compelled to drink wine at the Napa Half Marathon just to say you did?  I would not run nude ever, I would be a zombie, I would definitely barf after eating a dozen donuts under any circumstances, and I would partake in the booze!