Recently, the newly popular 'mud runs' or 'obstacle races' have been making big headlines, but not for a happy reason.  On the 14th, Tony Weathers, a 30 year old fitness buff, died during Fort Worth's Original Mud Run.  He passed away while attempting to cross the Trinity River, the crossing of which has been described as chaotic and generally unsafe.  It's unknown exactly what happened to Tony, but lifeguards (who racers said were 'overburdened') rescued many people from the river during the event.  The police are still waiting for the results of Tony's autopsy before deciding whether to proceed with criminal charges with the race organizers.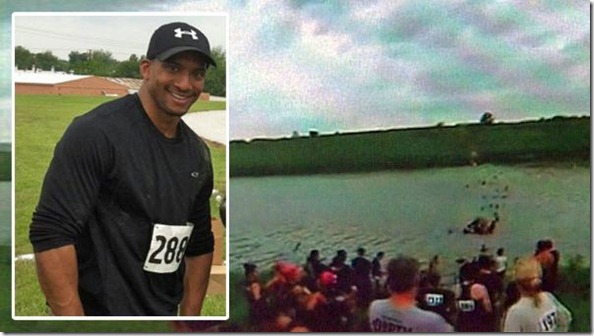 A reader named Marissa alerted me to this story.  She wrote: 
I'm no stranger to racing events–I've completed who knows how many 5ks, a half-marathon, and 5 sprint triathlons.  When I sign up for a race, I have a reasonable expectation of safety – that there will be a safe, approved course, lifeguards, necessary traffic barriers, etc. I know USAT has some oversight over triathlons, and I assume they are concerned about safety, though I haven't looked into it. I know many 5Ks, etc. are run by private race companies, but they don't include the hazards these mud run-type races do… live electric wires, river crossings, fire pits, etc."
Marissa's email – and Tony's sad death – got me thinking.  How safe as these obstacle races REALLY? Who designs the obstacles? And what should participants be aware of prior to attempting the race?
I wanted to know what an obstacle race director thought of these safety concerns, so I reached out to Sam Abbitt, the organizer of Savage Races, "the most badass mud and obstacle race event yet. featuring big, rugged obstacles spread out over 4 – 6 treacherous miles."  Here's what he said:
Safety is something we take very seriously at Savage Race.  Much time and effort goes into ensuring that our events are as safe as they can be given the inherent risks involved with our style of extreme event.  Our obstacles designs are always approved by licensed engineers, then built by certified general contractors.  We include fall prevention systems on many of our tall obstacles.  We hire teams of lifeguards to monitor water crossing over 4 feet in depth.  Finally, we station volunteers and experienced medical professionals throughout our course so that they may quickly react to an emergency.

Despite all of the safety measures we implement, there will always be inherent risks associated with participating in Savage Race.  The most common emergency associated with any endurance sport is the risk of a heart attack.  A man experienced one at our last event, but luckily the rescue personnel we had on site were able to treat him within a few minutes of his collapse.  He was transported to the nearest hospital, and survived.  The guy was probably lucky that his heart attack happened at Savage Race (while we had paramedics nearby) and not while he was jogging in his neighborhood alone.  Another danger that many people overlook is heat exhaustion.  We encourage participants to drink as much cold water as possible, and they should never skip a water station on the course.
Like Marissa said, safety during any race is a concern.  Even in the most well-designed, well-staffed course, a runner in a 5K can twist her ankle.  A cyclist in a triathlon can crash into another biker.  A swimmer can panic in the water.  The reality is that most of the deaths associated with such races is not related to the course or the fault of the organizers at all – it's usually related to a medical condition that the racer didn't know he or she had in the first place.   As I wrote in this triathlon swimming post, from 2006 to 2008, 14 Americans died during triathlons; 7 out of 9 who had autopsies died from cardiovascular abnormalities.  However, 13 of the deaths occurred during the swim leg. 
What does it mean that so many triathletes die during the swim leg?  Well, simply put, the swim leg is very stressful.  Researchers theorize the high number of deaths during the swim leg because of the chaotic mass starts; people panic when they hit the water, and it's difficult for rescue workers to identify who is in trouble.  I infamously had a full-blown panic attack during my first Olympic triathlon and had to be rescued by a lifeguard.  It was very overwhelming, very scary, and could have been extremely dangerous if the event hadn't been well-staffed.  The experience made me much more cautious during future events. 
I have never participated in an obstacle course race, but I think it's pretty obvious that the odds of injury are much higher when you're slipping and sliding in mud and dashing around obstacles, instead of just running in a straight line. It seems like an obstacle run would be similar to the swim leg of tri – lots of room for freak-outs and panicking.
If you do want to tackle an obstacle run, here are some things to consider during an obstacle run (or a triathlon or road race, for that matter!):
Never do any event – from a 5K to a triathlon to an obstacle course – that you do not believe you can physically handle.

Stop at every water station, hydrate, and take a break.

You can skip any obstacle that you don't feel comfortable tackling.  This will eliminate you from placing, of course, but you should never do something that you feel is unsafe.

Don't get sucked into the obstacle race's hype about being the "toughest" or "the most badass."  Remember that this is all fun marketing ploys.  Sometimes, being the most badass means you end up doing some ridiculously reckless and stupid things.  Ultimately, your safety is your responsibility, both in races and in life.

Follow the website's recommendations for clothing and shoes. 

Go slowly – you can make an obstacle race a fun and messy event, not a personal record-setting chase.  Rushing through the obstacles increases the odds that you'll get hurt.

Step back before tackling an obstacle and observe the scene.  If it is very chaotic, consider waiting a few minutes or moving to the side where there are less people.  Don't push your way to the front if you are nervous.

If the obstacle course involves open water swimming, be

very

sure you are prepared to swim in open water (

here are my tips

). Spend time imaging what the swim will be like and emotionally prepare yourself to be splashed, kicked, and swam over.  It's a good idea to practice in open water as well.

Consider doing a smaller event.  Check the website to see if there is a mass start (usually more crazy) or if the event starts in timed waves, which will be less chaotic.

To be extra safe, consider getting a cardiovascular work-up by your physician, especially if you know you have a heart condition.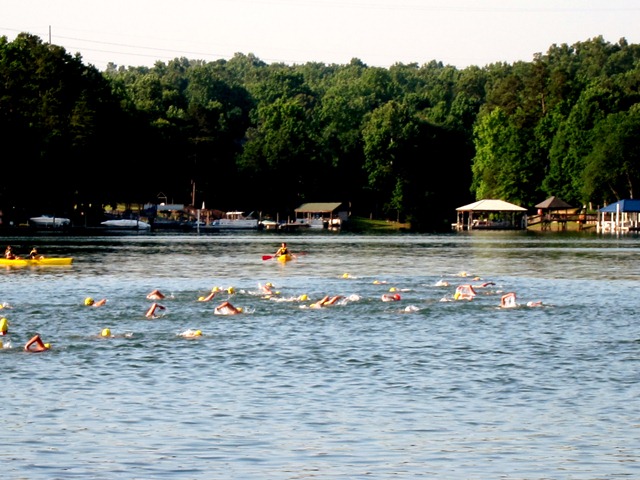 And last, but certainly not least, remember that a true sign of toughness is being able to admit when something doesn't feel right and backing down.  Always trust your gut.  
(Images of obstacle course race from Meghann at Meals and Miles.)
Have you done an obstacle race?  Did you feel safe at the event?  What safety tips do you have to share with others? Personally – as cool as I think these events sound, I do not think I would do one. I'm pretty clumsy and feel like I'd be guaranteed to roll an ankle in the mud and put myself out of commission for weeks on end.