On having a 'birth plan' per the Bradley Method
Holy crap.  How the heck am I thirty weeks pregnant?  Where did the time go?!  I used to think thirty weeks sounded soooo far away, but now it's here.  BabyHTP will be in my arms in ten weeks, give or take.  Ten weeks to go and I don't have a nursery.  I haven't bought a single diaper.  I still don't know infant CPR.  Help.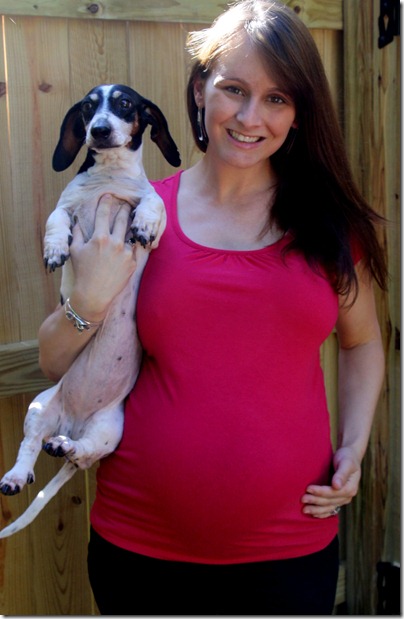 Here's what BabyHTP is up to during the 7th month of pregnancy:  "Your baby's about 15.7 inches long now, and she weighs almost 3 pounds. Her eyesight continues to develop, though it's not very keen; even after she's born, she'll keep her eyes closed for a good part of the day. When she does open them, she'll respond to changes in light but will have 20/400 vision — which means she can only make out objects a few inches from her face. (Normal adult vision is 20/20.)" (Source)
And here are some fun Week 30 statistics:
Total weight gain:  No idea.  Nearing 30 pounds, though. 

Workouts:  Moving into a new house counts.  It definitely counts.  I have been so exhausted just by unpacking boxes, gardening, and moving furniture around that there has been no energy for formal workouts.  I did go on a long walk today, though.

Baby Items Gifted:  The crib has arrived!  I am so excited to assemble it.

Baby Activity Level:  Kick, kick, kick.  Bump, roll over, bump.  She/he moves all day long now.
When I read that she's 3 pounds, I freaked out. THREE POUNDS?! No wonder everyday activities exhaust me so much.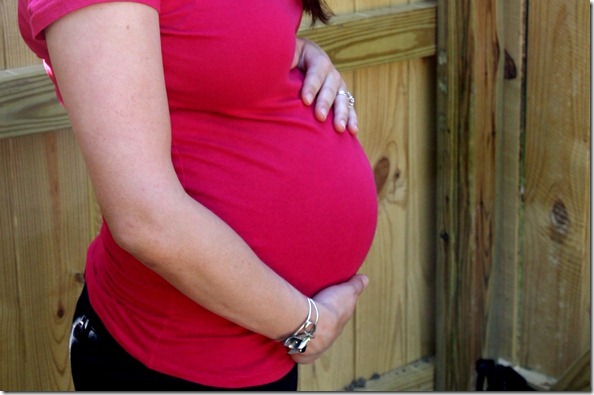 After the dust has settled from buying and moving into our new house, I turned to my baby list, which includes items like find a doula, finalize a pediatrician, do the nursery, and write a birth plan.
I feel the need to preface this post by saying that my opinions about my ideal birth are just that… My opinions on my ideal birth. I'm not trying to preach about what other women should do or judge other choices.  Personally, I have always found it interesting to read about what women decide to do and why, even if they do something I would not choose for myself, so that is why I am sharing. 
When you say the term "birth plan," there are two general reactions: 1) "That's a really good idea.  If you are sure you do or do not want certain things under certain circumstances, it's helpful to write it out so your midwife, nurse, and doctor are aware," and 2) "Birth plans are pointless. You can't plan birth.  Just go with the flow."  Since I'm writing a birth plan, I'm obviously in camp #1, but I can understand what those in camp #2 mean when they say you can't plan birth.  It's a natural process, things don't evolve according to a chart, and sometimes, emergencies happen.
That being said… This is my body and my baby.  I have a right to make informed medical choices.  And, quite frankly, I need to write a birth plan because the statistics regarding what commonly occurs in a hospital are not in line with my personal preferences regarding childbirth.  For example, in 2004, the episiotomy rate was 24.5% (an episiotomy is a surgical incision of the perineum).  I would rather use midwifery techniques to prevent tearing (massage, warm compress) or tear naturally than get an episiotomy (here's why).  I want to be 100% sure that my midwife, nurses, and doctor are aware that I do not want an episiotomy preformed unless it is a true emergency.
As I sit down to write my birth plan, I'm trying to integrate as much as the Bradley Method as possible.  I am waiting to write a complete summary post on the Bradley Method (probably post-baby), but I really love it so far and would recommend it to any expecting momma, even if you want an epidural, because the 12-week program gives you and your partner so much confidence regarding birth.  Bradley Method teaches natural childbirth techniques, and 90% of Bradley women who have a vaginal birth do it without medication – a pretty good success rate!
The #1 rule of the Bradley Method is not to go to the hospital too soon.  Basically, the later you arrive, the less chance of medical intervention (such as pain medication and drugs to speed contractions; remember, Bradley mommas are trying to avoid these things).  We are taught a variety of physical and emotional signposts to know when we should ideally go to the hospital.  Under normal circumstances, I'll be laboring at home for as long as I can stand it and is safe – I really don't want the Husband delivering the baby in our bedroom – and then my birth plan will kick in.
I'm not ready to share my final birth plan quite yet (if you're interested in reading the draft, feel free to shoot me an email at caitlinjboyle@gmail.com), but here are some highlights.  Note that all of these items have been approved by my midwife; I can't say that every doctor, midwife, nurse, or hospital would allow these things, but mine do.  Most of these items are in line with Bradley Method teachings, which is why I'm including them:
Caitlin plans to have a medication-free labor. Please do not offer her an epidural. She does not want any drugs to speed along labor (i.e. Pitocin). If there is an issue, and you believe these medications are necessary, please discuss it with Kristien.

Caitlin would like to labor out of bed and would like to be encouraged to try different laboring positions.  She may want to deliver out of bed.

If water has not broken by the time Caitlin arrives, water should be allowed to break naturally. Breaking water should be discussed with Kristien first.

Kristien would like to announce the gender of the baby to Caitlin.  Please do not spoil the surprise!

Please do not clamp or cut cord immediately.  Wait at least three minutes prior to clamping or cutting.  (Side note:

here's why

.)

Please allow the placenta to come out naturally (no pulling or Pitocin injections, please).  We will be signing a medical release so we can take the placenta home. (

Here's why

.)

Baby should be placed on Caitlin's stomach or chest immediately for a minimum of two hours of skin-to-skin contact.
I imagine that, at this point, many of you are thinking, "Dude, if you don't want them to do anything to you, why aren't you delivering at home or in a birthing center?"  Good question!  Ultimately, I truly understand that although I can write a birth plan, I cannot plan birth, and scary things do happen.  For me, the best place to be in that scenario is in the hospital with doctors and nurses who can help.  If there is a true medical emergency, I will trust these people to make the appropriate choices for me – screw the birth plan.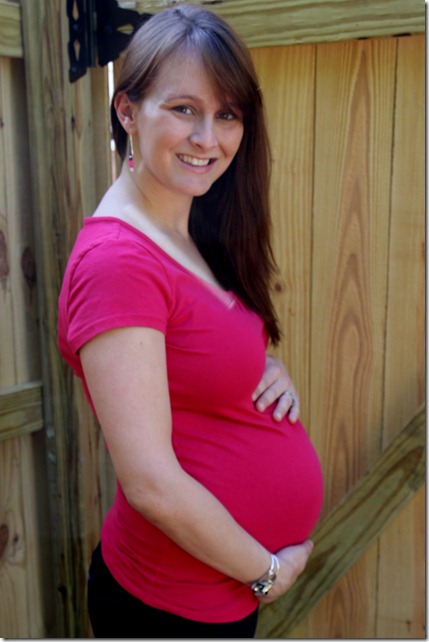 Another remark that I commonly hear about birth plans is that the birth doesn't really matter that much.  All that matters is that the baby comes out, healthy and safe.  While I do think the 'bottom line' is true, I do believe that the birth matters, not only in regards to the physical health of my baby, but also for my emotional health.  The birth process does matter to me.  It doesn't have to be perfect; it doesn't have to follow my exact birth plan.  But I know this will be a transformative moment in my life, and I want the space around that moment to be one of positivity.  Leaving the hospital with our little boy or girl will be the most amazing thing in the entire world.  But if I can walk out those doors feeling protected, respected, happy, and healthy… then that's just icing on top of the cake.  
Did you write a birth plan?  How helpful was it for you and for your medical team?