Sometimes, all you can do is throw up your hands, laugh, and call a professional.  Our big mission of the morning was getting the TV off the wall of our apartment so we could transfer it to our new house and hook up the cable/Internet.  We thought it would be a piece of cake – two screws and we're done, right?
An hour later… we decided we needed a handyman.  Clearly, our tools weren't working.  I can't believe it, but I somehow remembered the name of the handyman who had installed the wall mount nearly two years go, gave him a ring, and he stopped by twenty minutes later.  With the right tool, it took about five seconds to get it down.  Hah.
So – here's our big debate.  I'm curious to know what you all think (or do in your own homes). 
In our apartment, there was only one place for our TV to live – the main living room, which is the first room you enter, the only common living space, and open to the kitchen.  This means that the TV is always on, even if we aren't actively watching something.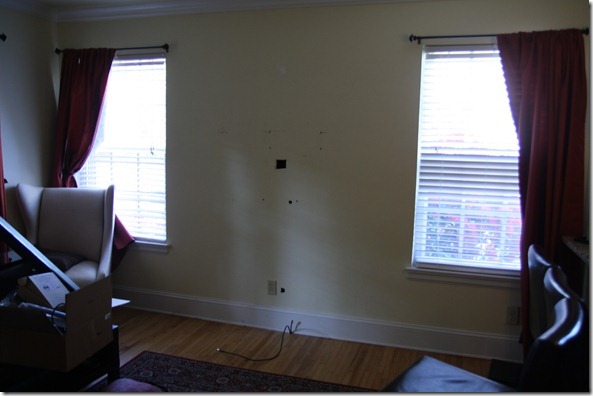 In our new home, there's a similar open living room/kitchen plan, and I guess most people would put the TV down in the living room.  But we decided to put it upstairs in the small bonus room, making it a TV room.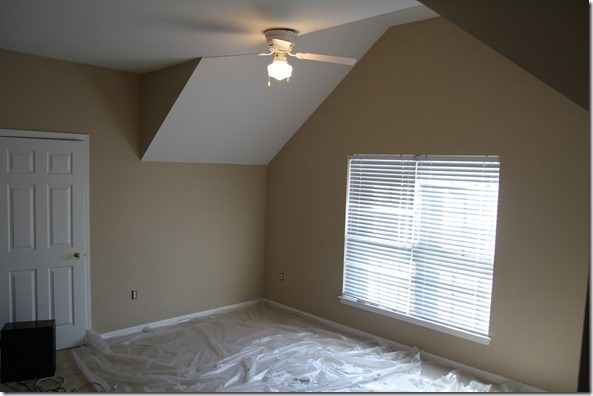 The Husband really wanted a "man cave" (I hate that word), and there's no way we're buying a second TV, so putting the TV in the bonus room fulfilled his manly desires.
But I was very gung-ho for a 'TV room,' too.  I loved the idea of getting it out of the main living area.  I'm hoping that, by not having a TV in the living room, we'll do more reading and talking.  Our hope is that BabyHTP will be exposed to less TV if there's no TV downstairs at all, and this is very important to us both.  I'm also thinking it will make TV time "special" v. "Let's just throw on the TV because we're all hanging out in the living room."
In other news… James got to meet his new backyard this morning.  I actually shed a tear.  I've been promising James a fenced-in backyard for five years, and now he finally has one.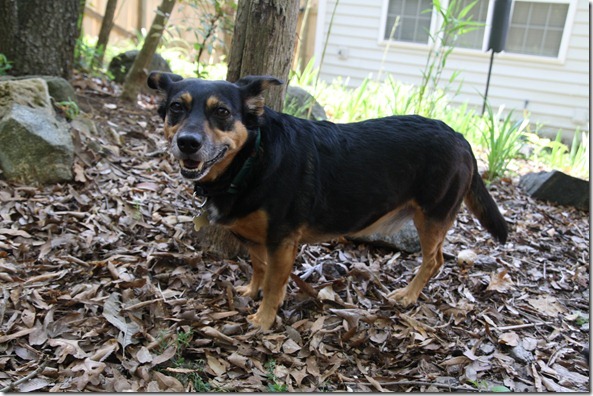 Two paws up!
Breakfast was unexciting – I ate this while attempting to unscrew the TV.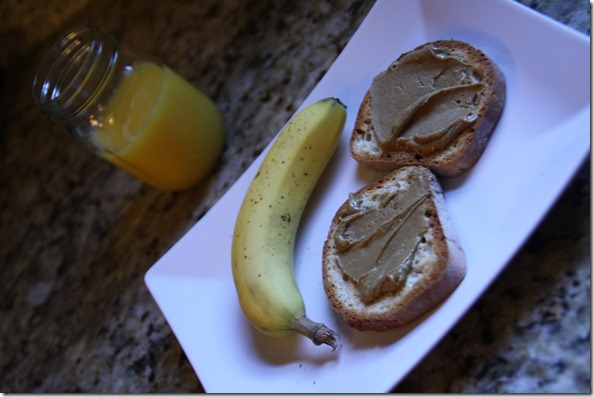 Thoughts on TV options when you have two living spaces? Does anyone else have a TV-less living room? Are we all just going to end up hanging out in the man cave?!