Blogging from a somewhat strange location today!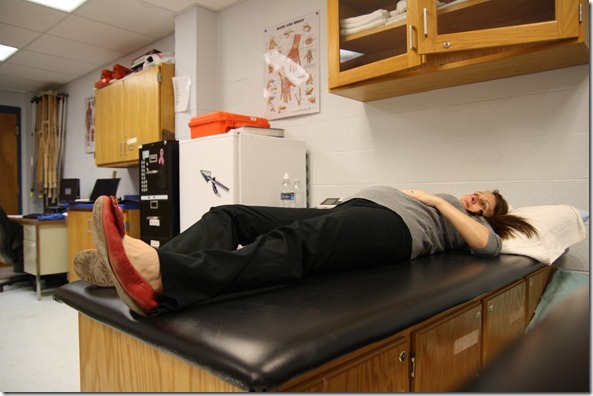 I'm doing two Operation Beautiful presentations at a high school and middle school in a small town in New York state today.  Since I didn't get to my hotel room until 12:30 AM and was up at 5:30 to make the first presentation at 8:00, I'm catching up on work – and catching a few much-needed ZZZs – from the high school athletic trainer's office.  (Promptly after posing for this photo, I rolled over to my left side – laying flat on my back is impossibly uncomfortable these days.)
Today marks Week 26 – very exciting.  Only one week to go until the third trimester!
These pictures, of course, were NOT taken in upstate New York!  Instead, we snapped pictures two days ago on South Beach during our babymoon.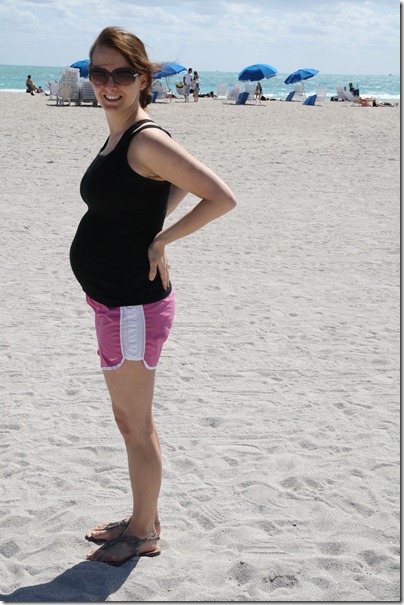 Here's what BabyHTP is up to this week: "The network of nerves in your baby's ears is better developed and more sensitive than before. He may now be able to hear both your voice and your partner's as you chat with each other. He's inhaling and exhaling small amounts of amniotic fluid, which is essential for the development of his lungs. These so-called breathing movements are also good practice for when he's born and takes that first gulp of air. And he's continuing to put on baby fat. He now weighs about a pound and two-thirds and measures 14 inches from head to heel. If you're having a boy, his testicles are beginning to descend into his scrotum — a trip that will take about two to three days." (Source)
How am I feeling?  Pregnant.  Super pregnant.  Yet really good.  BabyHTP kicks and rolls and squirms (the squirms are my favorite) throughout the day, but even more so when I am very happy or very sad. I've noticed that my bump seems to have dropped a bit, too.  And last, but not least, I am also starting to feel like BabyHTP might be a girl.  We officially have finalized our boy name selections (we have two options) just in case, though.  We've known our girl name forever so there's never been a debate.
So – this week, let's talk about post-baby fitness plans.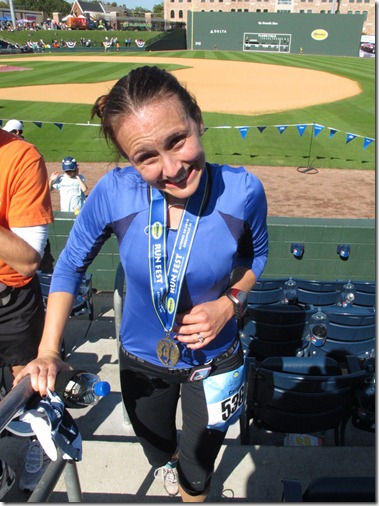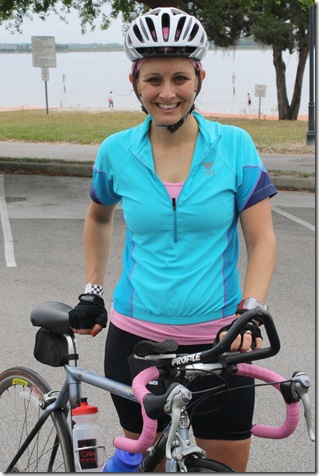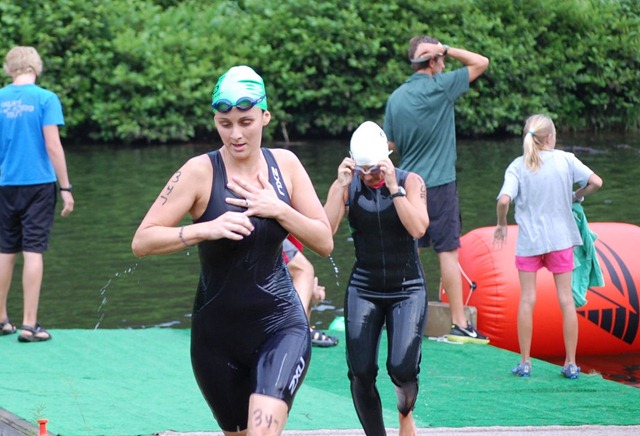 If you've been reading a while, you know that my hobby is racing.  I'm not particularly fast.  Or fast at all, really.  It's not about winning, of course. I just really love to participate in do triathlons and road races, compete against myself, and have fun.  I have about 46 races of varying types and distances under my belt.  Racing is really what keeps me motivated to stay fit and healthy – if I didn't have some sort of self-imposed challenge or deadline to meet, I would be much more likely to just lay on the couch foooorever.
My last race was December 31 – it was a 5K.  I stopped running around that time because I started to experience groin pain that was due to my stretching ligaments.  If it was summertime, and I could do the swim legs of triathlons, I would probably be hopping in a lake right now.  But alas, it's winter, and that means that I'm out of racing options.
The few times that I've been injured and haven't been able to race for 3 – 4 months, I got severe racing jealousy.  You know – I would drive by runners on the sidewalk and think, "UGH! You lucky person. I WISH I WAS YOU!"  I am so overwhelmingly pleased to be pregnant that I haven't experienced quite the same level of running jealousy, but I do have to say that I really, really miss running, training, and racing.  It's been such a big part of who I am for such a long time. 
Needless to say, I am really looking forward to getting back to my favorite hobby.  Obviously, I've never given birth before, but from talking to other active mommas, I've gathered that some people are back at it two weeks after birth, while others take months to recover – it really depends on delivery.  I'm approaching delivery with a positive "everything will be just fine" mindset, so I'm hoping that I'm one of the lucky ones who don't tear or experience other complications that prolong my healing time. 
Assuming all goes well, I'd like to be back to walking/running, swimming, and/or cycling in preparation for a sprint triathlon within a month or so of BabyHTP's birth.  Not crazy-style but enough to finish feeling strong and happy.  Like I said, I realize this might not happen, I'm not pressuring myself, and racing is not the priority (baby is, of course!).  But getting back to racing is definitely one of my goals.  And I've even been eyeing up two races…
First up:  I'm going to attempt to do the Tri for Abbey Sprint Triathlon on September 22 (three months post-due date).  It's a 500 meter swim, 14 mile bike, and 5k run.  I did this race last year and loved it – so I'm really hoping that I'll be ready to do it again.  Heck, I'll walk that 5K if I have to!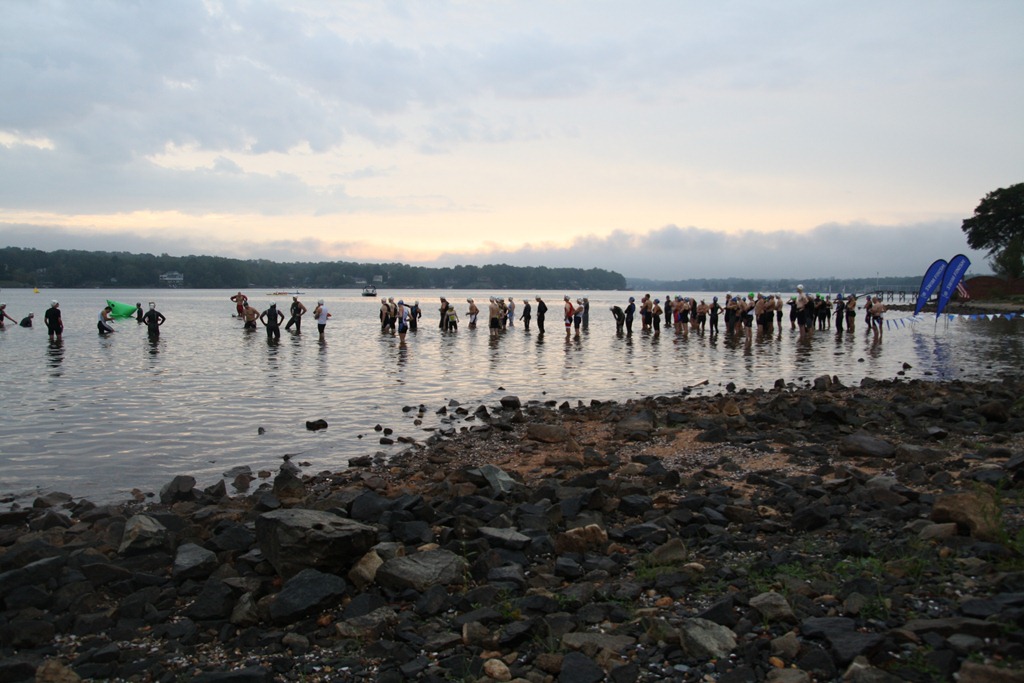 My next 'goal' race is the Take Flight Triathlon on October 7.  This is kind of my 'back up' triathlon in case I can't do the Tri for Abbey.  I'll get an extra two weeks of prep time; plus, this race is shorter.  It's a 250 yard swim, 10 Mile bike, and 5K run.  Also, unlike Tri for Abbey, this triathlon is a pool tri, which is a lot easier in general.
Now, don't get me wrong – I am obviously SUPER excited for life with BabyHTP.  But at the same time, I don't want to lose the things that make me… me.  So I can't wait to race again.  And I've always wanted to be the momma that crosses the finish line and scoops up her little one for a sweaty bear hug!

  Who knows?  Maybe someday, BabyHTP and I will even do triathlons together…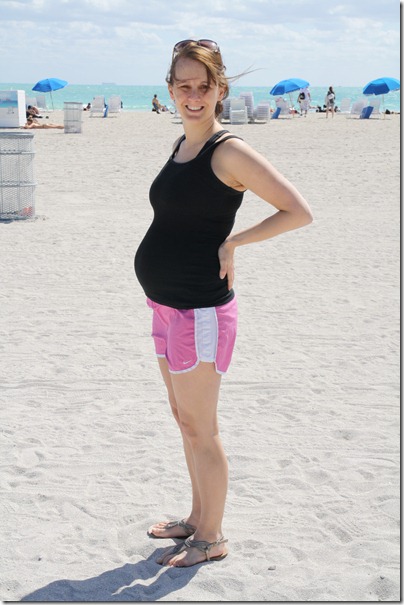 Here's Week 26 in nugget form:
Total Pounds Gained:  No official weigh-in this week, but likely hovering around 18 – 19.

Biggest Craving:  Sleep.  Soy lattes.  They are directly related.

Baby Items Gifted:  My friend Lisette gave us a cutie duck onesie with a little duck hat.  DadHTP gave us three tie-dye onesies (he's such a hippie).

Baby Items Purchased:  We bought the baby University of Miami socks… too cute.

Workouts:  Life has been so crazy that I completely forgot to keep track.  Lots of walking, though.

Currently Reading

: 

Belly Laughs

by Jenny McCarthy.  It's a good change from the heavy pregnancy-related books that I've been browsing.
Mommas – how quickly did you bounce back, fitness-wise, after birth?  Any mommas-to-be with similar race dreams?