Why, hullo there.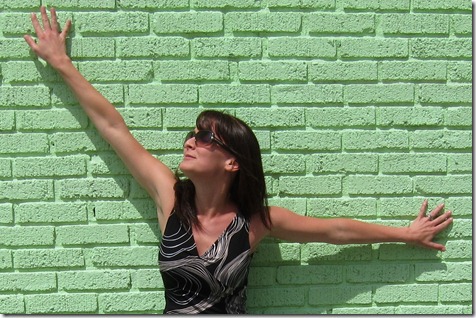 For no reason whatsoever, the Husband and I decided to have a photoshoot across this bright green brick wall this afternoon.  Trying to chase away the Moan-days, I guess!
Heh.  Blue steel, baby.
Today's lunch is a good transition into an interesting reader question.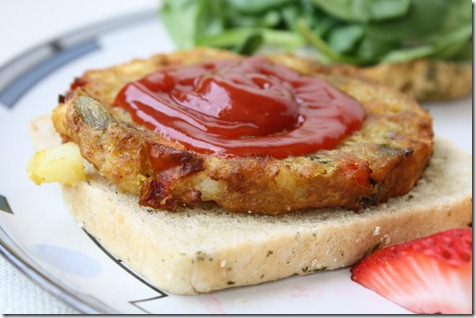 I had a veggie burger on rosemary bread (store-bought, not homemade) with ketchup and spinach.
Plus, fruit on the side.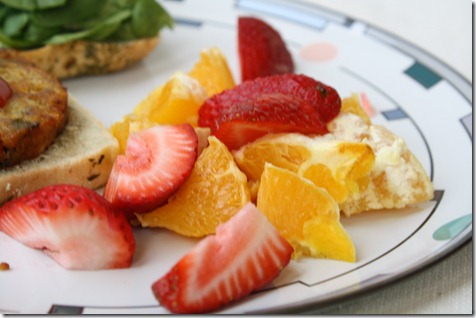 Lunch was lovely, but I had to make it in a rush and definitely didn't give myself enough food.  I shall be back in the kitchen soon!
So – here's the question!
Abigail e-mailed me to say: As I am trying to maintain and balance my happy weight, I am researching vegetarian lifestyles to find an easier way to remind myself to eat well for my body.  Could you do another post on vegetarianism? Specifically, on how not to be hungry. 
I'm trying to eliminate meats on certain days of the week, but when I do, I have trouble feeling full. I get hungry really quickly when I'm only eating grains, fruits, veggies, and dairy, especially when I'm on the go at college, even though I know this should be enough. For example, if I have oatmeal and an apple for breakfast and whole wheat pasta/vegetables for lunch, by four in the afternoon, I'm starving. I feel like I have to eat meat once a day to get enough protein, or I feel hungry. Should I just eat healthy snacks more often between meals? What am I doing wrong?
As you all know, I am not a registered dietitian, and everyone's eating styles and needs are different, so I can only speak from my own knowledge and experiences about being a vegetarian.   But Abigail's problem is actually a pretty common one.  I can't tell you how many people have said to me, "I could never be a vegetarian. I would STARVE TO DEATH."  
I'm not a huge fan of processed faux meat products, but I do think they have their time and place, and once of these places is when you're first going vegetarian.  When you first go veg, it's hard to figure out what to 'replace' your meat with.  As a result, I think a lot of people either just leave out the meat component entirely and don't replace it with anything or they replace it with more carbs or cheese.
Faux meat products (like fake sausage, fake grilled chicken, fake burgers, fake meat crumbles) are usually made of soy (think tofu but flavored and processed a little more) and are high in protein, like the regular deal.  Some faux meat products, like Field Roast sausages, are not made of soy but of wheat gluten (here are other non-soy alternatives to meat).  They actually taste pretty good, too, as long as you aren't expecting to taste exactly like meat (they don't!). 
Before going veg, I'd bet Abigail's pasta and veggie dish for lunch would also have included chicken.  Now, she's eliminated the chicken and hasn't replaced it with anything else – no wonder she's hungry!  Faux meat products can easily fill the 'void' left behind by vegetarianism.  Over time, I highly recommend people wean themselves off faux meat so they're only eating it once or twice a week, just because 1) it's highly processed; 2) it's high in sodium; 3) it's expensive; and 4) soy is questionable.
I think the "I must have lots of protein" thing is overrated (most Americans eat their fare share of protein); however, protein deficiency can be a serious problem.  It's important to slowly replace faux meats with vegetarian protein sources.  (Side note: I also take a Vitamin B supplement – you would not BELIEVE the energy Max Stress B gives me – and get monthly B-12 injections.)  I think it's equally important to focus on eating whole grain carbohydrates and fiber-rich foods like veggies and fruits. 
I also find that I am hungrier if I don't eat fat with each meal, like the kind in hummus, nuts, olive oil, or cheese.  And I always, always have a mid-afternoon snack (usually something that combines protein, carbs, and fruit, like Greek yogurt, oats, and a banana).  And, of course, a lot of feeling hungry simply comes down to calorie intake.  Sometimes it's helpful to calorie count for a few days just to see where you're at, intake-wise.  Calories are one of the primary reasons that I always eat a mid-afternoon snack; I just can't fill up on three vegetarian meals a day – I need a hefty snack, too.
If you want more info about going veg, I highly recommend No Meat Athlete's site because it's very well-researched and informative.
Here are my other vegetarian posts:
What are the key ingredients for keeping your belly full and happy?  Do you rely on faux meats or not?  Which are your favorites?