Morning, friends.  :) 
The return of OATMEAL!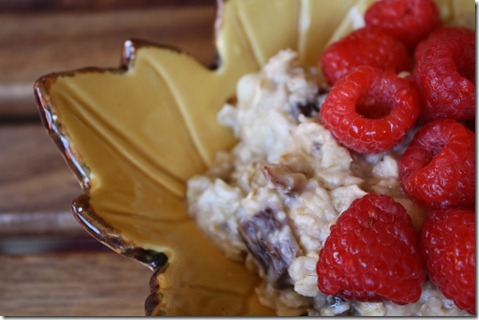 Oh, oatmeal. I've missed you.  Normally, I buy oatmeal in 5 pound bags from Costco (and therefore basically never have to buy oatmeal), but I recently ran out and could NOT remember for the LIFE of me to pick up oatmeal at the store.  I think the cooler weather finally motivated me to remember, though.
It's Fall, after all!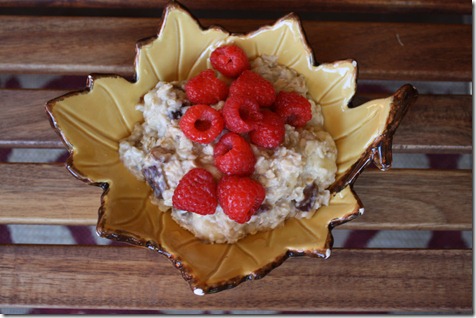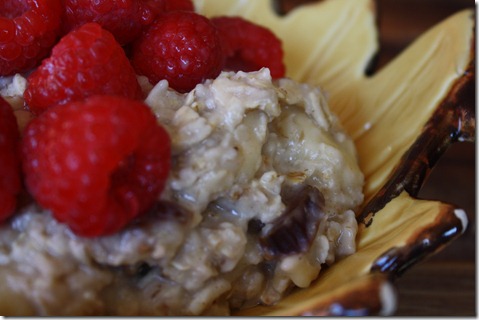 In the mix:
1/2 cup oatmeal
1/2 cup almond milk
1/2 cup water
Dates
1/2 a banana
Toppings: raspberries
Halloween Costumes for Runners, Part II
Here's the link to Part I of this series.
Grace wrote, "I ran the Jazz half-marathon in cowgirl last year. It was so fun! Read the recap on my blog.  Even in denim, I had no chaffing; however, I did lose a squirt gun at the starting line. Next time I'll custom-fit my holsters.  Around Mile 6, I challenged a gladiator to a duel. I won the duel, and I beat him to the finish!"
Kelsey wrote, "I ran as Robin Hood last year! It was so fun, my first race in costume, and I got 2nd place (for my outfit, not my time!)."  Here's her race recap.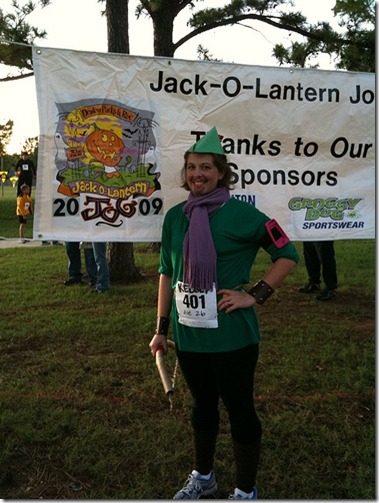 Andrea wrote, "Every June, Portland, Oregon (The City of Roses) has a week-long Rose Festival.  One of the festivities is a Starlight Parade and before that is a Starlight Run in which the 5k course is the parade route.  There are thousands of spectators waiting for the parade witnessing the race, and since this is a "fun-run" they encourage everyone to dress up in costume.  The year I did the run, the theme was the 70's – break out the short shorts! The race itself was a blast and the costumes were amazing.  I wish I had pictures, but I saw one dude who dressed up as the Village People – ALL of them.  He rigged up some contraption with dummies on it that moved when he did – he was the Indian and the dummies were the construction worker, the police officer, and the cowboy.  Another guy, dressed in all polyester, held up a big square on his shoulders with pictures of the Brady Bunch in the nine squares inside.  His head was "Mr. Brady" and he even had a boom box playing the Brady Bunch theme song on a loop.  Portlanders take their costumes seriously!"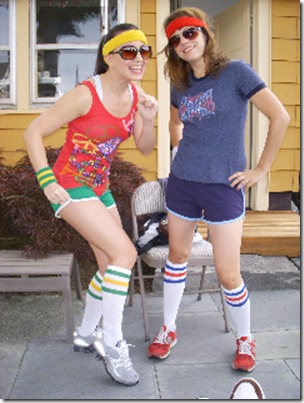 Cute costumes, right?  In the end… I've decided to forgo the costume for my October 30 Marathon.  I am just WAY too nervous about 26.2 miles to begin with, and I think the last thing I want to deal with is a costume.  If it was a 5K, I'd be all over it.  But I can't get the potential chafing horrors out of my mind.
Plus – remember that rule, "Never do anything NEW on race day"?  Doesn't that mean I'd have to do a training run in my costume!?  And then everyone in the neighborhood would think I was insane for running up and down the street dressed as a Panda on October 19.