Morning!  Alright – so maybe three glasses of wine + two desserts was not the best thing for me to eat right before bed.  I've cleaned up my diet considerably since getting serious about the marathon, and the alcohol + sugar overload from last night kept me up for hours.  Ugh.  I've learned my lesson this time – I swear. 🙂
Stabilizing breakfast: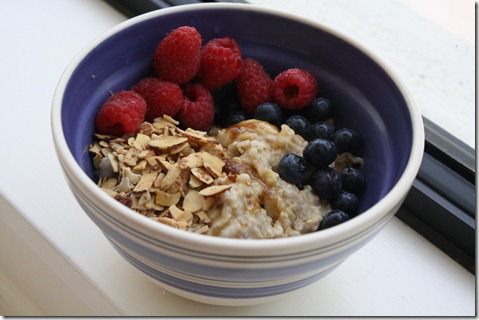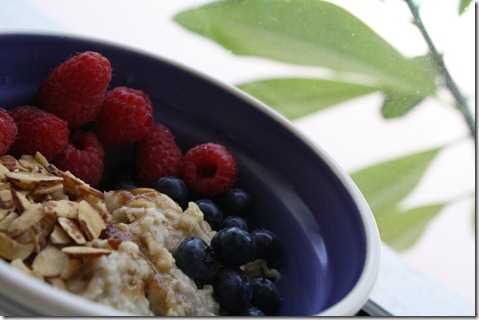 1/2 cup oatmeal
1/2 cup soy milk
1/2 cup water
1 banana
Toppings: berries, brown sugar, and raspberries
Hey! Same exact breakfast as yesterday.  Just feeling uncreative this morning, I guess.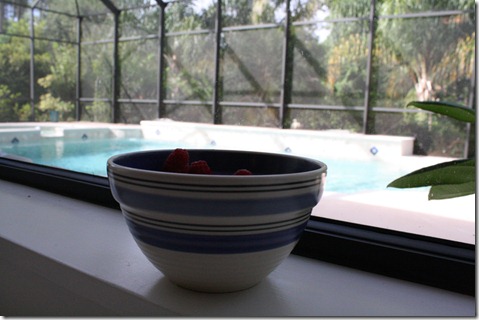 Positive Thinking in Real Life:  Erica's HTP
Erica wrote, "I am a 27 year old graduate student, entering my final year towards my PhD in Pharmacology and Toxicology.  I have always had a very positive body image, a healthy relationship with food, and was always at a Happy Weight, thanks to my wonderful and supportive parents and husband.  It wasn't until I entered the second year of graduate school at the age of 24 that I started to participate in Fat Talk.
Being successful in graduate school is a lot different from success in high school and college, because there you have control over how much you study and learn and how well you do on exams.  In graduate school and research, no matter how hard you work, sometimes your hypotheses are just wrong due to the nature of science.  Experiments do not work the way you expect about 75% of the time.  Research, while exciting the 25% of the time things worked, was leaving me unfulfilled and for the first time in my life I felt I was not in control of my own success. 
I started going out at night with other graduate students and drinking a lot every weekend so that I wouldn't have to think about work.  Then I started to put on a few pounds.  This lack of control led me to look for control in other areas of my life, and I began calorie counting to maintain my already small frame, and maybe even lose a pound or two.  I then began working out just to burn calories so I could either eat more or drink more. 
After 2 years of this, I decided that I wanted to start running and trained for a Half Marathon. Running really helped me deal with the constant 'failures' in the lab, however I was still participating in Fat Talk.  I said I wanted to lose weight so I could "get faster," so I started restricting calories even more, and then I ended up with a stress fracture.   Once I recovered from the stress fracture I realized I needed to make a change.  At this point, I stumbled upon Healthy Tipping Point, and eventually Operation Beautiful.  I saw that you were refueling after runs, eating mainly real food, and loved your body for what it did for you, rather than what you wanted it to be.  This inspired me to complete a Sprint Triathlon and to learn how to refuel properly.  
The past 2 months, I have been working hard to eat enough to support my training, and I have been working toward a more positive body image and to stop calorie counting, but it has been a struggle because Fat Talk creeps in when I have a bad day. I noticed that even my husband has even begun saying when he feels "fat" or shouldn't eat something – and he runs even more than me!  I'm currently recovering from yet another running injury (however, my sports doctor and I have realized these are due to a bio-mechanical issue, not over training or improper nutrition).  Instead of focusing on what I can't do (run), I focus on what I can do, and I recently achieved my goal of swimming 1600m without rest! 
Yesterday, I ate lunch with a friend, and we were both commiserating about graduate school the entire time, which caused me to mindlessly eat my entire plate of food.  Afterward, I felt guilty for 2 hours for eating an entire panini and a plate of chips.  I was about to write my husband an email complaining about having a Fatty Fest, when I told myself to "Shut Up."  I bought the Operation Beautiful book and sat down to read it, only to have an epiphany.  I have been participating in Fat Talk for nearly 4 years to cover up my lack of control and dissatisfaction with school. 
I need to change the way I think about 'failures' in the lab – if my hypothesis is wrong, I still answered an important question about science, just not the one I intended!   This morning for the first time in 3 years I did not log the calorie content of my breakfast.  In fact, I closed my DailyBurn account to remove the temptation!  I am no longer going to complain about work or feel guilty about eating the occasional indulgent meal.  I posted a note on my computer, "You are Smart, Strong, and Beautiful" and "Failure in Lab does not equal Failure in Life" to remind myself that my work doesn't define me and that I need to be good to myself, because I'm pretty awesome!  I am so glad I realized this NOW.  My husband and I are thinking about starting a family soon and I don't want to bring up a child in a house where we are constantly belittling ourselves, but uplifting ourselves!"
Check out these other inspiring success stories:
Have you ever noticed that negative self-talk about your body, weight, or physical capabilities is often tied to another issue?  I actually wrote the very first Operation Beautiful note in response to feeling inadequate at work + night school!