I've been thinking a lot about my Healthy Tipping Point journey lately.  I read this great post by Emily's husband ("The Curious Case of Casey Malone") and it inspired a lot of self-reflection on what it means to be healthy, emotionally and physically.  It made me think about my behaviors over the last 8 or so years and all the moments I realized I needed to make a change.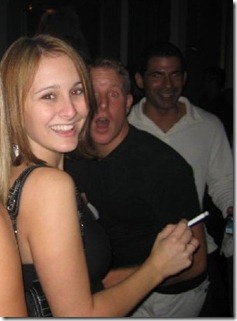 (Circa 2005?)
Honestly, I think I'm still evolving and learning how to approach life (especially stressors) in a healthy manner.  But I'm learning – and that's the important thing.
I never really had one big "Oh my gosh, let's clean up my act" moment, but more of a series of instances that motivated me to make healthier choices.  Walking up the stairs and getting out of breath; eating a sleeve of Girl Scout cookies mindlessly and eating up with a sugar headache; reading Skinny Bitch and going vegetarian; waking up with a horrible hangover for the third day in a row and realizing I probably shouldn't drink as much as often.  You know how it goes. 
Much better.
But sometimes, people have a BIG moment that inspires them to change their life for the healthier.  Here's one such story.  I hope you enjoy it!
Tina's Healthy Tipping Point
My name is Tina and you can find me pouring out my passions and sharing my zest for life at the blog Faith, Fitness, Fun. I love Caitlin for all she does in helping promote women to realize their beauty is in who they are. I applaud such a message because I know how it can change a life. You see, as peppy and full of joy as I may seem to you now, I used to struggle. A lot.
I experienced a very rough time emotionally my sophomore through senior years of college. I was in a deep stage of depression. I battled suicidal thoughts, with a few attempts thrown in for good measure, on a daily basis thanks to a troubling relationship with my father. The only way I managed to have the appearance of being happy was to find something to control. My weight seemed a good idea. I threw myself into tracking every morsel that slid down my throat and eating only "good" foods. My life revolved around workout after workout after workout. I had no balance and that lack of balance eventually led me to swing from one end of the pendulum to the other. I became a binger my junior year of college.
Even after getting out of my father's house, meeting and marrying the man of my dreams, and reaching a point of forgiveness for all my father had done to me, the binging remained. My life revolved around stopping in the store to buy packages of cookies and candy, giving an excuse to the cashier that I was throwing a party, shoving it all down my throat on the 30 minute ride home from work, and then finding a way to hide it in the trash so my husband would not find out. Or calling the weekend a "cheat time" so I could gorge myself to the point of discomfort without having to hide it. I cycled from having a "good" day to a "bad" day because I was so deprived. I lacked control and I lacked balance. I thank God every day for what came my way in February of 2008.
Those two pink lines changed my life for the better. Suddenly, my whole view of eating shifted. I may not have loved myself enough to treat myself with respect, but I sure as heck loved that baby enough to give her my best. I knew I had to eat for the baby…and I also knew chicken and green beans would make me puke. I was left with no choice but to open up all the restrictions I placed on myself. Without those rules, the binging stopped. There wasn't a desire. I fed my body what it needed and wasn't afraid of food. I saw that, even pregnant, I didn't blow up with weight gain. I learned that my body is smart. It knows how to reach a balance. It strives for balance. If I had a heavy meal one night, I craved plates of fruit and veggies the next day. I did not need to fear food. 
That shift of mindset stayed with me. After birth, I knew I still needed to care for myself so I could care for my daughter while nursing. I also began to realize the need to care for myself because I was created to do wonderful things in this world and my body deserved to be loved. So I kept eating and living with balance.
That balance brought me to the best shape I have ever been in my life. Without restriction, deprivation, or frustration with myself I became fit, strong, and most importantly, healthy. I even went on to compete in a fitness competition.
My life was changed with those two pink lines, in many ways. I will forever be thankful for my daughter that she taught me to love myself. Now I beg of you…don't wait. Love yourself. Today. Right now. This moment. You're worth it.
In this spirit, I am launching The 30 Days of Self – Reflection Challenge for the month of September to help us each come closer to self love and truly believing in our worth as beautiful human beings. This movement will serve to help us all learn to love ourselves more and to uplift one another in the process. To begin to realize our true beauty and value. To battle the inner dialogue that strives to bring us down. In short, it will help us to love ourselves like we should have never stopped doing.  To learn, check out this page.
Is your Healthy Tipping Point evolving?  How so?  Was your wake up call a series of small moments or one big slap-in-the-face?  What areas do you continue to struggle with?  How are you succeeding?