I started to read healthy living blogs in the winter of 2007.  I stumbled upon Kath's blog first and found other women with similar interests in her comments section.  I was a voracious commenter ("CaitlinBo" <—even before we were engaged! Don't tell the Husband!) and loved interacting with the bloggers and other readers.
I was good at my desk job, but I didn't love it.  Like someone else might  occasionally glance at CNN.com, I used blogs to mentally escape from memos and documents.  Even though I had been professionally freelancing writing since 17, majored in Creative Non-Fiction, and was employed as a technical writer, the thought never crossed my mind to start my own blog. 
Then, we moved from Pittsburgh to Orlando.  I kept my desk job and began to work from home.  The transition was really hard for me.  I had no girlfriends, my job was going downhill, and the Husband was gone for school all the time.  I cried myself to sleep a lot because I was lonely.  :(  I just wanted some friends!
I started www.seebriderun.com in secret (which, by the way, was the most short-sighted blog name ever, although I still love it and refuse to change my e-mail address).  I guess that I wasn't sure it would last or I would like it.  But after a week of taking photos of my dinner secretly in the kitchen, I broke down and told the Husband that I started a food blog.  His response: "What took you so long? You've been reading those things forever!" 
Immediately, I was hooked.  I loved blogging.  All of the sudden, I had hundreds of new electronic friends – and some real-life ones, too!  I loved interacting with other bloggers and readers; I wasn't lonely anymore.  I loved thinking of blog posts to draw people in.  I loved learning how to photograph things to make them look pretty.  I loved reading other people's recipes and trying all sorts of new foods that I would have never tasted otherwise (Green Monsters, flax, Greek yogurt, dates, homemade tofu, oatmeal…).
I threw myself into blogging with so much enthusiasm. I would joke – half-seriously – that my paying job got in the way of my blog.  I thought about my blog all the time.    And I wrote.  I wrote like never before… in fact, over the last two years, I've written 2,082 posts and sent over 18,000+ blog-related emails! 
In July 2009, everything changed with one simple e-mail from a literary agent (you can read more about going from blog –> book here and here).  Sometimes I was overwhelmed by the proposal writing, selling, and book preparing process, but mostly I WAS READY. 
Throughout this enter process, the most important lesson I have learned is this:  You must give yourself room to grow in order to succeed.   You must imagine the possibilities and lay the real-life foundations to allow those possibilities to become reality.  When Operation Beautiful first began on HTP as a little side project, I actually told my mom that I didn't want to "waste" $15 on the domain name if it was just going to be a flash in the pan.  How ridiculous!
Not every seed you plant will flourish (trust me, I've had my share of weeds).  But no flowers will grow without water and sunlight.  Have faith in your dreams, even when they seem far-away and impossible to achieve.  Keep your head down and stay focused.  Give yourself the chance.  YOU MUST DREAM BIG.
Today, the Operation Beautiful book is officially released in stores, and all I have left to say is… Thank you.  Thank you for reading, thank you for running your own blog, thank you for commenting, thank you for writing Operation Beautiful notes and making this world a brighter place.  And most of all, thank you for taking this journey with me!  From reader to blogger, I have always viewed the blog world as a wonderful community, and I really appreciate every part of it.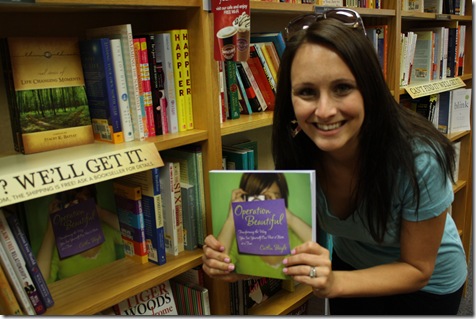 On that note..
A blog-tastic breakfast!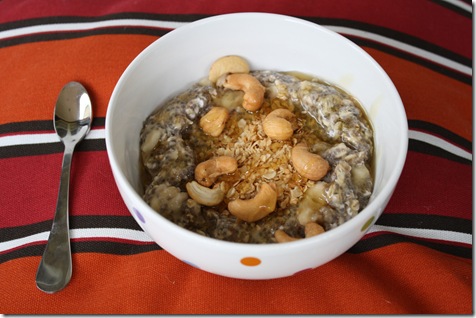 Vegan Overnight Oats, based on this recipe by Angela.
In the mix:  1/4 cup oatmeal, 2 tablespoons chia seeds, 3/4 cup almond milk, 1 smashed banana, cinnamon, honey, granola, and cashews.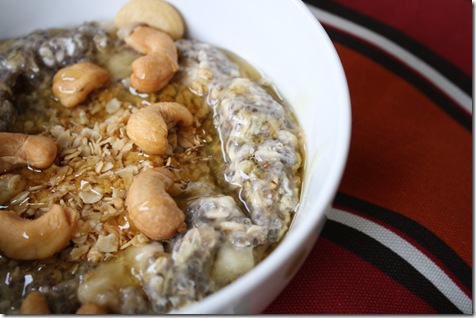 Vegan Overnight Oats get two thumbs up!  I thought it was delicious – like Greek yogurt! 
Change the Way You See, Not the Way You Look Guest Posts!
In honor of the OB Book Release, women (and men) all over America and the world are submitting guest posts describing their own experiences, struggles, and triumphs over body image issues.  To learn how to participate, check out this page.
Here are today's featured posts: