Afternoon, ya'll!  Glad some of you fell for my April Fools Day joke.  I'm a little trickster!
What I really had for breakfast: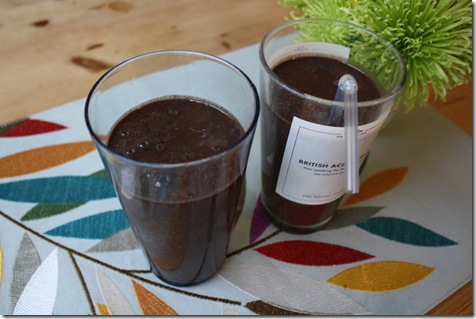 A HUGE Cherry Chocolate Bomb Green Monster.  So big it didn't even fit into one glass!  When I have a smoothie for a meal, I add a special ingredient:  OATMEAL!  Yes, just plain, raw oatmeal.  It tastes great, I promise.
My oatmeal contained:
2 cups raw spinach
15 frozen cherries
1 scoop Nesquik
1/2 cup oatmeal
1 cup almond breeze
1 banana
Here are other tips on how to make a smoothie "stick" to your ribs.
Lunch was leftovers.  Magical leftovers!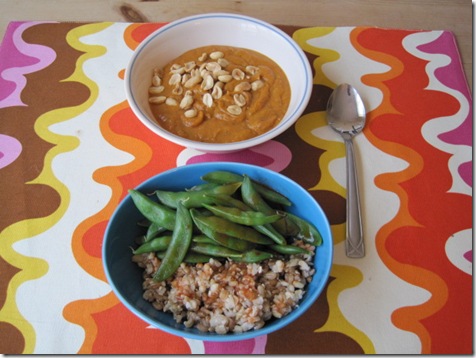 I had a cup of African-Inspired Sweet Potato Soup: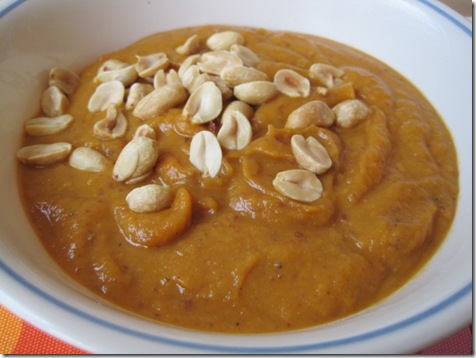 And Kashi Pilaf with sugar snap peas… covered in hot sauce!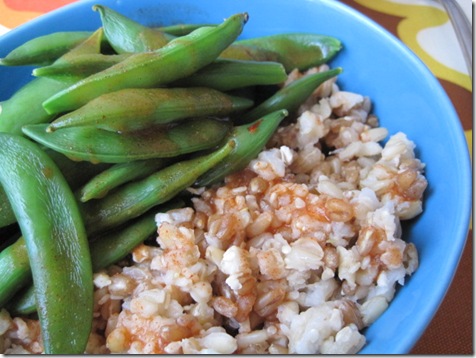 Book News!
For those of you that are newer readers, I have a book coming out on AUGUST 3!  It's based on the Operation Beautiful blog. If you want to read more about the process of quitting my job and getting a book deal, check out this post (I need to update the blog with information about physical therapy grad school – Short story is that it's probably not happening).
All has been kind of quiet on the book front for a few months, but today I had a meeting with my Gotham Books publicist team, and it got me SO excited! I'm officially listed on Barnes and Noble and Borders.  Pinch me, I'm dreaming!
I was just thinking about how I really have all of YOU to thank for this dream coming true.  I started to blog just to have fun and meet other like-minded people, and I really never thought it would go this far.  I REALLY appreciate every single reader, commenter, and fellow blogger that adds something special to this wonderful community.   Thank you, thank you, thank you!
And Thoughts on Photoshopping
I was doing research for an Operation Beautiful presentation and came across this great "photoshop hall of shame" slideshow.  Did you know 99% of images in magazines are photoshopped?  Even TABLOID photos are photoshopped!
There's been tons of studies that photoshopped images create false expectations and unnecessary stress on women reading the magazines.  I definitely believe it's wrong to photoshop someone thinner (adjusting lighting or whatever is fine).  So… one of the issues I've been thinking a lot about is what to do with photoshop?
Some countries are considering "warning labels" for photoshopping, similar to the labels in alcohol and cigarette ads.  Britain has a proposed ban on all photoshopping in ads aimed at those under 16.  The law would also require all other ads to carry a disclaimer describing the extent of their alterations.  In France, the lower house of French Parliament voted in favor of a bill that would ban "inciting thinness."  The bill now has to go to Senate (I don't think it has, yet).
Some questions for you (I'd LOVE to hear your thoughts, it will help me a lot for you presentation):
Do you think photoshopping is wrong? Why?  Do you think it creates a false ideal or we should "know better"?
What is the solution to photoshopping?  Would warning labels help?  Should it be outlawed entirely?
It is the magazine's artistic right to photoshop?
What about fitness magazines photoshopping their cover models?  Does that make you particularly mad?
And… discuss!