Week 1:Â A House in the Sky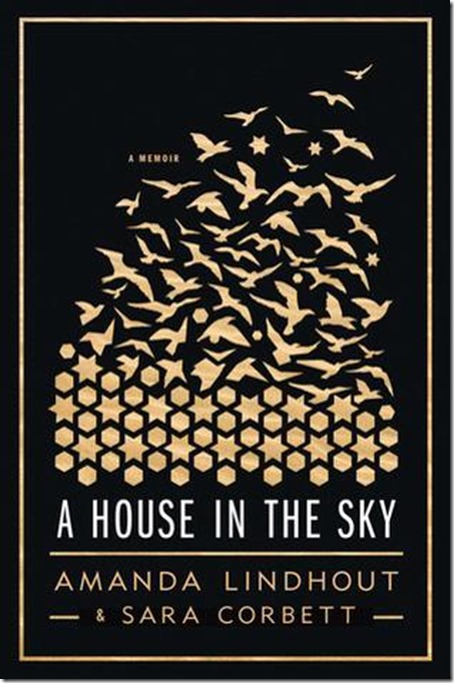 This true story is about a woman named Amanda. She loved to travel.  As a young adult, she funded her trips by working at a pricey cocktail bar for a few months out of the year. She would backpack on a shoestring budget as she explored Asia and South America. Eventually, Amanda tried to make it as a freelance photographer and writer, which is how she found herself in war-torn Somalia. Amanda and her friend Nigel are kidnapped and held for ransom by a group of Islamic extremists. The book tells her story of her 14+ months in captivity in a brutally honest and yet poetic way.
My rating:  5 out of 5 stars.  This book will both frighten and inspire you.  Amanda is a really strong woman and someone to be admired for her introspective attitude and positive outlook.
Week 2:Â Unbroken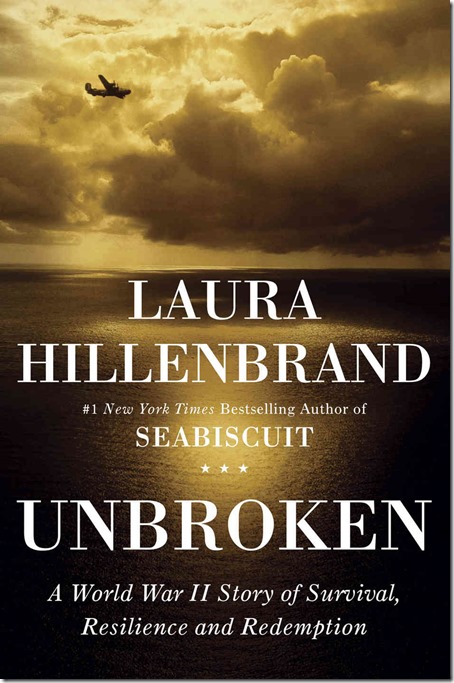 This is the true, very well-researched story of Louie Zamperini, a man who lived many lives – he was an Olympic track star and World War II bombardier who survived a plane crash, shark attacks, 47 days on a life raft with little supplies, and being imprisoned in a Japanese prisoner of war camp for about two and a half years.  I shamefully knew very little about the Pacific Theatre of WWII going into this book, and I am so glad that I read this inspiring book for the education of what really happened to the men who served in the Pacific and what it was like to be a Japanese POW.  This book is incredibly important in that aspect, and I think it should be taught in every high school.  But really – Unbroken is just an inspiring tale. Not just because of what Louie endured (well beyond what most people could even imagine), but how he emerges "redeemed" and forgiving.  I cried several times while reading the book, which says a lot because I never cry at books.
My rating : 5 out of 5 stars.  Best book I've read in a long time.
Week 3: All Joy and No Fun: The Paradox of Modern Parenthood.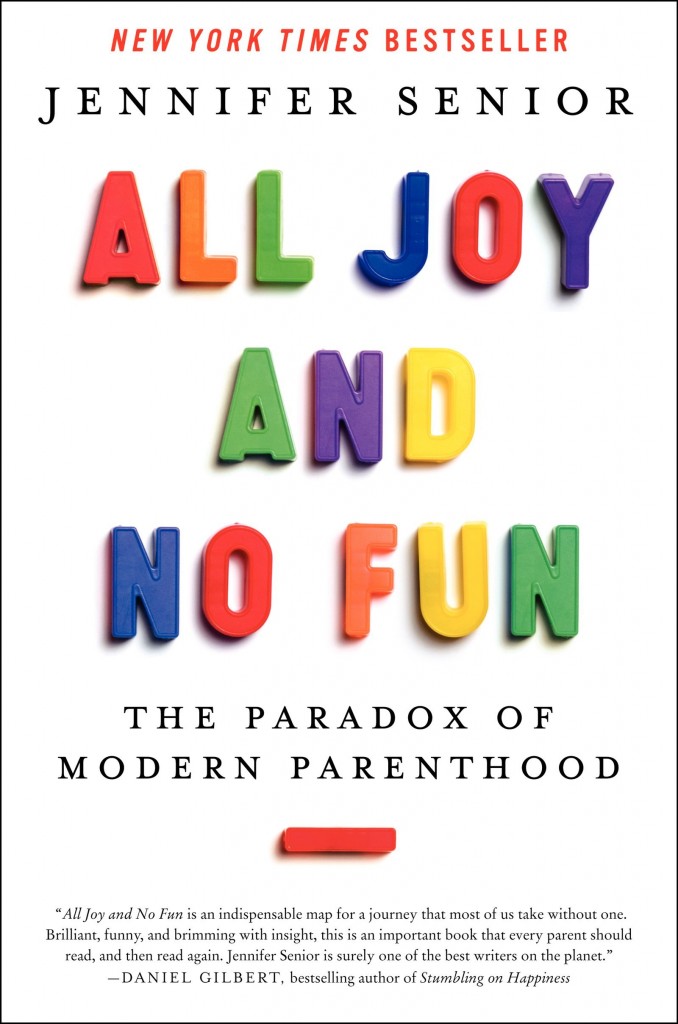 This was a very interesting social science book that examines the effect of children on parents – namely, why parents are less happy than non-parents (and yet say their children are their greatest joy in life).  There's a great NPR summary of this book. The initial chapters of the book explore how children stress their parents' lives throughout various developmental stages; the last focuses on the "All Joy" concept, which actually was pretty deep, philosophically, and brought tears to my eyes.  I wish, however, that the book had more 'recommendations' on increasing the joyful aspects of parenting (although, it turns out, a lot of the "No Fun" parts are heavily influenced by concepts like gender roles and politics and may not be within an individual parent's control).  Regardless, the book was great food for thought.
My rating:  3 out of 5 stars.  You'd like it especially if you're into social science stuff and a parent (or thinking about becoming one).
Week 4:  Not That Kind of Girl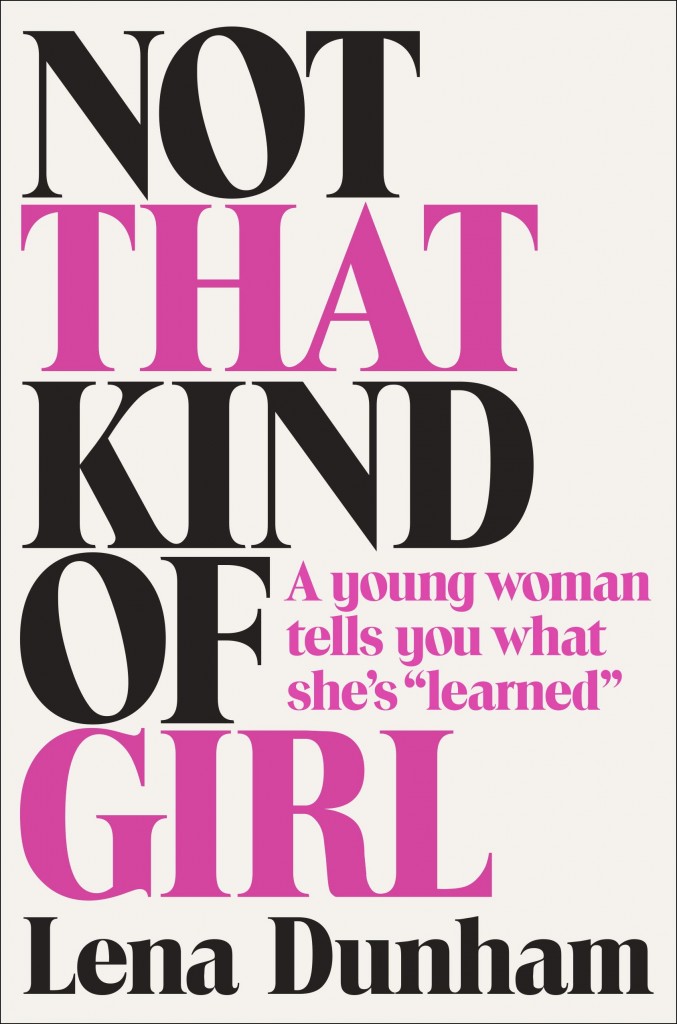 First of all, I watch the show Girls and think Lena Dunham is super funny (and wonderfully weird).  So I thought I would like the book.  And I did like it – but I also thought it was weird (and not always wonderfully weird), a bit disjointed, and about 50 pages too long.  I HATE to say that.
I realized earlier this week that I really, really dislike criticizing any book, mainly because I've written three (and 1/4 that is languishing on my desktop) and know how freaking hard it is.  A book is someone's baby, and it sucks to have a reader not 'get it.'  But… I just didn't LOVE this book.  Now – don't get me wrong.  There are some VERY funny bits where I laughed out loud.  I loved her voice and style of writing.  But… I don't know.  There's no big conclusion or focal point to the collection of short stories, and that was disappointing.  I didn't even realize I was at the end of the book until I turned the page and started to read the acknowledgements.  I think Lena's probably learned some really thought-provoking things, and although the advice is sprinkled throughout, I wanted a bigger, grander statement about what it means to be a young woman in today's world.
My rating: 3 out of 5 stars.  You'll love it if you're a huge fan of Girls, but if you hate the show, you'll despise the book.  I still think Lena is awesome, though.
Week 5: Into Thin Air: A Personal Account of the Mt. Everest Disaster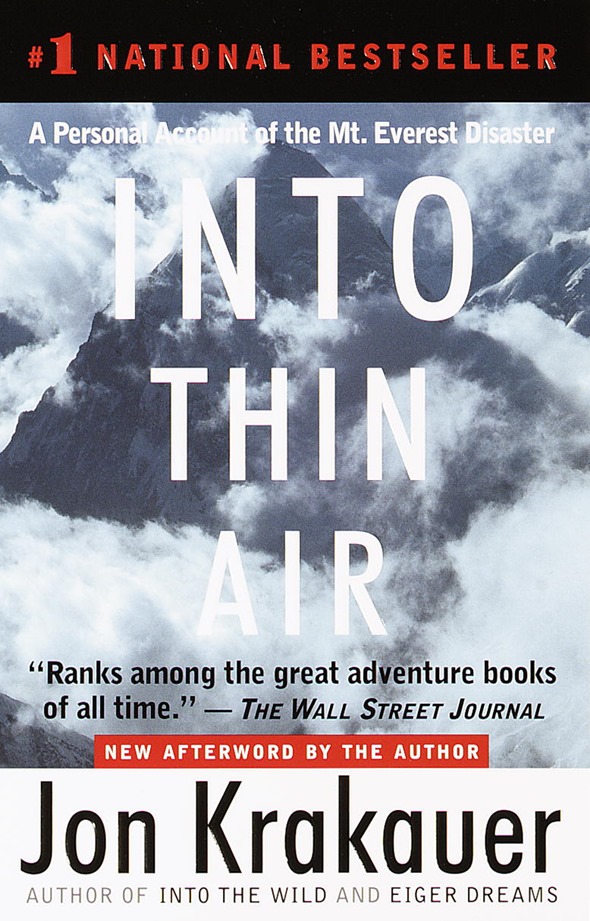 This book was really, really good!  It's a first-hand account of the 1996 Mt. Everest disaster, where 8 people died trying to summit the world's tallest mountain.  The author, Krakauer, was summiting the mountain on assignment with Outside magazine and wrote this book about half a year after the disaster.  As a result, it's raw – Jon's grief (and survivor's guilt) is palatable throughout the book.  But the most interesting part about this book is how human ego and error played a serious role into the disaster.  Many small things (and a big blizzard) tipped the scales out of favor for so many of the climbers.
The topic was engrossing.  I found myself putting it down constantly to pick up my phone and do more research on topics like the Eight Thousanders club, the Death Zone, and the outrageous percentage of climbers on these 26,000 feet + mountains who die attempting to summit.
Why do I rank it 4 stars instead of 5?  I think Jon is an incredible reporter who really injected human emotion into the story BUT he struggled a bit with scene-setting.  Like I said, I kept picking up my phone, and half the time I was watching YouTube videos of Everest summits because I could not picture what was happening in the book.  He got better at this towards the end (when emotions really started to run high for Jon), but it would've been better to have this element throughout.  Definitely watch a few video clips on YouTube if you read the book – it gives you an awesome perspective on what the climbers saw!
My Review:  4 out of 5 stars.  A great adventure book that really makes you think about the human ego.
Week 6: Big Little Lies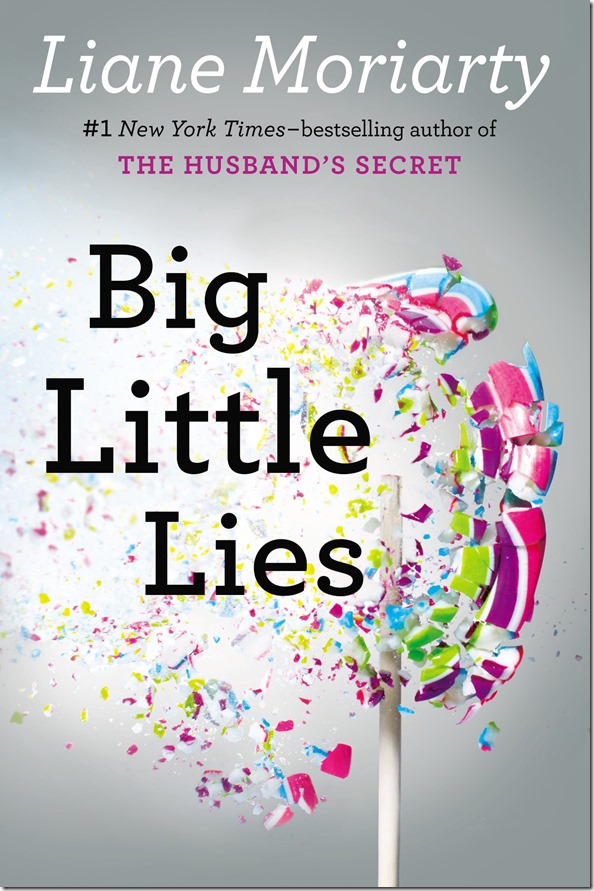 Oh, this was a good one!  On the surface, it was a tale of motherhood, modern life, and marriage, but it was so much more – murder, mystery, intrigue! Here's the Amazon summary: "Big Little Lies focuses on three women, all of whom have children at the same preschool. One is a great beauty married to a fabulously rich businessman; they have a "perfect" set of twins. One is the can-do mom who can put together a mean pre-school art project but can't prevent her teenage daughter from preferring her divorced dad. The third is a withdrawn, single mother who doesn't quite fit in. Right from the start–thanks to a modern "Greek chorus" that narrates the action–we know that someone is going to end up dead."
My Review: 5 out of 5 stars.  I've got to rate this book a five because it really excels in its category.  Is it a groundbreaking novel that will change the way you look at life?  Naw, but for what it is, it's really perfect.  This was a really fun and fast read – it would be great for a beach trip!
Week 7:Â How to Talk So Kids Will Listen and Listen So Kids Will Talk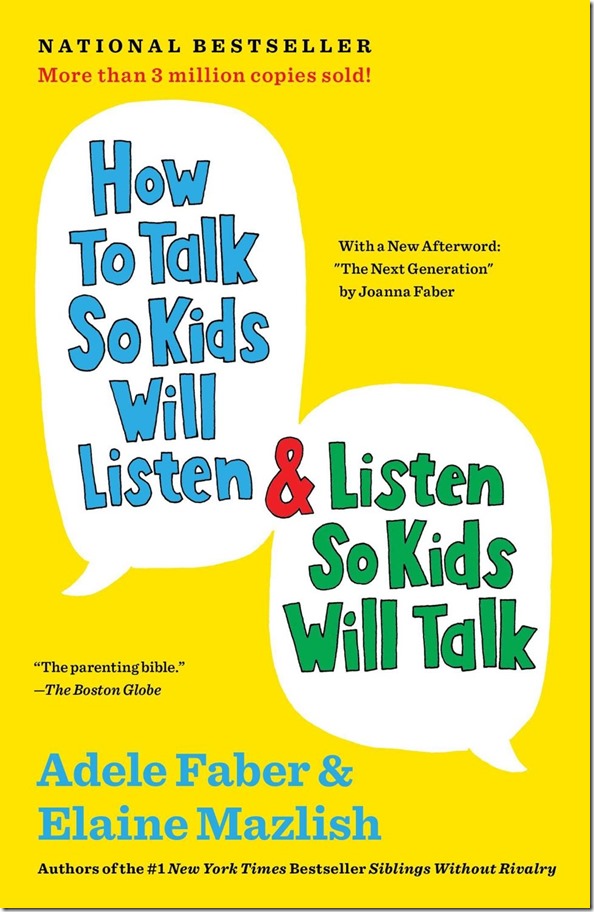 When it comes to parenting, I really want to THINK about why I do certain things and try to improve on the way I interact with my kids.  I'm sure I have a million bad communication habits that I don't want to pass down to Henry and Claire.  And this book is not just a good book about communicating with children, it's a great book about communicating with PEOPLE.  How to Talk So Kids Will Listen really challenges you to think about the offhand comments you make and how those remarks either build someone up or tear them down. I loved how this book is formatted, too – there's a discussion of the technique, little cartoons showing you how to implement them with your kids (and this applies to kids of all ages, from toddlerhood to teenager), and then real-life stories from parents who tried the method on their children.
And the techniques actually work – and fast.  I love the idea of not peppering kids with questions.  I've noticed that when I ask Henry, "How was school? Did you play with Ben? Was your teacher nice? Did you go outside?" he shuts down. But if I just say, "Hello! I missed you!" he tends to start talking.  The book talks about how children – of all ages – have a private life and that's okay.  Makes sense to me – I don't want to tell everyone everything all the time, either.  There's also something really belittling about forcing children to talk.
The book has made me say "Mmm?" and "I see" a lot, lot more. It's amazing what kids tell you when you shut up and stop asking!  Another big takeaway for me has been the recommendation to "describe problems" instead of directing orders. I do a lot of "I see a boy with no jacket on! I see snow outside the window! Brrr!" now.  You end up saying more words sometimes, but this technique really encourages cooperation.  I've also been doing a lot of, "Now that's what I call being responsible!" v.  "I'm so proud of you for picking up your toys."  Not only am I putting the focus back on him (v. me for being so proud) but he's learning new vocabulary words!
The other day, Henry was throwing a tantrum because I wouldn't buy him a new toy, so I excitingly whipped out a paper and a pen and made a list of all the toys he could think of that he wanted (there was a lot – hah!), and then I made a big show of folding the note up and putting in my purse, with the explanation that the next time I had money for a new toy, I would refer to his list.  The tears IMMEDIATELY went away – all he wanted was to be heard.  It didn't matter that I didn't buy him any new toys – he just wanted his wants to be acknowledge.  It was great!  I talked about another "Write it down" experience with Henry on this post.
My Review: 5 out of 5 stars. I think they should hand this book out at the maternity ward of hospitals.  I'm going to keep this book on hand and refer to it over and over again.
Week 8: Station Eleven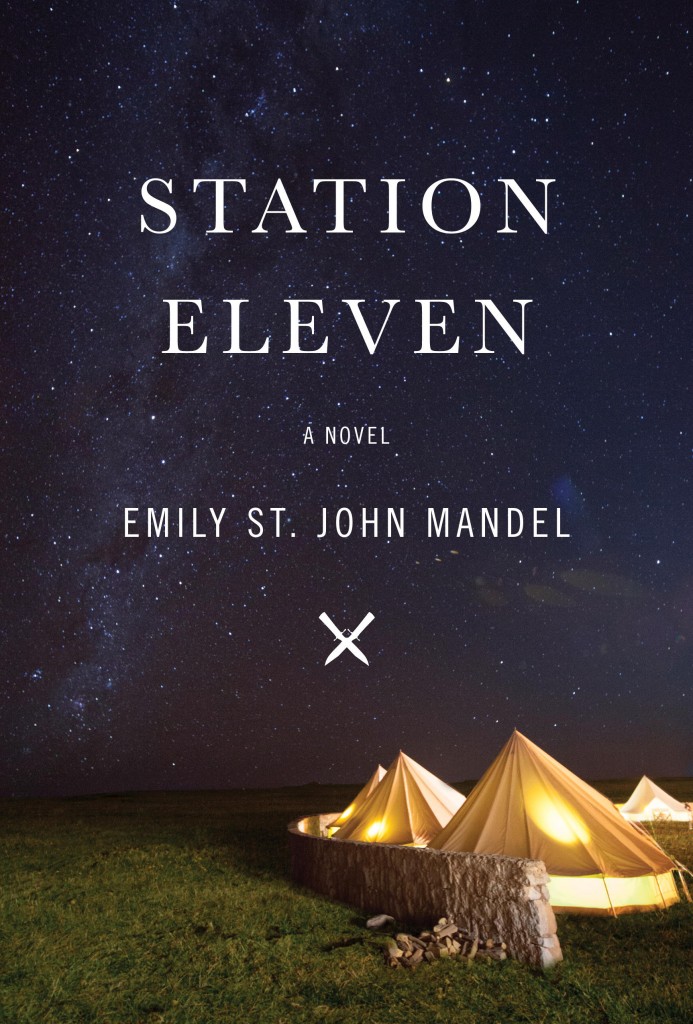 Station Eleven is centered upon an event that wipes out humanity as we know it: the "Georgia Flu" swiftly kills 99.9% of the population, leaving few survivors to grapple with a world with no electricity, no Internet, no government, etc.  The book jumps back and forth in time between a handful of people.  Their stories intersect in odd and interesting ways, but at the center is Kirsten, an actress with the "Traveling Symphony," a group that roams the Great Lakes region, performing Shakespeare and music to small communities.  It's "a novel of art, memory, and ambition [that] tells a story about the relationships that sustain us, the ephemeral nature of fame, and the beauty of the world as we know it."
I love apocalypse books, so this one ranked favorably with me.  It was a quick, engaging read, and I really liked the characters (and trying to figure out how everyone related to one another when it wasn't so clear).  The author did a great job scene-setting and fleshing out the characters.
My Rating: 4 out of 5 stars.  If you like end-of-the-world novels, you'll like this one.
Week 9:Â  The Opposite of Spoiled: Raising Kids Who Are Grounded, Generous, and Smart About Money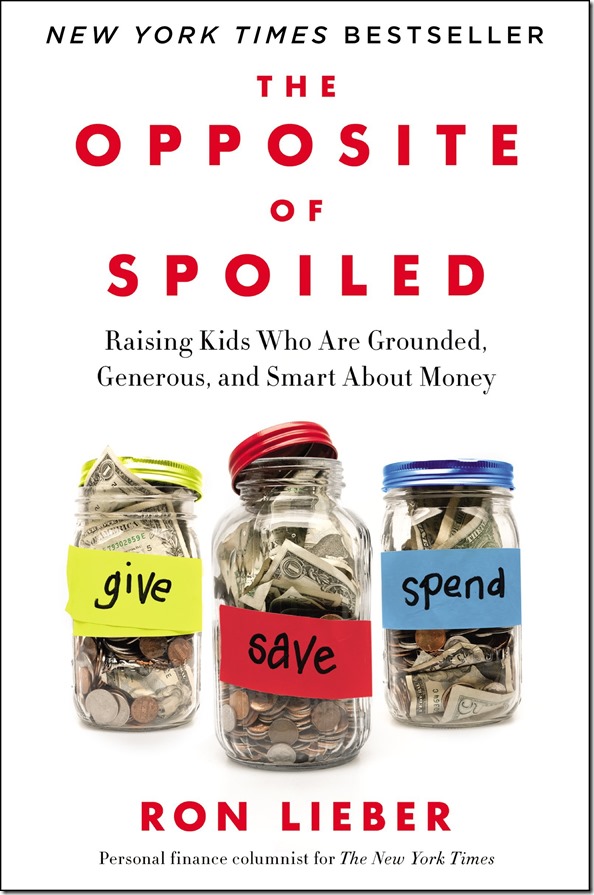 I read this book after a friend on Facebook shared a quote from the author's Facebook page.  The book is about how to talk to your kids about money so they (hopefully) become more responsible and respectful of money. Many of the discussions in the book is targeted to parents in the  middle and upper class, although the book would work for parents with lower incomes, too.
This book reinforced one of my ideas about allowance – that it shouldn't be tied to chores.  Lieber argues that when you tie allowance to chores, kids end up believing that they should get paid to do things around the house, not because they live there, too.  Kids also end up holding you hostage over chores for money – i.e. they won't do an extra chore unless you pay them.  Allowance, he says, is given to teach kids how to manage money – that's it.  He has a ton of recommendations for conversation starters, techniques, and other tools for kids of all ages.
My Rating: 3 out of 5 stars.  Good book with strong points, but I got bored with the last few chapters – it might be because my kids are too young to really do any of these techniques right now.  I also think I'm a little burnt out on parenting-related non-fiction. I bet a parent of a school-age child would REALLY appreciate this book.
Week 10:Â  The Girl on the Train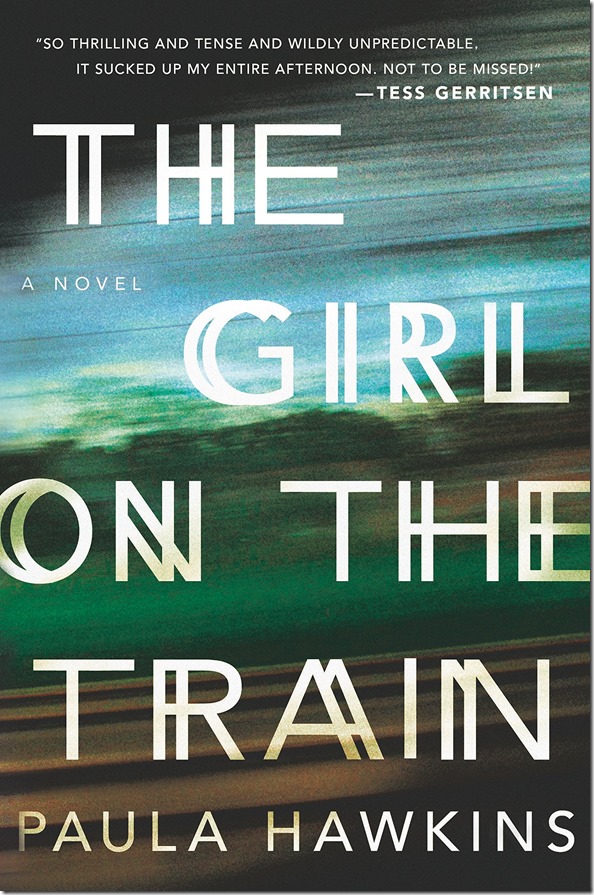 THANK YOU to every reader who recommended I read The Girl on the Train by Paula Hawkins.  It was so good. If you liked Gone Girl, you will love this book!  I don't know how to sum it up without giving away all the good bits, but it's basically a psychological thriller/mystery that centered on three women and their relationships to themselves and each other. I don't want to say anything else! But trust me – you should read it.
My Rating: 5 out of 5 stars. Like I mentioned, I devoured this book in a single day!  Super good with an excellent twist (that I didn't see coming).
Week 11: A Spool of Blue Thread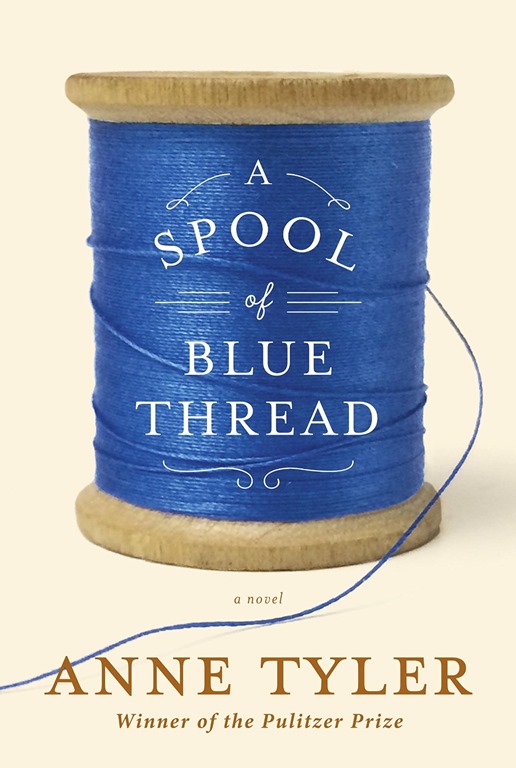 I accidentally bought this book by Anne Tyler (I pressed the "buy" button on my Kindle – I still need to figure out how to rent library books for free on my Kindle – instead of the "read more") and almost instantly regretted it.  This book was just not the book for me.  It has high reviews, but I felt like it was a little pointless.  It tells the story of three generations of a family, skipping back and forth in time.  I "got it" but didn't "get it."  Know what I mean?  The writing was beautiful, however.
My Rating: 2 out of 5 stars.  Great writing, interesting concept, but I felt like I was slogging through.
Week 12:Â  Body of Truth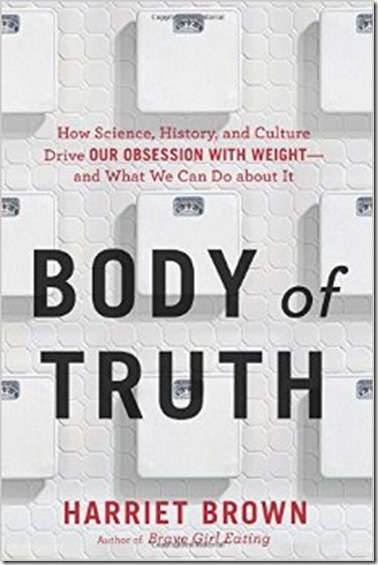 This book was sent to me to review because of my work with Operation Beautiful.  Here's what the book is about: "Over the past twenty-five years, our quest for thinness has morphed into a relentless obsession with weight and body image. Now award-winning journalist Harriet Brown unpacks the ways in which biology, psychology, media, and culture shape how we view and experience our own bodies. Explosive, honest, provocative, and brimming with razor-sharp wit, Body of Truth exposes the myths we hold dear about obesity, giving historical and contemporary context for what it means to be "fat," and offers us all ways to banish the hysteria and consider ourselves—and our bodies—with honesty and respect."  You can read a preview of the book by clicking this link.
I thought this book was very well researched and interesting.  It addresses a lot of the concepts of "health" that we accept to be true (but perhaps aren't) and really drives home the fact that healthy looks different on different people.  It also puts our current ideal body types for men and women in historical context, which I liked reading about. Probably the most interesting aspect of the book was that the author herself has struggled with eating/body image issues and has a daughter who was hospitalized for anorexia; it lends great first-person perspective to a breakdown of statistics and studies.
The parts of the book that really stood out to me where: 1) the discussion of what yo-yo dieting does to your body and brain and 2) how the largest indicator of overall health is probably fitness level, not weight.
My Rating: 4 out of 5 stars. This would be an excellent read for anyone struggling with body image or eating issues.
Week 13: The Handmaid's Tale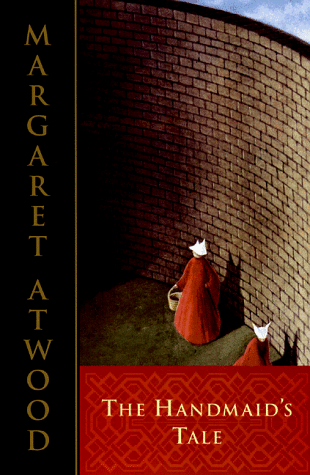 As most of you know, my favorite genre is dystopian novels, and this is the book that started it all.
From Amazon: "Margaret Atwood's popular dystopian novel The Handmaid's Taleexplores a broad range of issues relating to power, gender, and religious politics. Multiple Emmy and Golden Globe award-winner Claire Danes (Temple Grandin, Homeland) gives a stirring performance of this classic in speculative fiction, one of the most powerful and widely read novels of our time. After a staged terrorist attack kills the President and most of Congress, the government is deposed and taken over by the oppressive and all controlling Republic of Gilead. Offred, now a Handmaid serving in the household of the enigmatic Commander and his bitter wife, can remember a time when she lived with her husband and daughter and had a job, before she lost even her own name. Despite the danger, Offred learns to navigate the intimate secrets of those who control her every move, risking her life in breaking the rules in hopes of ending this oppression."
My Review: 5 out of 5 stars. How did I feel about The Handmaid's Tale after 15 years? It's just as good. Just as scary.  Just as powerful.  Just as scandalous (oh, those strange sex scenes!). It's a frightening book with a feminist twist that will keep you turning the pages – Love this book!  Still my favorite.
Week 14: Lord of the Flies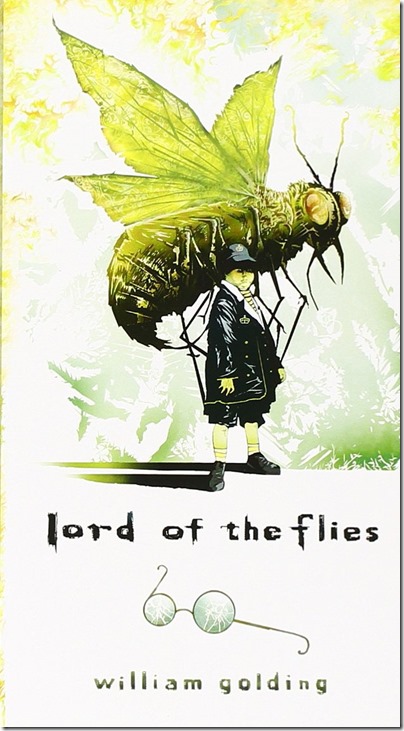 This classic novel describes what happens when a group of British schoolboys crash on an island and are left to fend for themselves. You probably read this in high school (I did!).  I LOVED re-reading this book.  It's really just as good the second time around, and somehow more painful and realistic to read as an adult. And the big plot point at the end is just as shocking and sad.  Sucks to your ass-mar!
My Rating: 4 out of 5 stars.  One of those classic books that doesn't feel like a slog to read.
Week 15:  At The Water's Edge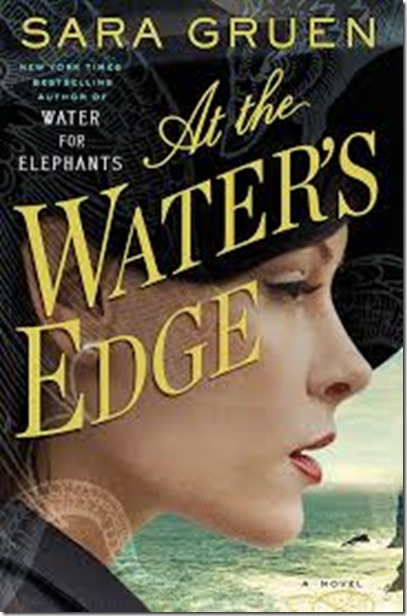 This book was written by Sara Gruen, who also wrote Water For Elephants.  "In this thrilling new novel from the author of Water for Elephants, Sara Gruen again demonstrates her talent for creating spellbinding period pieces. At the Water's Edge is a gripping and poignant love story about a privileged young woman's awakening as she experiences the devastation of World War II in a tiny village in the Scottish Highlands."
I REALLY liked this book.  The writing was great, the characters were super interesting, and there were some awesome plot twists. It was one of those wonderful novels that you can't put down because you feel like the characters are so real.  Also – ROMANCE!  I haven't read a romance novel so far this year, and this one had just enough sweetness.
My Rating: 5 out of 5 – I bet this becomes a movie!
Week 16:  Teaching Montessori In the Home – the Preschool Years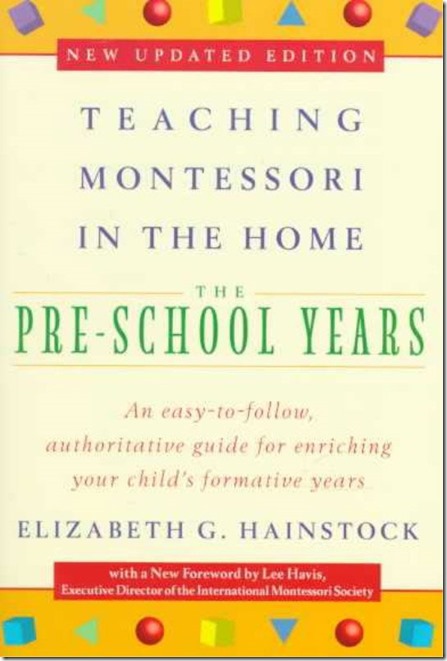 This is a book that I've had and flipped through occassionally for a while, but I just sat down and read the whole thing cover to cover. I discovered Montessori a little late with Henry, although I try to incorporate stuff now, but would like to do more Montessori-style stuff with Claire from the beginning.  I dream of sending them both to Montessori preschool but $$$!
Anyway –  this book has tons of ideas for introducing Montessori concepts in the home. Some are more "schoolish" but many are "practical life" concepts, which I like the most anyway. This book is very short but detailed and has good explanations for presenting concepts to young children.
My Rating: 3 out of 5. Handy to have, but you could probably learn most of this on the Internet.
Week 17: Whole 30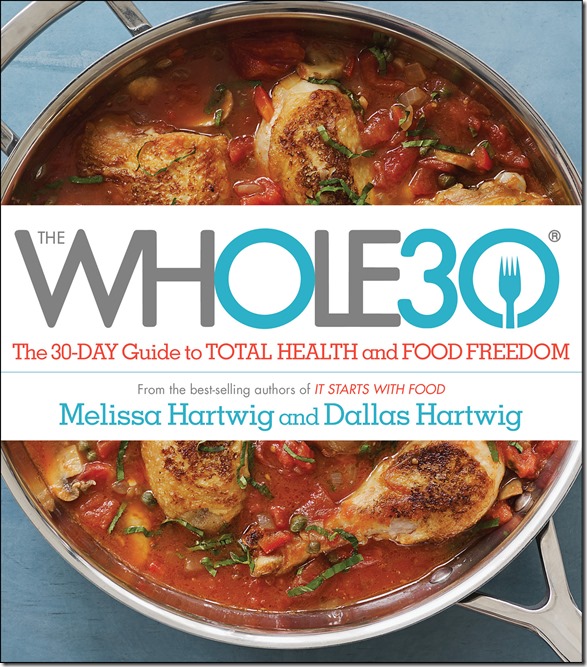 I found the Whole 30 program via Instagram (the #Whole30 and #Whole30Results hashtags are really fun).  The food philosophy is similar to paleo, but Whole 30 is very much focused on the emotional aspect of eating. Over 30 days, the program works to readjust both your taste buds and mind to eating less processed foods.
"The Whole30 [is] a stand-alone, step-by-step plan to break unhealthy habits, reduce cravings, improve digestion, and strengthen your immune system. The Whole30 features more than 100 chef-developed recipes, like Chimichurri Beef Kabobs and Halibut with Citrus Ginger Glaze, designed to build your confidence in the kitchen and inspire your taste buds. The book also includes real-life success stories, community resources, and an extensive FAQ to give you the support you need on your journey to "food freedom."
I REALLY liked this book – so much that I'm reading the prequel, It Starts With Food, for Week 18.  As a vegetarian, there is a HUGE chunk of recipes that don't apply to me, but there are also loads and loads that do. I've been eating "Whole 30ish" for some meals and have to say that there's something to it for sure… I feel great physically after those meals!
My Rating: 5 out of 5 stars.  Written in a fun voice with tons of great info, although much of it is republished from the Whole30.com website. Lots of awesome recipes, too!
Week 18:Â  City of Bones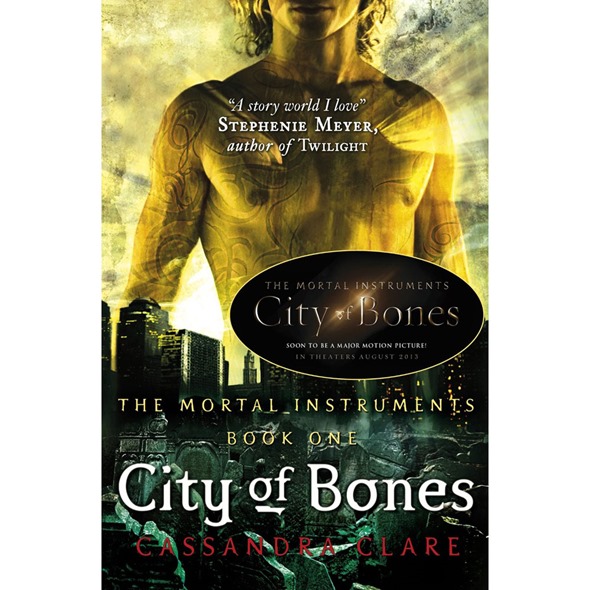 This book was actually my Mother's Day present from the Husband!  He knows I like Young Adult fiction and also like series, so he thought this would be a good fit.
Description: "When fifteen-year-old Clary Fray heads out to the Pandemonium Club in New York City, she hardly expects to witness a murder—much less a murder committed by three teenagers covered with strange tattoos and brandishing bizarre weapons. Then the body disappears into thin air. It's hard to call the police when the murderers are invisible to everyone else and when there is nothing—not even a smear of blood—to show that a boy has died. Or was he a boy? This is Clary's first meeting with the Shadowhunters, warriors dedicated to ridding the earth of demons. It's also her first encounter with Jace, a Shadowhunter who looks a little like an angel and acts a lot like a jerk. Within twenty-four hours Clary is pulled into Jace's world with a vengeance, when her mother disappears and Clary herself is attacked by a demon. But why would demons be interested in ordinary mundanes like Clary and her mother? And how did Clary suddenly get the Sight? The Shadowhunters would like to know…"
My Rating: 2 out of 5 stars.  Unfortunately I just didn't like it.  Seemed formulaic (which I normally don't mind), and also didn't have me gripped and dying to continue the story… I put it down for days at a time sometimes.  And I have no desire to read the rest of the books in the series, so… That says a lot.  I think it was too "young" in "young adult" for me.  Plus, one advantage to my Book a Week project is it is making me slightly more picky than normal (I usually love all books simply because they are books!).
Week 19:Â  The Vacationers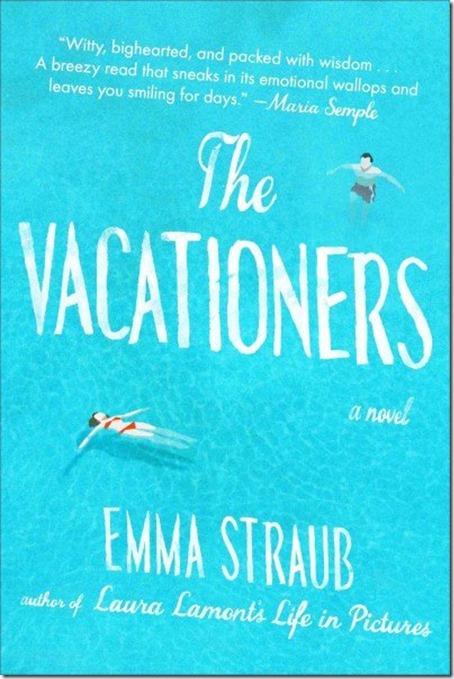 Amazon Synopsis:  "Here's the funny thing about family: there's no one you love more than your relatives, and yet they're also the people who push your buttons the most. Emma Straub has captured this dilemma in her pitch-perfect second novel The Vacationers. The Post family's vacation to the Balearic island of Mallorca is one fraught with jealousy and quiet secrets. It's an anniversary for parents Franny and Jim, who are making amends for some rocky marital misgivings; their son Bobby and his much-maligned older girlfriend Carmen have a financial favor to ask; and high school-age daughter Sylvia has made it her mission to lose her virginity to her Spanish tutor. The novel is warm–not just for the sunny beaches that surround Mallorca, but for the compassion and humor that Straub imbues in her characters.."
My thoughts:  I tore through this book.  It was an interesting peek into the complex relationships in a family, and the characters were drawn so well that I felt like they were real people by the end of the book.  It's a great beach read, but not super light and fluffy.
My Ratings: 3 out of 5.  For a summer book, it was smart and thoughtful. But I didn't feel like it was a life-changing novel.
Week 20: Saving Grace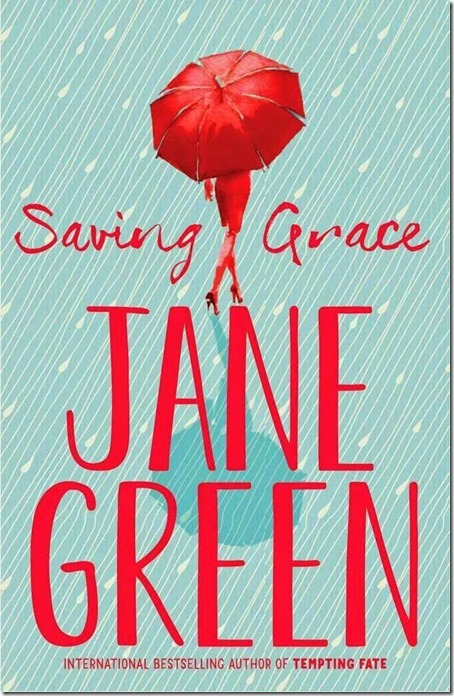 Amazon Synopsis:  "Grace and Ted Chapman are widely regarded as the perfect literary power couple. Ted is a successful novelist and Grace, his wife of twenty years, is beautiful, stylish, carefree, and a wonderful homemaker. But what no one sees, what is churning under the surface, is Ted's rages. His mood swings. And the precarious house of cards that their lifestyle is built upon. When Ted's longtime assistant and mainstay leaves, the house of cards begins to crumble and Grace, with dark secrets in her past, is most vulnerable. She finds herself in need of help but with no one to turn to…until the perfect new assistant shows up out of the blue."
My thoughts:  I thought this book was predictable but fun to read regardless.  You know where it's going by the plot summary alone, right?  Dark and twisty for sure. BUT – it was still a fun and fast read.  Again, a good beach read.
My Rating: 3 out of 5 stars.  Like The Vacationers, this is an awesome read for a holiday.  Fast-paced and intriguing.  I only wish the ending included more revenge!
Week 21:Â  Sisterland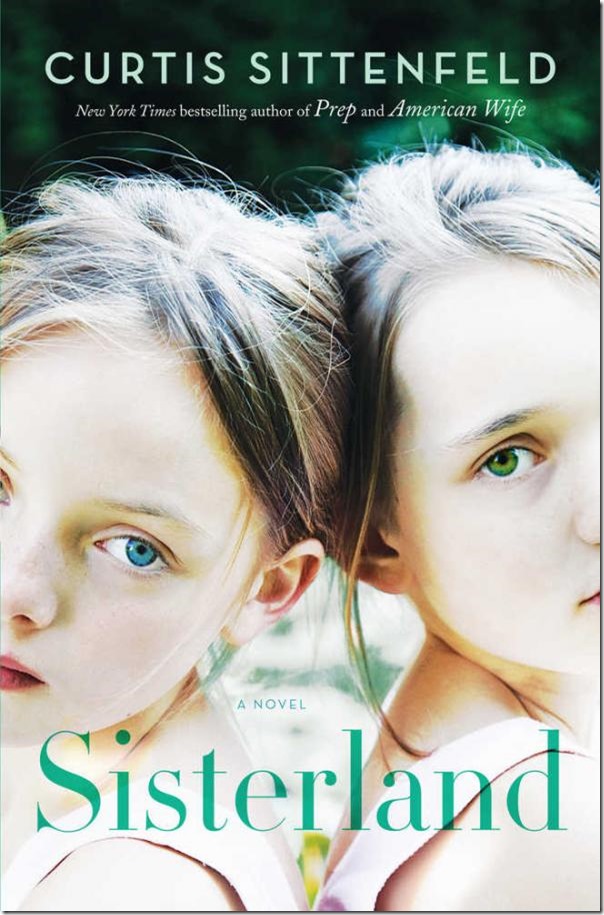 Here's the plot summary: "From an early age, Kate and her identical twin sister, Violet, knew that they were unlike everyone else. Kate and Vi were born with peculiar "senses"—innate psychic abilities concerning future events and other people's secrets. Though Vi embraced her visions, Kate did her best to hide them.  Now, years later, their different paths have led them both back to their hometown of St. Louis. Vi has pursued an eccentric career as a psychic medium, while Kate, a devoted wife and mother, has settled down in the suburbs to raise her two young children. But when a minor earthquake hits in the middle of the night, the normal life Kate has always wished for begins to shift. After Vi goes on television to share a premonition that another, more devastating earthquake will soon hit the St. Louis area, Kate is mortified. Equally troubling, however, is her fear that Vi may be right. As the date of the predicted earthquake quickly approaches, Kate is forced to reconcile her fraught relationship with her sister and to face truths about herself she's long tried to deny."
I've also read American Wife by the same author (I hear I have to read Prep), and the thing that I love the most about her writing is how she really delves into the character's past and present, as well as their innermost thoughts, in a way that is fun and interesting to read.  The details are so rich!  But not boring.  And Kate was a great character – not perfect at all but completely human… Someone you both liked and were annoyed with at the same time.  And I really did NOT see the ending of the book coming and thought it was a creative way to wrap up a big plot line.  It gets a little "soap operaish" but I thought the build-up and drama was great.
My Rating: 5 out of 5 stars.  A fun and fast read with a lot of drama.
Week 22: I Am Legend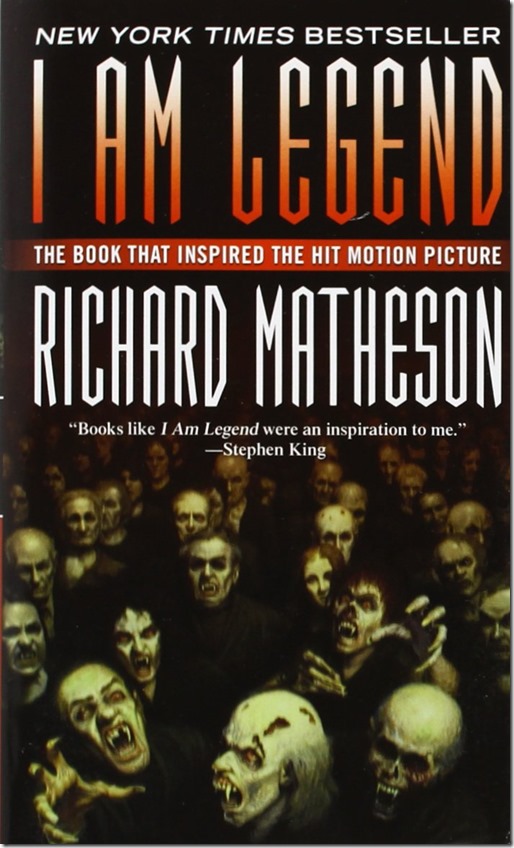 I picked this book (which is the oldie that inspired the Will Smith movie) because a friend wrote on Facebook that it was his favorite book and the movie didn't do the story justice.  I remember loving the movie, so I promptly ordered it on Amazon.  The plot isn't the same as the movie.  It's a short horror tale of what happens when a vampire virus decimates the human race, leaving one man all alone to battle the creatures and try to keep a grip on his sanity.
My vote… I hated it!  Seriously, I hated this book. I do not think I have said that about a Book a Week so far (except for The Life Changing Magic of Tidying Up, which I hated so much I stopped reading after 40 pages and didn't even tell you about).  I Am Legend just didn't grab me… And it ended at a point where I *really* wanted more information.  I feel bad putting down such a classic horror novel, but – meh.  Didn't like it.
My Ratings: 2 out of 5 stars.
Week 23:Â  Marketing for Solos: THE Ultimate How-To Guide For Marketing Your One Person Small Business Successfully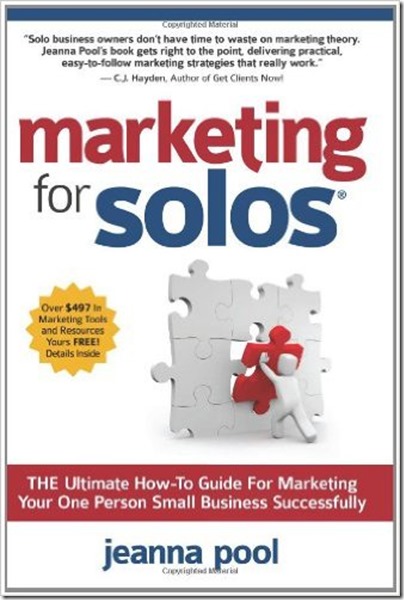 This was, by far, the best non-fiction book that I've read for a while.  It's a How-To guide to market a "solo" business (i.e. a one person small business) successfully.  It gives you exactly what is promised on the cover – a right to the point, practical, and easy-to-follow marketing strategy.  The book is a quick read, simple in its directions, and without fluff, which I adored.  There are lots of real-world strategies you can apply to marketing immediately.  Some of the highlights for me included: not focusing on your own qualifications first but instead focusing on the client's "pain, problem, or predicament," as well as the chapter on not trying things once and getting disappointed when they don't immediately work.
My Rating: 5 out of 5 stars.  All small business owners should read this book!
Week 24: Humans of New York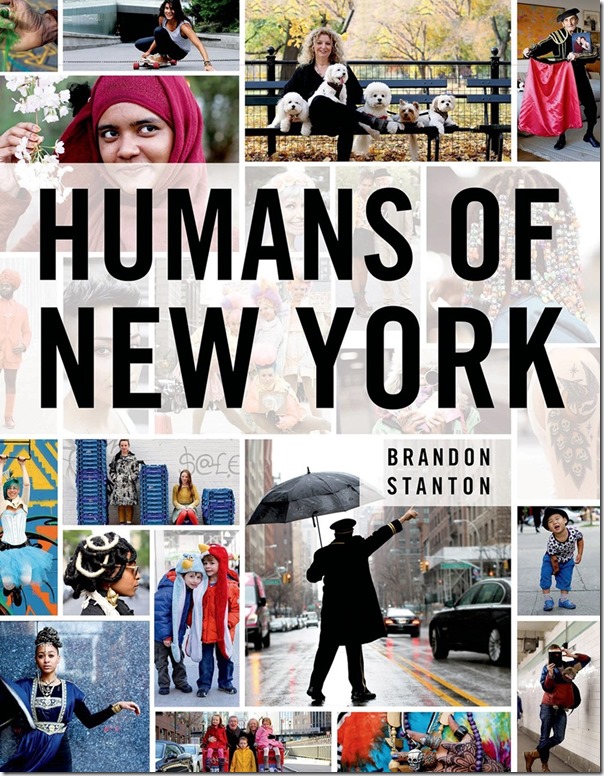 This is a photography book – I absolutely love the Humans of New York Facebook page.  This is the first HONY book, and you can tell how the longer interviews were still evolving in Brandon's mind.  Most of the book is photographs with single sentence or two 'mini interviews' with some of the subjects.  Not the longer interviews you see today (which are so popular and I love).  I really loved the book, and some of the photos and blurbs really did move me to tears, but it doesn't have the same emotional impact as the FB page currently does.  There's a new HONY book coming out in October, and it promises longer interviews, so if that's what you love about HONY, I'd say to hold out for that.  But still, this is a beautiful book, fun to flip through, and would be a great coffee table or guest room book!
My Rating: 4 out of 5 Stars.   Amazing, but I was left wanting more.
Week 25: A Mom's Guide to Practical Baby-Led Weaning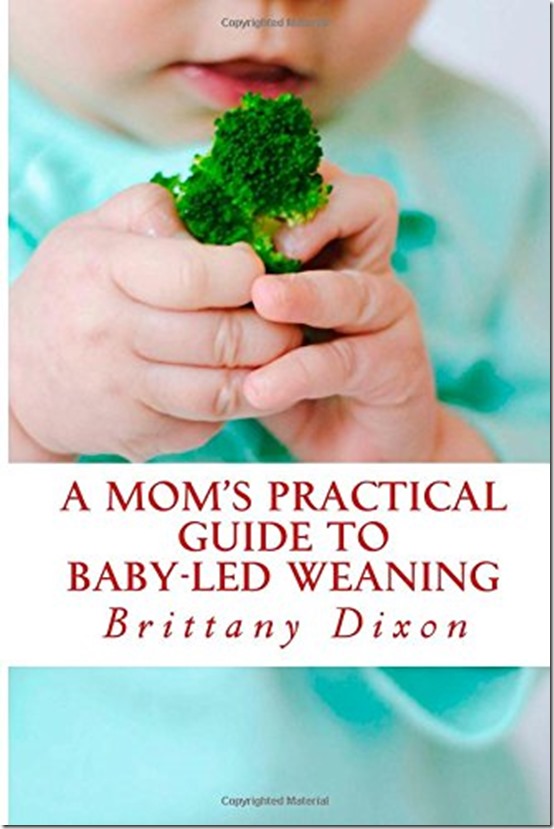 This book is written by my friend, Brittany of A Healthy Slice of Life!  I bought it after Claire was born because I wanted to refresh my mind on Baby Led Weaning (a style of feeding where you let babies self-feed instead of using purees).  Brittney is well-known in the blog world for her creative kid meals, so I was excited to read this book.
This book is GREAT for someone who wants to be introduced to the concept of BLW.  It's rather short, but the information is concise and well-written.  It gives a lot of information on how to get started with basic BLW principles and answers many of the common questions and concerns about the method.  I think this would be an ideal book for a new parent or would be a nice shower present in conjunction with some baby bibs and sippy cups!  I wish it had more recipes, but I know that you can find that at Brittney's blog!
My Rating: 4 out of 5 stars.  For what it is (an introductory guide), it's perfect. I would be even better if it had more recipes or more information about transitioning BLW for older babies.  I liked that it was written by a mom who uses the method with both her kids, as it felt really relatable.
Week 26: Orphan #8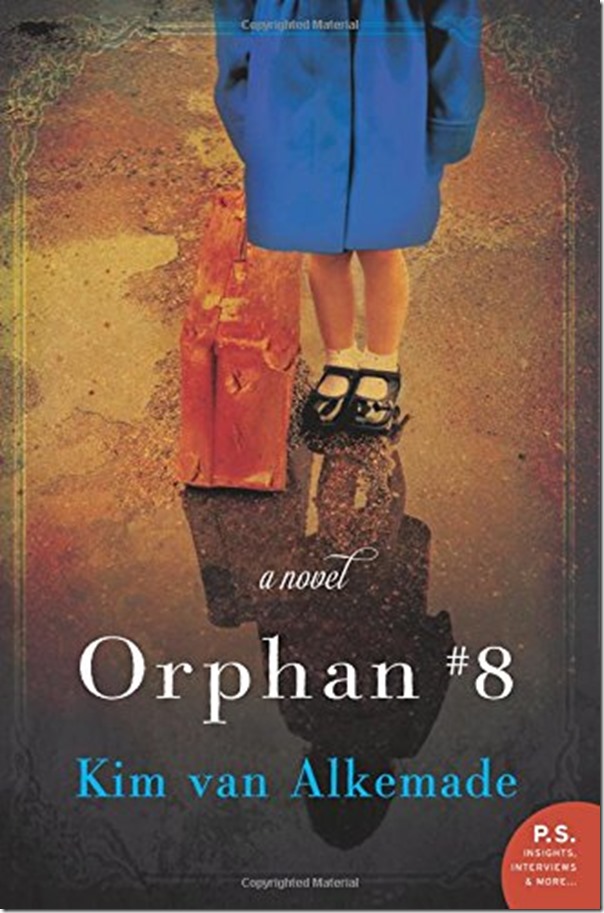 Here's a fiction book that I just read!  This book was HAUNTING and SCARY and really engrossing.  Here's the Amazon plot summary:
In 1919, Rachel Rabinowitz is a vivacious four-year-old living with her family in a crowded tenement on New York City's Lower Eastside. When tragedy strikes, Rachel is separated from her brother Sam and sent to a Jewish orphanage where Dr. Mildred Solomon is conducting medical research. Subjected to X-ray treatments that leave her disfigured, Rachel suffers years of cruel harassment from the other orphans. But when she turns fifteen, she runs away to Colorado hoping to find the brother she lost and discovers a family she never knew she had.

Though Rachel believes she's shut out her painful childhood memories, years later she is confronted with her dark past when she becomes a nurse at Manhattan's Old Hebrews Home and her patient is none other than the elderly, cancer-stricken Dr. Solomon. Rachel becomes obsessed with making Dr. Solomon acknowledge, and pay for, her wrongdoing. But each passing hour Rachel spends with the old doctor reveal to Rachel the complexities of her own nature. She realizes that a person's fate—to be one who inflicts harm or one who heals—is not always set in stone.

My Rating: 4 out of 5 stars.  The reality of life for the orphans in the 1920s was so scary, so terrifying, and so disturbing that I almost stopped reading – super trigger-y, especially for a mom of a little baby girl.  But I'm glad I plowed through because the end of the book was great – there's a big plot twist that is unexpected but satisfying.

Week 27: It's Okay Not to Share and Other Renegade Rules for Raising Competent and Compassionate Kids

This book is AMAZING, thought-provoking, and insightful, and I highly recommend that all parents of young children (2 – 6 years old would probably be the best) pick up a copy.  This book was given to me by Henry's preschool director, as many of the philosophies described guide the school's procedures.

This book has a huge emphasis on unstructured play, which I love.  And the book discusses so many crucial topics and gives great guidance on handling many "discipline" issues… which actually aren't discipline issues at all.  I loved the idea of "changing the place, not the child" when it comes to so many things, like roughhousing, messy art, or even swear words. This is a very progressive book that places a lot of emphasis on understanding and respecting a child's emotions.  It also gives a good look at what kids are developmentally capable of understanding/appreciating.

The title – "It's Okay Not to Share" – focuses on the fact that the author does not support "forced sharing on demand."  Adults do this, she says, because of social politeness, but what we're really teaching kids is that 1) they can't trust adults to protect their play and 2) they should get what they want instantly. She also argues that forced sharing doesn't actually teach generosity. Instead, the author advocates taking long turns and sharing only when one child ready to be "done," which actually benefits both kids on the equation. Makes sense to me!  If this mindset sounds logical to you, check out another chapter of the book here!

I think the hardest part of applying these 'renegade rules' is applying the rules in public with parents/kids who don't follow the same philosophy.  There's a section at the end of each chapter about this very issue, which I really appreciated!  I have actually long been against forced sharing; this rule is easy to enforce when your kid wants something someone else does.  But its haaaard when a stranger is demanding your kid share on demand.  The other day on the playground, another mom told Henry to get off the swing for a kid who had just walked over!  She said, "It's his turn now. Get off!"  I wasn't sure what to do so I spluttered out a, "Henry, this boy would like a turn. Are you ready to be done? No? Okay, well when you are, let him have the swing" but I felt SO AWKWARD because I was definitely going against the grain.  Thanks to reading this book, I know that I was politely supporting his right to play (just as I would've protected the other kid's right if Henry had wanted his swing).